The Atlanta Public Schools Calendar for the academic year 2023–2024 is available online. The Atlanta Public Schools calendar can be printed out to help you remember important events like holidays, examinations, first and last days of class, and the beginning and end of semesters. The school calendar must be constantly checked by students for any important events, and their academic workload must be planned accordingly. Making the most of your time and for effective work planning requires the use of a calendar. Through this website, you can examine the important dates, events, and academic calendar for the Atlanta Public Schools for the current school year.
Atlanta Public Schools Holidays & Major Dates
See the tables below for details on the first/last day of classes and important holiday dates. In this part, only the primary holiday dates and their corresponding days are provided; the full calendar is provided in the following section.
2023-2024 School Calendar
School Holidays
Starts
Finishes
First Day of School
Tue, 1 Aug 2023
Fall Break
Mon, 9 Oct 2023
Fri, 13 Oct 2023
Thanksgiving Break
Mon, 20 Nov 2023
Fri, 24 Nov 2023
Christmas Break
Mon, 18 Dec 2023
Tue, 2 Jan 2024
Mid Winter Break
Mon, 19 Feb 2024
Fri, 23 Feb 2024
Spring Break
Mon, 1 Apr 2024
Fri, 5 Apr 2024
Last Day of School
Fri, 24 May 2024
2022-2023 School Calendar
School Holidays
Starts
Finishes
First Day of School
Mon, 1 Aug 2022
Fall Break
Mon, 10 Oct 2022
Fri, 14 Oct 2022
Thanksgiving Break
Mon, 21 Nov 2022
Fir, 25 Nov 2022
Christmas Break
Mon, 19 Dec 2022
Mon, 2 Jan 2023
Mid Winter Break
Mon, 20 Feb 2023
Fri, 24 Feb 2023
Spring Break
Mon, 3 Apr 2023
Fri, 7 Apr 2023
Last Day of School
Fri, 26 May 2023
2023-2024 Atlanta Public Schools Calendar
The best tool available for organizing academic work is a school calendar. You must organize your academic work while keeping in mind the academic calendar. The Atlanta Public Schools calendar is available for preview below. You can save it for later use. You can print the calendar after downloading it.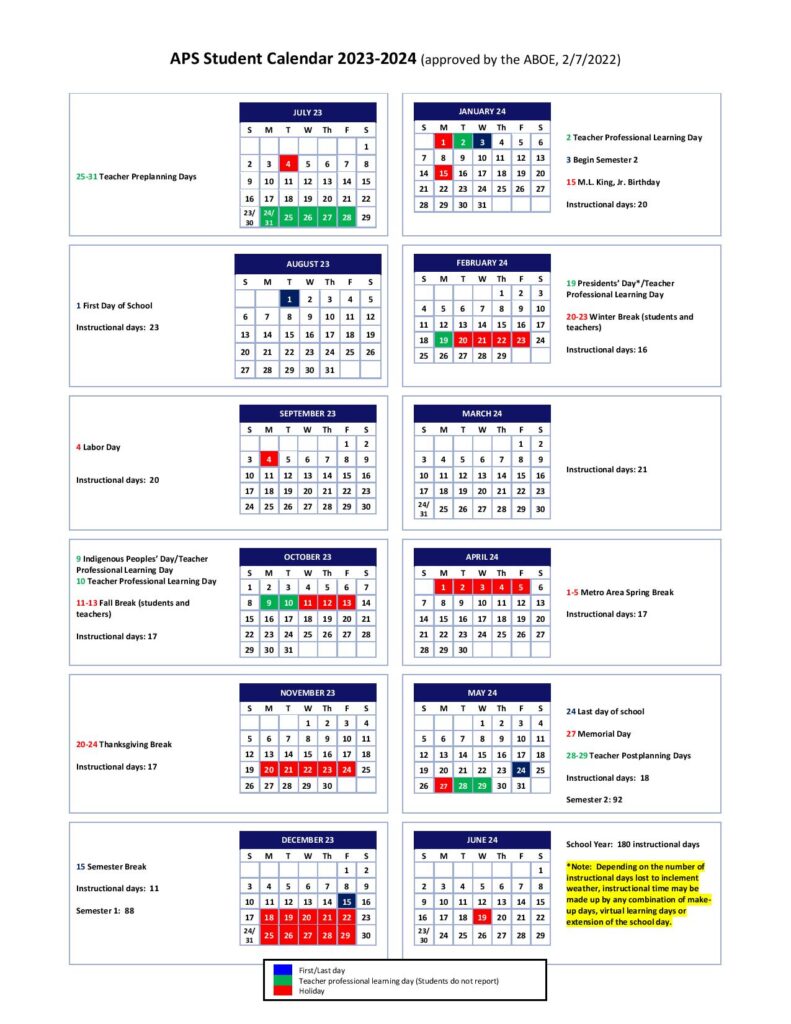 Work management is essential in student's life. A student has huge school related workload that needed to be taken care of. Managing workload without proper planning seems like an impossible task. This is why it's essential to make a work planner to get hold of work activities. A school calendar is used for planning the school work activities. As a student, you should download a school calendar as soon as it's available.
To view the approved calendars for 2023–2024, go to the Atlanta Public Schools website. You might also want to check the school district's website to see if there have been any last-minute or urgent modifications that weren't reflected in the official calendars.
Important Note: schoolcalendarinfo.com is not the official website of any school, this is just an informational website that provides information related to school calendars and holidays. Do check your school's official website for an up-to-date and updated school calendar.