On this page, you can look for the Lee County School District Calendar that is now available for the academic year 2023-2024. As you already know that every year school releases the school calendar in order to update students, teachers, and staff about the academic dates, events, and holidays. Students and teachers often use a school calendar to plan their working schedules. Please note that every school has its own school calendar therefore make sure to download the calendar as per your school only. Here you can see the school or academic calendar of the Lee County School District for this academic session. If you are studying or teaching in this school then download the school calendar from here and begin the process of planning or managing your school work activities in a best way.
As per Wiki: The School District of Lee County manages public education in Lee County, Florida. The District school choice system is an open-enrollment system for school assignments and goes through the Student Assignment Office. A lottery process is used to assign students to schools when the number of applicants for a school exceeds the number of available seats
Lee County School District Major Holidays & Dates
There are some major holiday breaks in this academic year such as thanksgiving break, Christmas break, mid winter break, and spring break. If you want to make the most out of these holiday breaks then you need to first keep yourself updated about them and plan them well. Check out the table below to know the dates of major holiday breaks along with the dates of first and last day of school.
2023-2024 School Calendar
School Holidays
Starts
Finishes
First Day of School
Thu, 10 Aug 2023
Thanksgiving Break
Mon, 20 Nov 2023
Fri, 24 Nov 2023
Christmas Break
Fri, 22 Dec 2023
Mon, 8 Jan 2024
Mid Winter Break
Fri, 16 Feb 2024
Mon, 19 Feb 2024
Spring Break
Fri, 15 Mar 2024
Fri, 22 Mar 2024
Easter Break
Fri, 29 Mar 2024
Mon, 1 Apr 2024
Last Day of School
Fri, 31 May 2024
2022-2023 School Calendar
School Holidays
Starts
Finishes
First Day of School
Wed, 10 Aug 2022
Thanksgiving Break
Mon, 21 Nov 2022
Fri, 25 Nov 2022
Christmas Break
Thu, 22 Dec 2022
Mon, 9 Jan 2023
Mid Winter Break
Fri, 17 Feb 2023
Mon, 20 Feb 2023
Spring Break
Fri, 17 Mar 2023
Fri, 24 Mar 2023
Easter Break
Fri, 7 Apr 2023
Mon, 10 Apr 2023
Last Day of School
Tue, 6 Jun 2023
Lee County School District Calendar 2023-2024
Lee County School District Calendar preview or image is available below. As you can see all the important academic dates are mentioned in it. A school calendar is one such document that a student, teacher, and even parent must keep a check on. You can download this school calendar from the official website of the school (calendar link and school website link is shared below). Take a print-out of the school calendar after downloading it.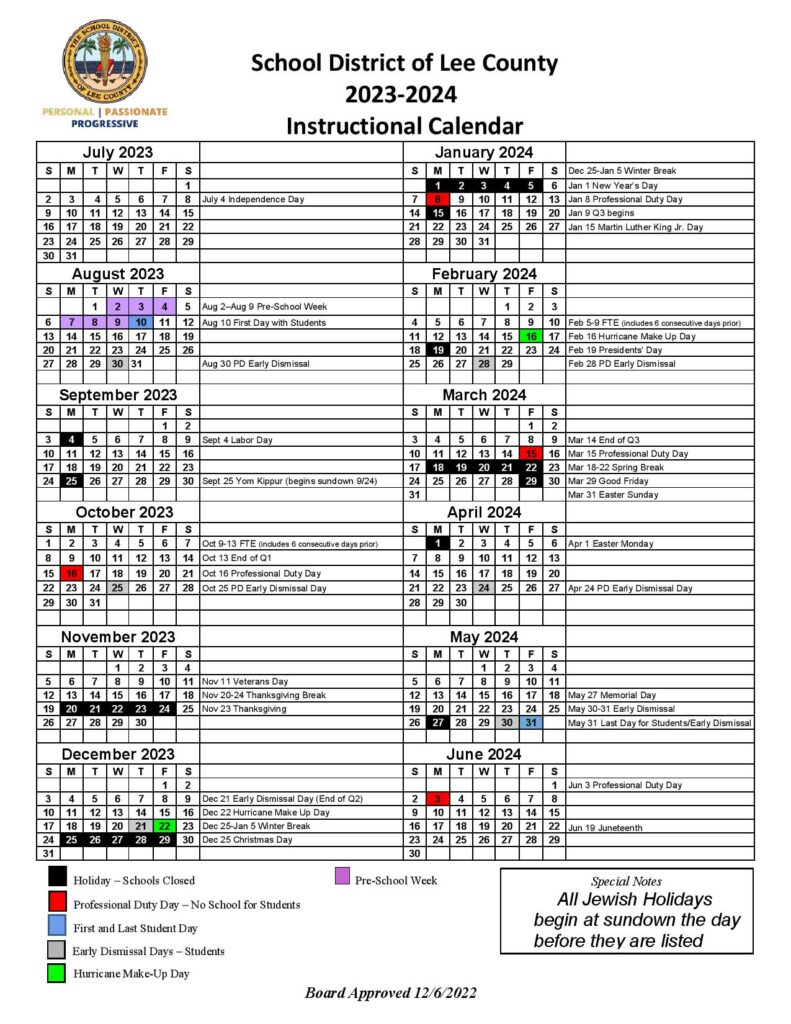 Download Links:
Additional Information
There are numerous benefits of using a school calendar, some of them are time management, work planning, management, and tracking. Every student must make this habit of planning his or her academic work activities and a school calendar is required to do that. Therefore, you must print your copy of school calendar as soon as it's available on the official website of the school.
You can obtain the Lee County School District 2023–2024 academic calendar from this page. After obtaining the school calendar, print it out and use it for your academic tasks.
Important Note: schoolcalendarinfo.com is not the official website of any school, this is just an informational website that provides information related to school calendars and holidays. Do check your school's official website for an up-to-date and updated school calendar.