You can find out the Dallas Independent School District Calendar on this page available for the academic session 2023-2024. The students of Dallas Independent School District are informed that the academic calendar is released and it's available for free on the main website of the school (links shared here). Download the school or academic calendar and begin the process of planning and managing your academic work activities. The dates of academic events and holidays are listed on a school calendar. A student needs to be well-informed about academic activities, dates, and holidays. Downloading a school calendar will keep you updated about all the important academic dates, therefore, make sure to download a school calendar and take a print-out for your use.
As per Wiki: The Dallas Independent School District (Dallas ISD or DISD) is a school district based in Dallas, Texas (USA). It operates schools in much of Dallas County and is the second-largest school district in Texas and the seventeenth-largest in the United States. It is also known as Dallas Public Schools (DPS).
Dallas Independent School District Major Holidays & Dates
An academic year has a few significant holiday breaks that students need to be aware of. Fall Break, Thanksgiving Break, Winter Break, and Spring Break are those holiday periods. Plan your holidays well in order to make them more and productive as well. Please note these are not the complete holiday dates, only the major holiday breaks are mentioned in the table. Refer to the school calendar in the next section for full details.
First & Last Day of School
| | | |
| --- | --- | --- |
| Event | Day | Date |
| First Day of School | Monday | August 14, 2023 |
| Last Day of School | Friday | May 24, 2024 |
Major Holiday Dates
| | | |
| --- | --- | --- |
| Holidays Name | Starts | Finishes |
| Fall Break | Thu, 12 Oct 2023 | Fri, 13 Oct 2023 |
| Thanksgiving Break | Mon, 20 Nov 2023 | Fri, 24 Nov 2023 |
| Christmas Break | Mon, 25 Dec 2022 | Mon, 8 Jan 2024 |
| Spring Break | Mon, 11 Mar 2024 | Fri, 15 Mar 2024 |
Dallas Independent School District Calendar 2023-2024
This is how the Dallas Independent School District's academic calendar for the current year looks. The download links for this academic calendar are provided below. Please check out the links below if you want to download or print this calendar. You can print off and utilise a school calendar that is available for download in JPG and PDF formats.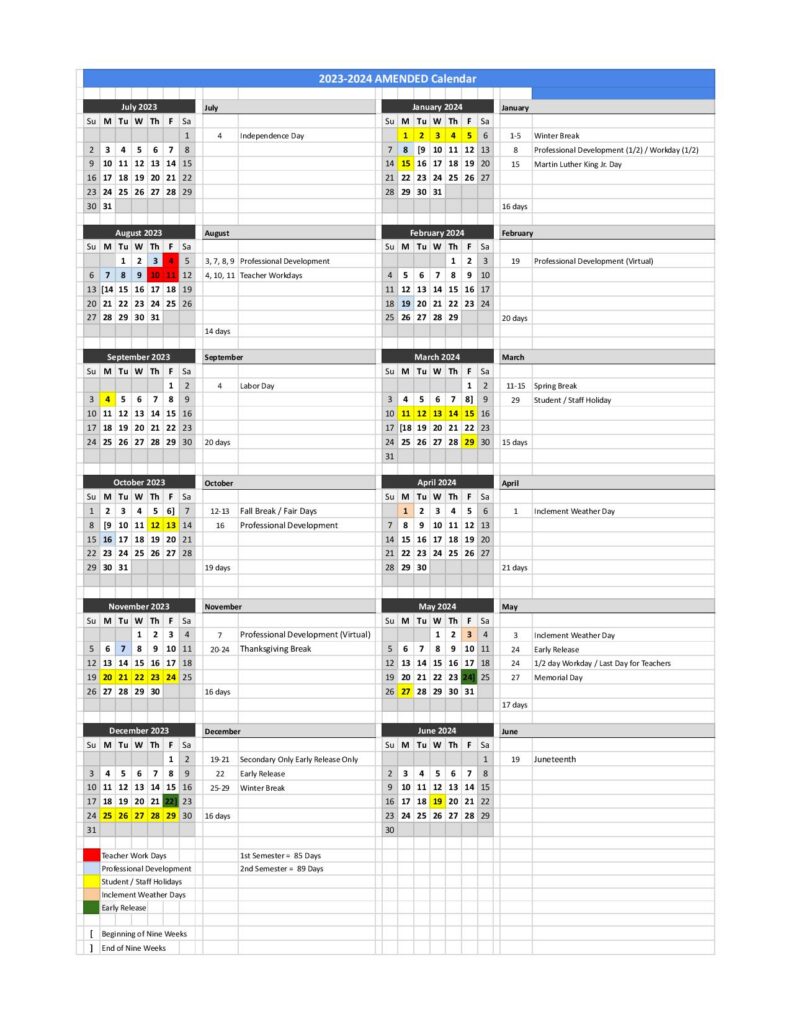 Download Links:
Additional Information
We place a lot of focus on the value of time and work management on this website. We provided the school calendar for this purpose since it facilitates the processes of work planning, management, and tracking. Every student needs to develop the little habit of organising their work every single day. You will achieve excellent outcomes in all areas of your life with this modest practise of planning and tracking your work. Plan your work carefully and take your time.
You can Download the Dallas Independent School District 2023–2024 academic calendar from this page. After obtaining the school calendar, print it out and use it for your academic tasks.
Important Note: schoolcalendarinfo.com is not the official website of any school, this is just an informational website that provides information related to school calendars and holidays. Do check your school's official website for an up-to-date and updated school calendar.