Are you here in search of the Minneapolis Public Schools Calendar? If yes then check out the school calendar here and download it for your use. A school calendar is the basic document that is extremely useful because all the important academic dates are mentioned in it. The whole point of using a school calendar is to keep yourself updated about the important dates and holidays. Academic work planning is incomplete without a school calendar, therefore do download it and spend some in planning your work because only then you will be able to accomplish your academic work goals.
Minneapolis Public School Holidays 2023-2024
Check out the table below and see the Minneapolis Public Schools Major Holiday Breaks and the dates of the first/last day of school. Plan your holidays and make the most out of them.
2023-2024 School Calendar
School Holidays
Starts
Finishes
First Day of School
Tue, 5 Sep 2023
Fall Break
Wed, 18 Oct 2023
Fri, 20 Oct 2023
Thanksgiving Break
Wed, 22 Nov 2023
Fri, 24 Nov 2023
Christmas Break
Mon, 18 Dec 2023
Mon, 1 Jan 2024
Mid Winter Break
Mon, 19 Feb 2024
Tue, 20 Feb 2024
Spring Break
Fri, 29 Mar 2024
Fri, 5 Apr 2024
Last Day of School
Fri, 14 Jun 2024
2022-2023 School Calendar
School Holidays
Starts
Finishes
First Day of School
Tue, 6 Sep 2022
Fall Break
Wed, 19 Oct 2022
Fri, 21 Oct 2022
Thanksgiving Break
Wed, 23 Nov 2022
Fri, 25 Nov 2022
Christmas Break
Mon, 19 Dec 2022
Fri, 30 Dec 2022
Mid Winter Break
Mon, 20 Feb 2023
Tue, 21 Feb 2023
Spring Break
Mon, 3 Apr 2023
Fri, 7 Apr 2023
Last Day of School
Thu, 15 Jun 2023
Minneapolis Public Schools Calendar 2023-2024
Check out the Minneapolis Public Schools Calendar below and download it for your use. The school's website official link is shared below, do keep a check on the school's website and keep yourself updated about all the last updates and notifications related to the school calendar.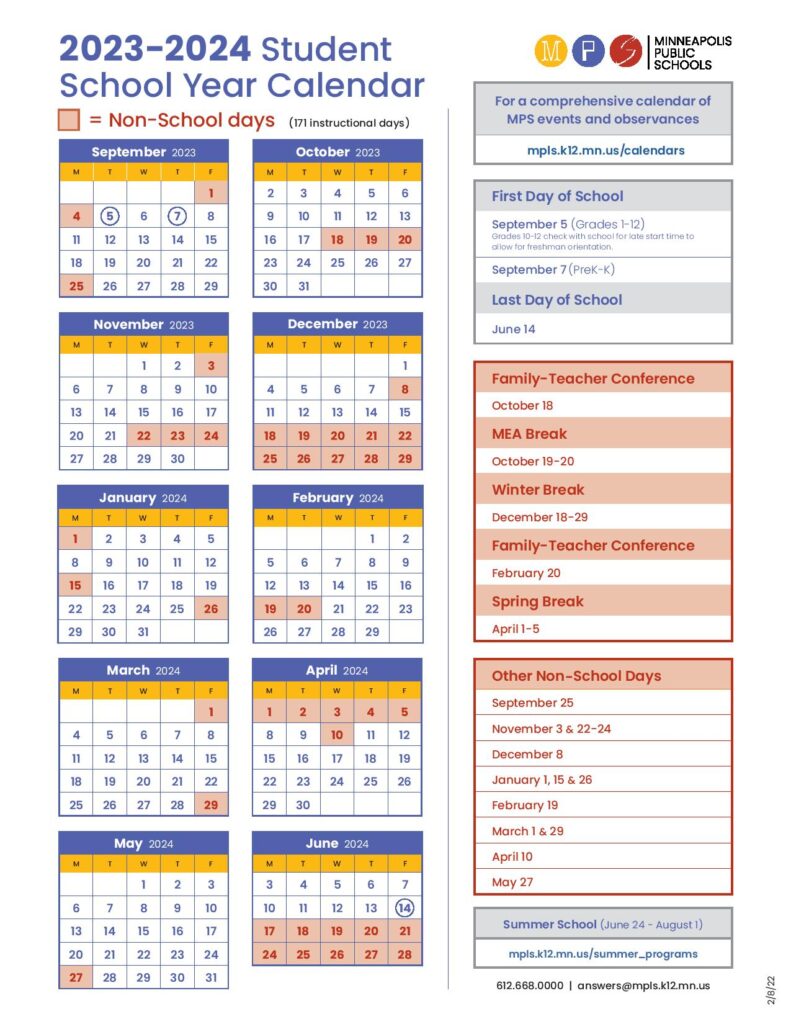 Download Links:
Additional Information
A student should some time in planning his or her work because planning is essential. Having a work plan at place makes you more confident and focused in life. Without a work planner, you may feel lost or confused at times, therefore, it's better to spend some time and plan the school work activities. This simple habit of work planning will surely benefit you great.
You can Download the Minneapolis Public Schools 2023–2024 academic calendar from this page. After obtaining the school calendar, print it out and use it for your academic tasks.
Important Note: schoolcalendarinfo.com is not the official website of any school, this is just an informational website that provides information related to school calendars and holidays. Do check your school's official website for an up-to-date and updated school calendar.