The Brevard Public Schools Calendar is available for downloading on this page for your individual use. View the academic calendar online and download it for personal use if you are a Brevard Public Schools student, educator, or support staff member. Downloading a school calendar from the school's official website will help you schedule your academic activities in the best way possible (link shared below). The dates of holidays, exams, teacher service days, and professional development days can all be noted on a school calendar. Both students and instructors can benefit from the information on the school calendar.
Brevard Public Schools Major Holidays & Dates
The first and last days of school as well as the dates of the major holiday breaks are listed in this section. There are many important holidays, including the ones in the fall, at Thanksgiving, at Christmas, and in the spring. Keep track of the dates of every major holiday break and prepare accordingly.
2023-2024 School Calendar
School Holidays
Starts
Finishes
First Day of School
Thu, 10 Aug 2023
Thanksgiving Break
Mon, 20 Nov 2023
Fri, 24 Nov 2023
Christmas Break
Fri, 22 Dec 2023
Thu, 4 Jan 2024
Spring Break
Fri, 15 Mar 2024
Fri, 22 Mar 2024
Last Day of School
Fri, 24 May 2024
2022-2023 School Calendar
School Holidays
Starts
Finishes
First Day of School
Wed, 10 Aug 2022
Thanksgiving Break
Wed, 23 Nov 2022
Fri, 25 Nov 2022
Christmas Break
Mon, 19 Dec 2022
Wed, 4 Jan 2023
Mid Winter Break
Fri, 17 Feb 2023
Mon, 20 Feb 2023
Spring Break
Fri, 10 Mar 2023
Fri, 17 Mar 2023
Last Day of School
Thu, 25 May 2023
Brevard Public Schools Calendar 2023-2024
This is the calendar for Brevard Public Schools. By clicking the link provided below the calendar preview or image, you can download this calendar. Make sure to frequently check the school website for the newest announcements and changes because it posts all the most recent information.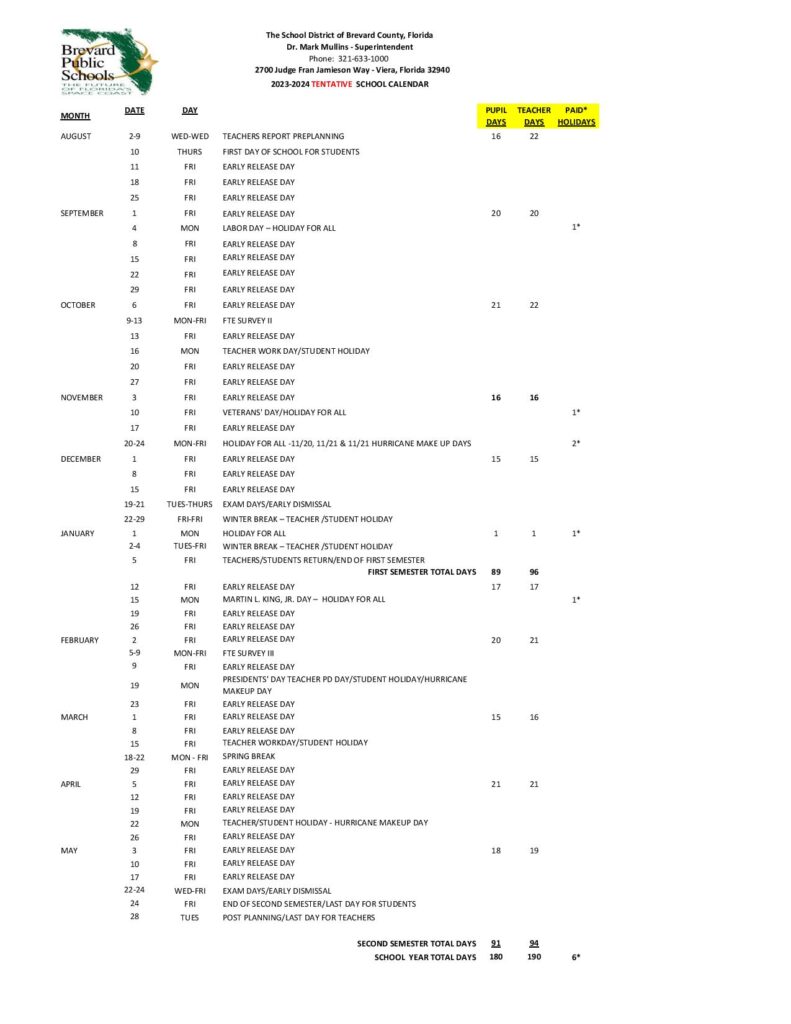 Download Links:
Additional Information
A school calendar is one of the important documents that is useful when it comes to academic work planning, management, and tracking. Grab your own school calendar from this page and begin the process of academic work planning. Every student must set some academic work goals for himself or herself and plan the work accordingly.
We are providing you with the Brevard Public Schools Calendar through this page, so if you are a student there, download it from here and print it out.
Important Note: schoolcalendarinfo.com is not the official website of any school, this is just an informational website that provides information related to school calendars and holidays. Do check your school's official website for an up-to-date and updated school calendar.