Albuquerque Public Schools Calendar is available here for all those students who are studying in the Albuquerque Public Schools. A school calendar is among the important documents that a student must download in order to keep a check on the academic dates and events. A school calendar is further used while planning academic work activities. School work planning is essential because only then you will be able to accomplish your work goals in a timely manner. Having a work plan at place makes you more focused, productive, and committed towards work. As a student, you must spend some time in planning your school work activities. Download the school calendar from this page in JPG and PDF format.
Albuquerque Public Schools (APS) is a school district based in Albuquerque, New Mexico. APS is the largest of 89 public school districts in the state of New Mexico. APS operates 89 elementary, 27 middle, and 13 high schools, as well as 10 alternative schools. If you are studying or teaching in the Albuquerque Public Schools (APS) then here we have a school calendar for you.
Albuquerque Public Schools Calendar 2022-2023
Holidays are important part of a student's life and one should keep a check on them in order to plan them well. Below you can see the table that specify the dates of major holiday breaks such as Fall Break, Thanksgiving Break, Christmas Break, Spring Break. Only the holiday breaks are mentioned in the table. For complete holiday details and other academic dates, you need to check out the full calendar that is shared in the next section.
First & Last Day of School
| | | |
| --- | --- | --- |
| Event | Day | Date |
| First Day of School | Wednesday | August 10, 2022 |
| Last Day of School | Thursday | May 25, 2023 |
Major Holiday Dates
| | | |
| --- | --- | --- |
| Holidays Name | Starts | Finishes |
| Fall Break | Thu, 6 Oct 2022 | Mon, 10 Oct 2022 |
| Thanksgiving Break | Wed, 23 Nov 2022 | Fri, 25 Nov 2022 |
| Christmas Break | Wed, 21 Dec 2022 | Wed, 4 Jan 2023 |
| Spring Break | Mon, 20 Mar 2023 | Fri, 24 Mar 2023 |
Albuquerque Public Schools Calendar 2022-2023
This is where you can see the full academic calendar of Albuquerque Public Schools. If you want to download this school calendar then check out the links shared in the next section. You can download a school calendar from here in JPG and PDF. Take a printout for your use after downloading a calendar. The link of the school's official website is shared below.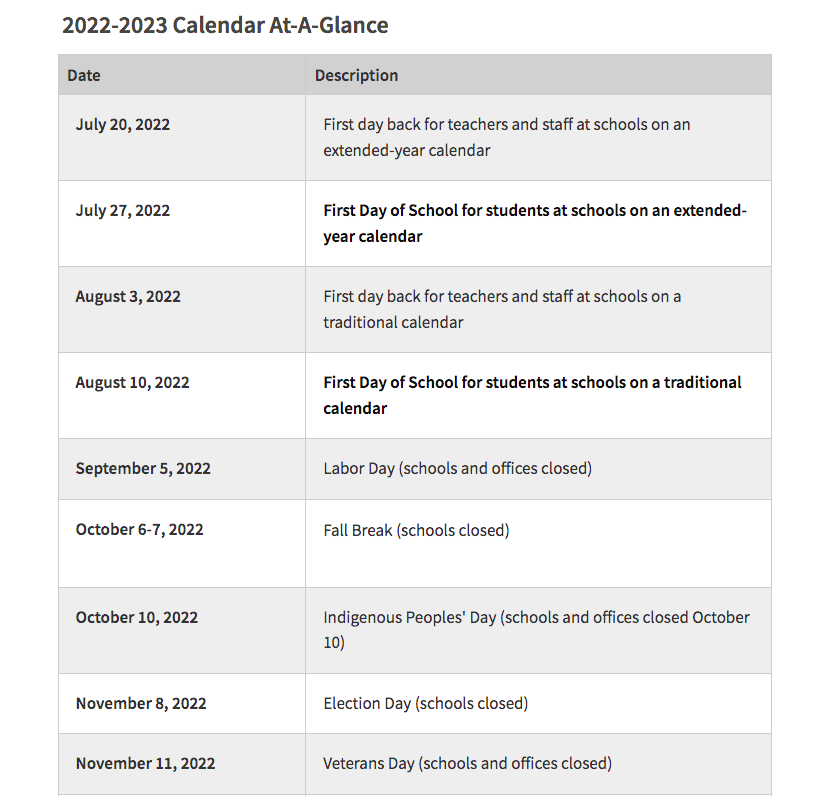 Download Links:
Additional Information
As mentioned above, academic or school work planning is essential. A student should spend some time and make an academic work plan for himself or herself. Do consider the school calendar while planning the work because all the academic dates are mentioned in the school calendar only. Few minutes spent on work planning are totally worth it and we advise students to always plan their work.
Having a work plan at place makes you more focused, confidents, and productive at the same time. This small habit of work planning will benefit you throughout your life. Time and work management is essential to succeed in life. Therefore, it is advised to spend some time in work planning, execute it, and keep a track of it.
Important Note: schoolcalendarinfo.com is not the official website of any school, this is just an informational website that provides information related to school calendars and holidays. Do check your school's official website for an up-to-date and updated school calendar.