On this page you can find out the calendar preview and major holiday dates of the Beaverton School District that is located in Beaverton, Oregon, United States. If you are a part of this school district then make sure to check out the school calendar below and download it for your use. A school calendar is one of the most important document that is made by the school board or authority every year in order to update students about the academic schedule for the entire year. It is important to note that the school district has released the Beaverton School District Calendar for the school year 2023 and 2024.
As per Wiki: The Beaverton School District is a school district in and around Beaverton, Oregon, United States. It is the third-largest school district in the state, with an enrolment of 39,180 students as of 2022.
Beaverton School District Major Holiday Breaks 2023-2024
Keep a check on the major holiday dates of the Beaverton School District through the table. Thanksgiving, Winter break, spring break, etc are some of the major holiday breaks, the dates are mentioned below. Planning holidays is also important in order to make the most out of them. The preview of the full school calendar is shared in the next section.
2023-2024 School Calendar
School Holidays
Starts
Finishes
First Day of School
Mon, 28 Aug 2023
Thanksgiving Break
Mon, 20 Nov 2023
Fri, 24 Nov 2023
Christmas Break
Mon, 18 Dec 2023
Mon, 1 Jan 2024
January Break
Mon, 15 Jan 2024
Tue, 16 Jan 2024
Mid Winter Break
Mon, 19 Feb 2024
Tue, 20 Feb 2024
Spring Break
Mon, 25 Mar 2024
Fri, 29 Mar 2024
April Break
Mon, 8 Apr 2024
Tue, 9 Apr 2024
Last Day of School
Wed, 12 Jun 2024
Beaverton School District Calendar 2023-2024
The school board or system of the Beaverton School District keeps students and teachers informed about the academic curriculum and schedule. Recently, the school board has released the full school calendar on the official website of the school, a calendar preview is shared. Check out the links below to download Beaverton School District Calendar in pdf and take a print-out for your use.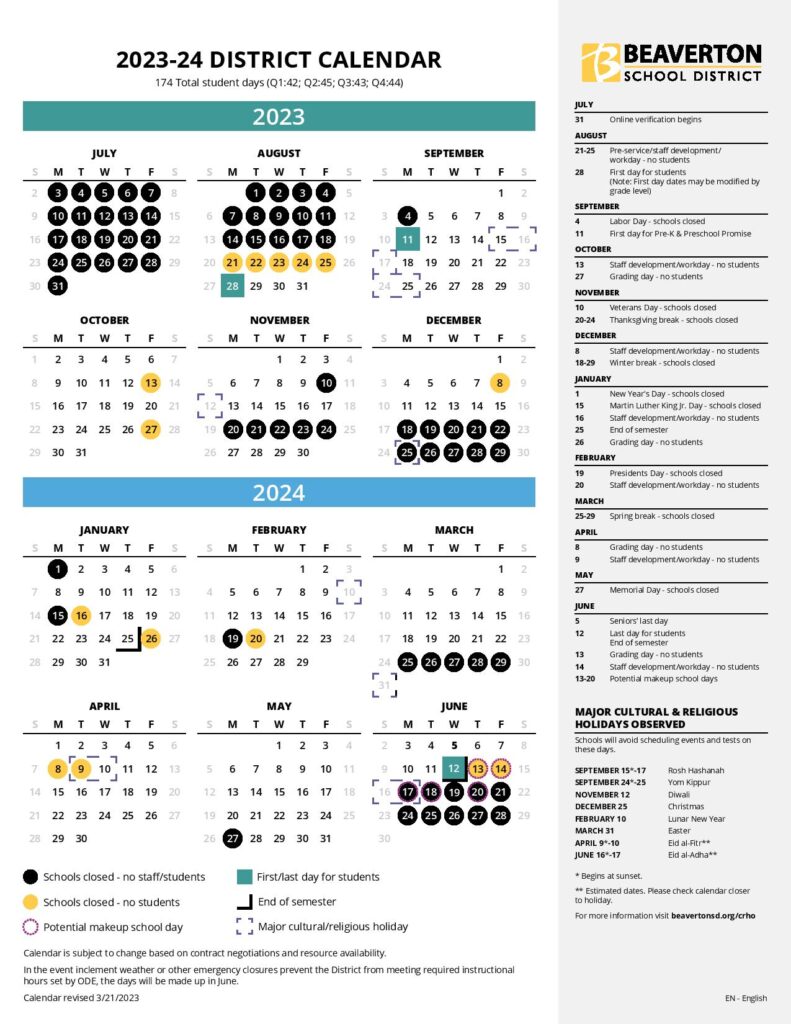 Download Links:
| | |
| --- | --- |
| Important Link | Download Link |
| School Calendar 2023-2024 | Download |
| School Calendar 2022-2023 | Download |
| School's Website | Click Here |
About Beaverton School District
Beaverton School District has 34 elementary schools, nine middle schools, six high schools, five option schools, 19 option programs and two charter schools. There is an enrolment of more than 39,000 students and nearly 4,500 staff members. Teachers and staff members are committed to create a nurturing and secure learning environment where all students can thrive and reach their true potential.
We advise students to keep a check on the official website of their school district because all the latest notifications or updates will be available there.
Q. How long is the Christmas Break in Beaverton School District?
A. The dates of the Christmas Break are Dec 25, 2023 to Jan 5, 2024
Q. How long is the Spring Break in Beaverton School District?
A. The dates of the spring break are Mar 25, 2024 to Mar 29, 2024.
Q. What is the first and last day of Beaverton School District for year 2023-2024?
A. The first day of school is Aug 28, 2023 and the last day of school is Jun 11, 2024
Important Note: schoolcalendarinfo.com is not the official website of any school, this is just an informational website that provides information related to school calendars and holidays. Do check your school's official website for an up-to-date and updated school calendar.