Are you here searching for the Bentonville Public Schools Calendar? If yes then here we got your covered, a calendar preview is shared here along with a download link. You can download and print a school calendar for your use, keep a check on all the academic dates, events, and holidays. Please note that the 2023-2024 School Calendar is available now. A school calendar is one such document that should be taken into consideration while planning the school work activities. Nothing works better than a school calendar when it comes to plan academic work schedules. Get your copy of the school calendar from below.
As per Wiki: Bentonville Schools is a comprehensive community school district serving students in kindergarten through 12th grade from Bentonville, Arkansas, in Benton County. Bentonville Schools has grown dramatically in the last decade and is now one of the largest districts (by student population) in the state.
Bentonville Public Schools Major Holiday Breaks
There are many holiday breaks in a school year such as fall break, thanksgiving break, Christmas break, spring break, etc. Keep a check on these holiday breaks through the table below. You can see the dates of the first and last day of school as well. Plan your holiday breaks in order to make the most out of them. Check out the full school calendar preview in the next section.
2023-2024 School Calendar
School Holidays
Starts
Finishes
First Day of School
Wed, 16 Aug 2023
Fall Break
Fri, 13 Oct 2023
Mon, 16 Oct 2023
Thanksgiving Break
Mon, 20 Nov 2023
Fri, 24 Nov 2023
Christmas Break
Thu, 21 Dec 2023
Mon, 8 Jan 2024
Spring Break
Mon, 18 Mar 2024
Fri, 22 Mar 2024
Last Day of School
Fri, 31 May 2024
Bentonville Public Schools Calendar 2023-2024
Below you can see a preview of the Bentonville Public Schools Calendar that is now available for the academic year 2023-2024. You can download this calendar in PDF and take a print-out for your use. Plan all your academic work activities and set work priorities for yourself.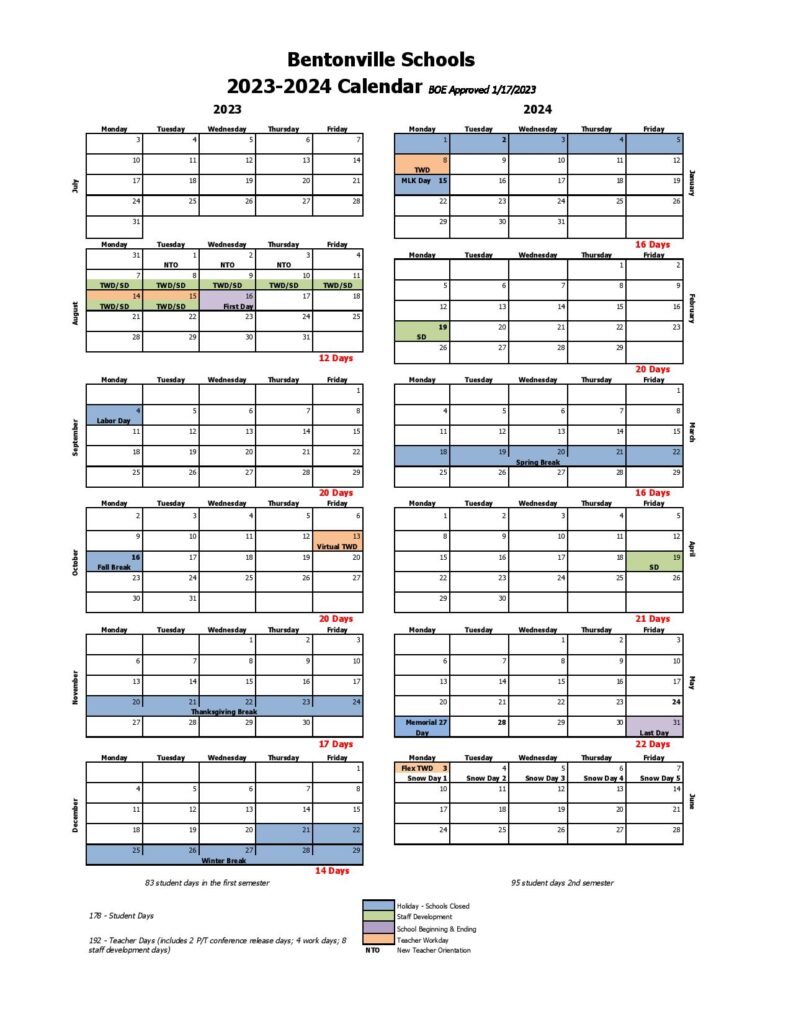 Download Links:
Additional Information
We put a lot of emphasize on the importance of school work planning and scheduling. Every student must plan his or her school work in order to stay organized, focused, and committed towards academics. The accomplishment of academic work is easy one you have a well made school work planner with you. Therefore, make sure to get copy of your school calendar and plan your work.
We have made this post to update students about the Bentonville Public Schools Calendar for the academic year 2023-2024. Now you have a school calendar, so plan your academic work accordingly.
Important Note: schoolcalendarinfo.com is not the official website of any school, this is just an informational website that provides information related to school calendars and holidays. Do check your school's official website for an up-to-date and updated school calendar.