We have come up with another school calendar, this time its Cleveland County Schools Calendar which is a school district serving Cleveland County, North Carolina. Students and teachers of this school district are informed that a school calendar has been released by the school board. The preview of the school calendar is shared below in the post. If you are interested in knowing the academic dates and holidays then check out the school calendar, download it, and take a print-out for your use. As a student, you must hold of all school work by planning it in advance.
As per Wiki: Cleveland County Schools is a PK–12 graded school district serving Cleveland County, North Carolina. The school district is known for providing engaging and collaborative learning environment for all students.
Cleveland County Schools Holiday Breaks 2023
You must be curious to know about the major holiday breaks such as thanksgiving break, Christmas break, spring break, etc. Below we have shared a table that mention these holiday breaks, please note that non students days are also incorporated into the dates below. Keep a check all major holidays and plan for them.
2023-2024 School Calendar
School Holidays
Starts
Finishes
First Day of School
Wed, 16 Aug 2023
Thanksgiving Break
Wed, 22 Nov 2023
Fri, 24 Nov 2023
Christmas Break
Thu, 21 Dec 2023
Wed, 3 Jan 2024
Spring Break
Fri, 29 Mar 2024
Fri, 5 Apr 2024
Last Day of School
Wed, 29 May 2024
Cleveland County Schools Calendar 2023-2024
Below you can see a preview of the Cleveland County Schools Calendar for this academic year. All the academic dates, events, and holidays are mentioned in a school calendar. As a student or teacher you must have a copy of the school calendar with you. Planning school work is impossible without a school calendar, therefore, download or print it for your use.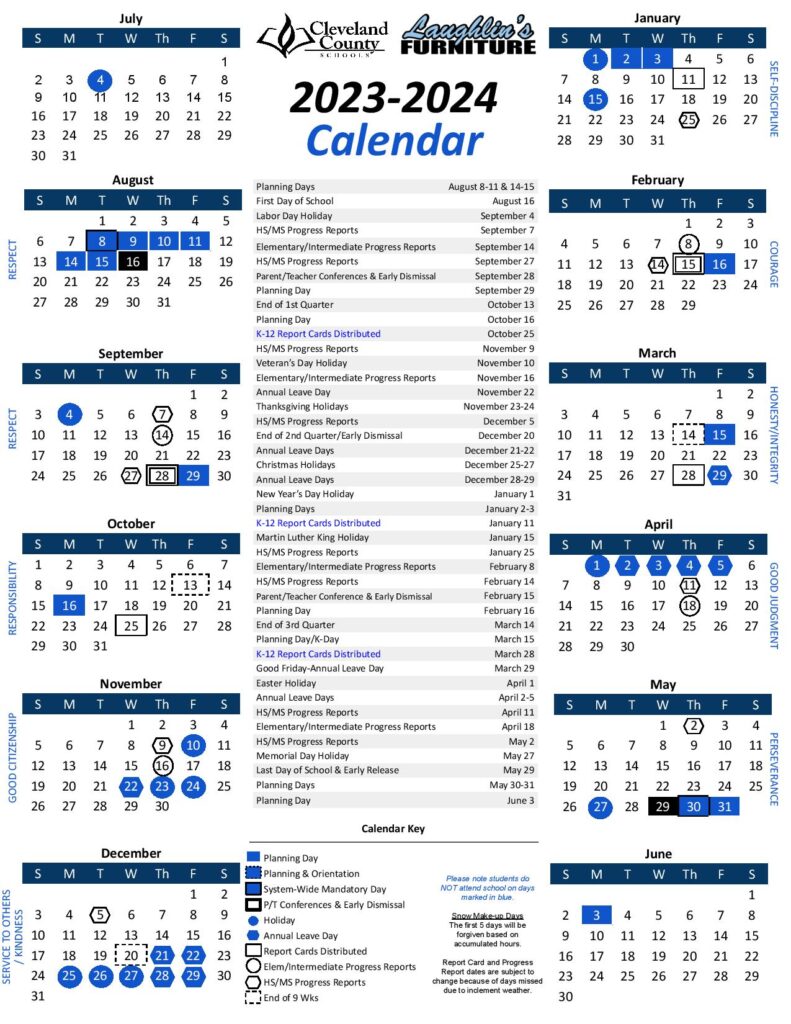 Download Links:
| | |
| --- | --- |
| Important Link | Download Link |
| School Calendar 2023-2024 | Download |
| School Calendar 2022-2023 | Download |
| School's Website | Click Here |
About Cleveland County Schools
Cleveland County Schools is committed to provide academic excellence and encourage students to reach their true potential. The school district has incorporated digital learning initiative with the support of the Cleveland County Board of Education and surrounding communities. High school students have an access to chromebook and classrooms are integrated with latest technology in order to provide exceptional education experiences and make students compete with the global students.
The link of the school's official website is shared above. Keep a check on the school's website for all the latest updates and notifications related to the school calendar and more.
Q. How long is the Christmas Break in Cleveland County Schools?
A. The dates of the Christmas Break are Dec 21, 2023 to Jan 3, 2024
Q. How long is the Spring Break in Cleveland County Schools?
A. The dates of the spring break are Mar 29, 2024 to Apr 5, 2024.
Q. What is the first and last day of Cleveland County Schools for year 2023-2024?
A. The first day of school is Aug 16, 2023 and the last day of school is May 29, 2024
Important Note: schoolcalendarinfo.com is not the official website of any school, this is just an informational website that provides information related to school calendars and holidays. Do check your school's official website for an up-to-date and updated school calendar.