You can download the Denver Public Schools Calendar from here if you are a student of Denver Public Schools. A school calendar also known as the academic calendar is best for keeping a check on the holiday dates, starting/ending dates of semester, first/last day of school, exam dates, professional development days, teachers services days, etc. Both students and teachers can check out the important dates, events, and holidays with the help of a school calendar. Making an academic work planner is definitely worthwhile because having a thorough work plan on hand makes doing academic work easier. Download the school calendar from this page and take a print-out for your use.
Denver Public School Major Holidays & Dates
Here is the table that specifies the major holiday dates such as fall break, thanksgiving break, winter break, and spring break. Along with the holiday breaks, you can see the dates of the first/last day of school as well. For complete details, you need to check out the next section and download school calendar for yourself.
First & Last Day of School
| | | |
| --- | --- | --- |
| Event | Day | Date |
| First Day of School | Monday |   August 21, 2023 |
| Last Day of School |   Wednesday | June 5, 2024 |
Major Holiday Dates
| | | |
| --- | --- | --- |
| Holidays Name | Starts | Finishes |
| Fall Break | Thu, 12 Oct 2023 | Mon, 16 Oct 2023 |
| Thanksgiving Break | Mon, 20 Nov 2023 | Fri, 24 Nov 2023 |
| Christmas Break | Mon, 18 Dec 2023 | Tue, 2 Jan 2024 |
| Spring Break | Mon, 25 Mar 2024 | Mon, 1 Apr 2024 |
Denver Public Schools Calendar 2023-2024 PDF
Every student must organize his or her academic work to bring the best results. Check out the school calendar of the Denver Public Schools below and download it in PDF format for your use. You can save it for later use. You can print the calendar after downloading it.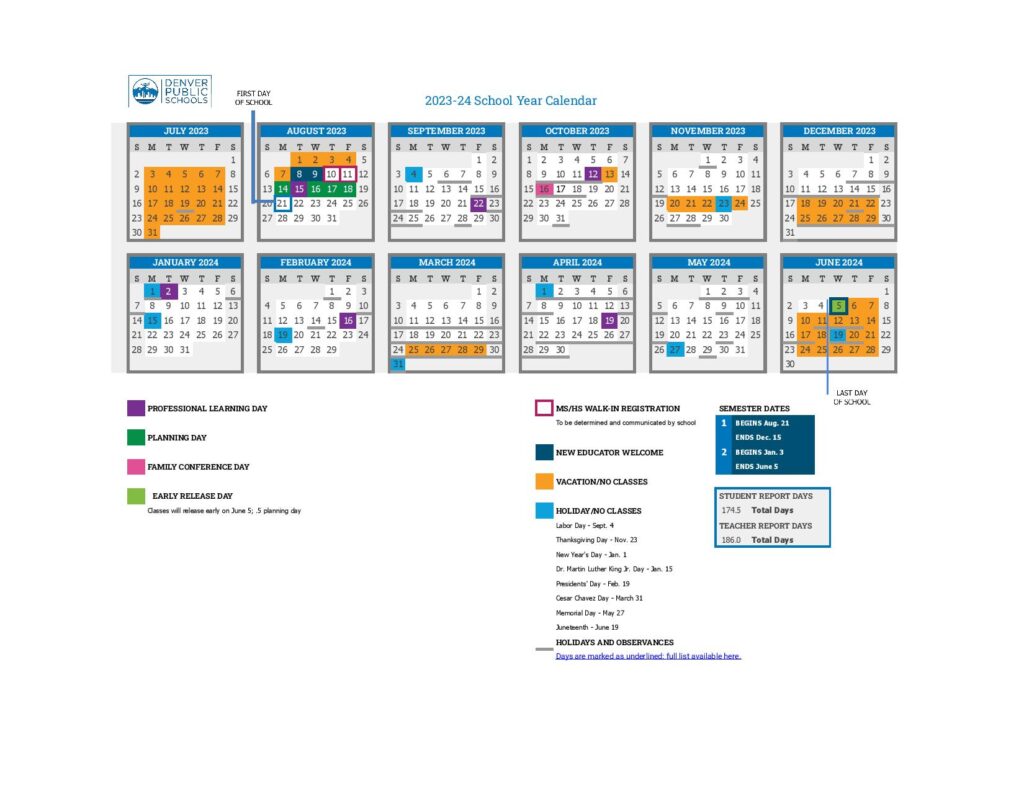 2023-2024 Calendar Link >>>>> Download Calendar in PDF
School Website >>>>> https://www.dpsk12.org/
Time management is essential to a student's life. A student was expected to handle school-related tasks and work activities. Managing workload looks to be a difficult undertaking in the absence of sufficient planning. To keep track of work activities, it is required to create a work planner. Use a school calendar to plan the activities for school work. You should download the school calendar as soon as it is made accessible.
To view the approved calendars for 2023–2024, go to the Denver Public Schools website. You might also want to check the school district's website to see if there have been any last-minute or urgent adjustments that weren't mentioned in the official calendars.
Important Note: schoolcalendarinfo.com is not the official website of any school, this is just an informational website that provides information related to school calendars and holidays. Do check your school's official website for an up-to-date and updated school calendar.