On this page you can see the calendar preview and major holiday dates for the Edmond Public Schools in Oklahoma. Students and teachers of the Edmond Public Schools are informed that the school board has released the Edmond Public Schools Calendar and you can download it from here. With the help of a school calendar you can keep a check on all the important academic dates such as first/last day of school, exam dates, school holidays, starting/ending of semester, etc. Planning, management, and tracking of school work becomes smooth once you have a school calendar with you.
As per Wiki: Edmond Public Schools is a public school district located in the Oklahoma City suburb of Edmond, Oklahoma. The district has 19 elementary schools, six middle schools, three high schools, an alternative high school, and an early childhood center.
Edmond Public Schools Holiday Breaks 2023-2024
Keep a check on the Edmond Public Schools Holiday Breaks such as fall break, thanksgiving break, Christmas break, spring break, etc through the table below. You can also see the dates of the first/last day of school. For other academic dates and holidays you need to check out the full school calendar preview in the next section.
2023-2024 School Calendar
School Holidays
Starts
Finishes
First Day of School
Thu, 10 Aug 2023
September Break
Mon, 4 Sep 2023
Tue, 5 Sep 2023
Fall Break
Thu, 19 Oct 2023
Mon, 23 Oct 2023
Thanksgiving Break
Mon, 20 Nov 2023
Fri, 24 Nov 2023
Christmas Break
Thu, 21 Dec 2023
Fri, 5 Jan 2024
Spring Break
Mon, 18 Mar 2024
Mon, 25 Mar 2024
Last Day of School
Fri, 17 May 2024
Edmond Public Schools Calendar 2023-2024
Edmond Public Schools is dedicated to provide top notch education and quality learning environment to each and every student. A good learning environment and skilled teachers are essential for overall growth of a student in all aspects. The school board has recently released the Edmond Public Schools Calendar for the school year 2023-2024 in order to update students about the dates of the academic events and holidays. Download and print your school calendar from below.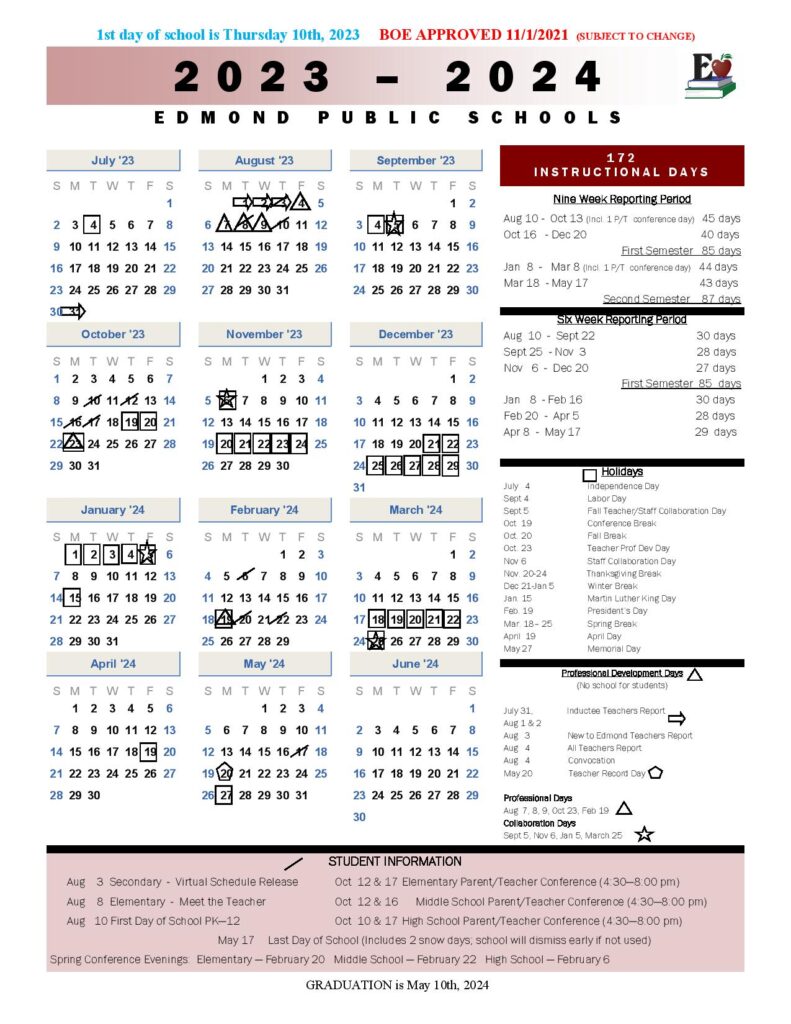 Download Links:
More Information
Edmond Public Schools is one of the fastest-growing districts in Oklahoma, serving more than 26,200 students. The school system is dedicated to provide all the necessary tools and resources for the betterment of students, the vision of the school is to make students ready to compete with the global students. Advanced teaching and learning tools are employed to let students learn and grow under the guidance of expert teachers.
It is important to note that the academic dates may change from year to year, therefore, make sure to consult the official website of the Edmond Public Schools for the latest or updated school calendar.
Important Note: schoolcalendarinfo.com is not the official website of any school, this is just an informational website that provides information related to school calendars and holidays. Do check your school's official website for an up-to-date and updated school calendar.