Fort Mill School District has released the school calendar for this academic year, students and teachers can check out the major holiday dates and calendar preview below. The basic use of a school calendar is to keep a check on the important academic dates, events, and holidays. Students are required to plan their academic work for the accomplishment of their goals or objectives. Planning school work is incomplete without a school calendar, therefore, you should download Fort Mill School District Calendar from below and begin the process of planning or tracking your school work activities.
As per Wiki: Fort Mill School District, officially known as York County School District 4, is a public school district in Fort Mill, South Carolina, United States. It also serves students from Lake Wylie and Tega Cay.
Fort Mill School District Major Holiday Breaks 2023-2024
Students are always curious to know about the upcoming holiday breaks and this is why below we have shared a table that specify the dates of the thanksgiving break, Christmas break, spring break, etc. Keep a check on these holiday breaks and plan them accordingly, check out the full school calendar in the next section.
2023-2024 School Calendar
School Holidays
Starts
Finishes
First Day of School
Mon, 21 Aug 2023
Thanksgiving Break
Wed, 22 Nov 2023
Fri, 24 Nov 2023
Christmas Break
Mon, 25 Dec 2023
Fri, 5 Jan 2024
Mid Winter Break
Fri, 16 Feb 2024
Mon, 19 Feb 2024
Spring Break
Mon, 1 Apr 2024
Fri, 5 Apr 2024
Last Day of School
Fri, 31 May 2024
Fort Mill School District Calendar 2023-2024
Accomplishment of academic work goals or objectives is easier once you have a well made work planner with you. We advise all students to plan their school work because it makes you more organized and focused. Few minutes spent on the work planning are totally worth it. Grab Fort Mill School District Calendar from below and begin the process of planning your school work. Both students and teachers can use a calendar for planning their academic or teaching work schedules.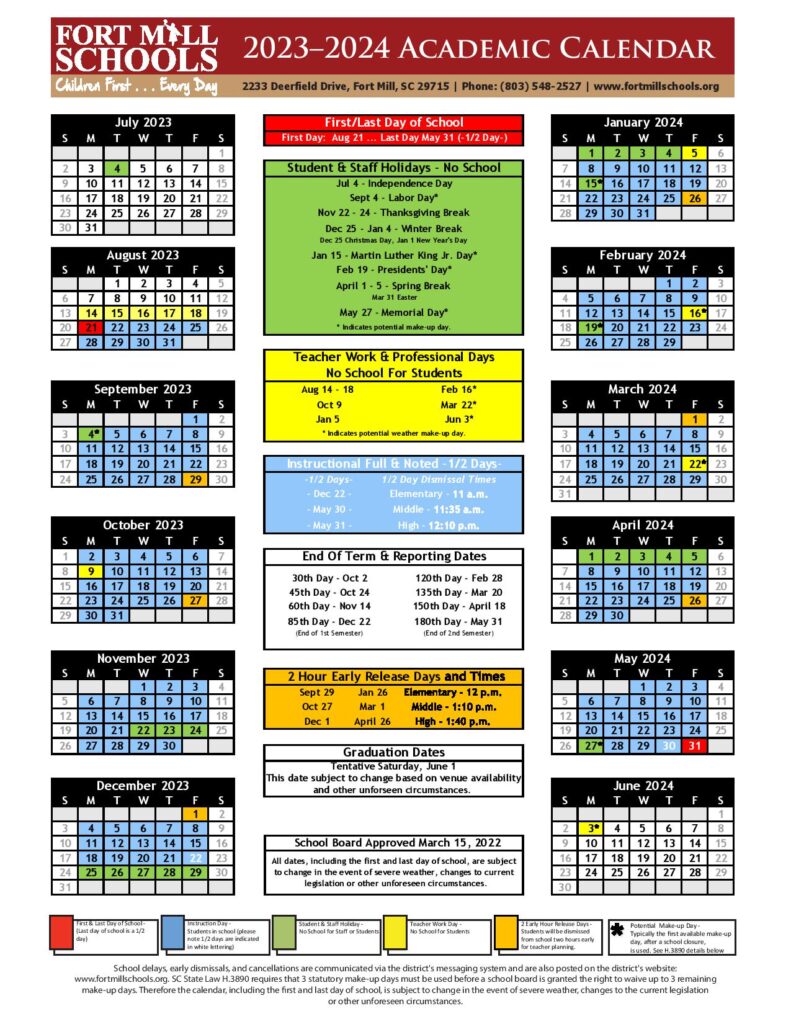 Download Links:
More Information
The motto of the Fort Mill School District is Children First, Every Day,". The school district is committed to provide high quality education and cater to the needs of each and every students. Apart from the academics, the school is dedicated to arts and athletics programming as well in order to create well rounded students and allow them to explore their interests and reach their true potential. Fort Mill School District is one of the fastest growing schools serving more than 17,000 students in 19 schools.
It is important to note that the academic dates may change from year to year, therefore, make sure to consult the official website of the Fort Mill School District for the latest or updated school calendar.
Important Note: schoolcalendarinfo.com is not the official website of any school, this is just an informational website that provides information related to school calendars and holidays. Do check your school's official website for an up-to-date and updated school calendar.