This page contains the major dates and a preview of the Granite School District Calendar of the Granite School District in Utah. If you are a student or teacher of this school district then make sure to download your school calendar and plan your academic work activities. A school calendar contains the official academic schedule that is prepared by the school board or authority. The purpose of using a school calendar is to make students aware of all academic dates and events so they can prepare for them in a best way.
As per Wiki: Granite is the third largest district in Utah and is among the largest public school districts in the nation with an enrolment of more than 60,000 students. It is located in the located in the Salt Lake Valley.
Granite School District Major Holiday Breaks 2023-2024
Planning holidays should be on your list, check out the table below to keep a check on the holiday breaks of the Granite School District for this school year. You can see the dates of the fall break, thanksgiving break, Christmas break, spring break, etc through the table below. Plan all your major holidays and make them fun or productive.
2023-2024 School Calendar
School Holidays
Starts
Finishes
First Day of School
Wed, 16 Aug 2023
September Break
Fri, 1 Sep 2023
Mon, 4 Sep 2023
Fall Break
Thu, 12 Oct 2023
Mon, 16 Oct 2023
Thanksgiving Break
Wed, 22 Nov 2023
Fri, 24 Nov 2023
Christmas Break
Fri, 22 Dec 2023
Tue, 2 Jan 2024
Mid Winter Break
Fri, 16 Feb 2024
Mon, 19 Feb 2024
Spring Break
Mon, 1 Apr 2024
Fri, 5 Apr 2024
Last Day of School
Fri, 24 May 2024
Granite School District Calendar 2023-2024
There should not be delay in downloading a school calendar. As a student, it is your responsibility to keep a check on the school calendar and download it at the earliest. The entire academic schedule is mentioned in a school calendar including all the important dates, events, and holidays. Check out the preview of Granite School District Calendar below and print it for your own use.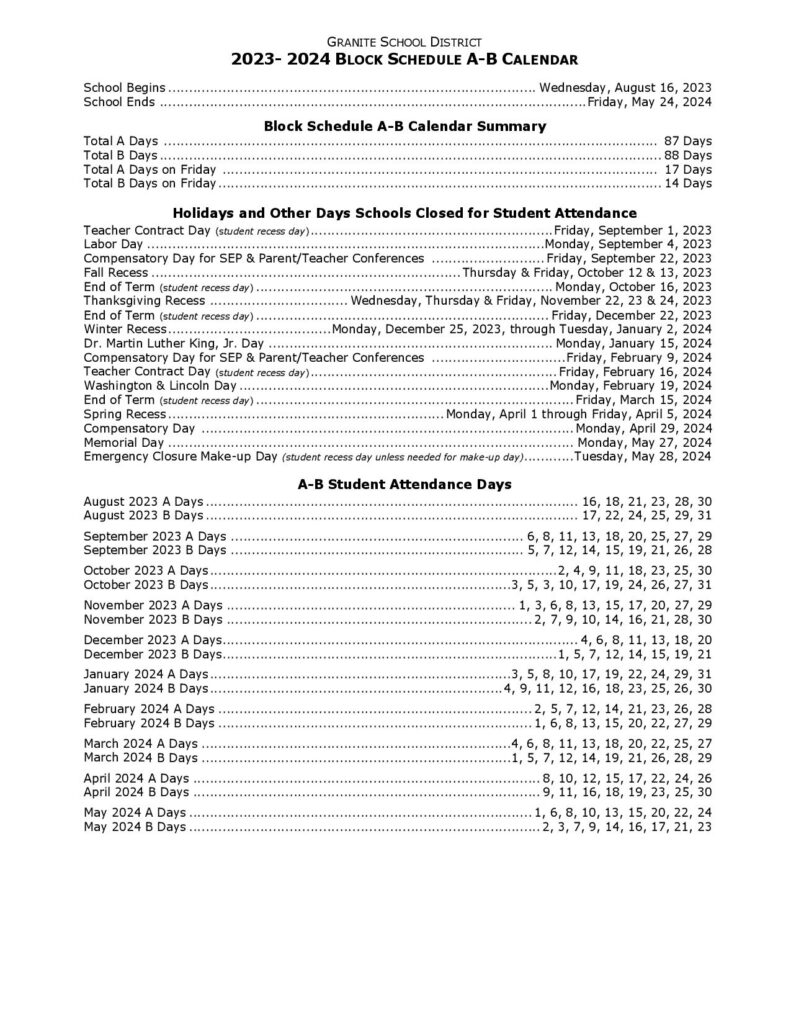 Download Links:
| | |
| --- | --- |
| Important Link | Download Link |
| School Calendar 2023-2024 | Download |
| School Calendar 2022-2023 | Download |
| School's Website | Click Here |
About Granite School District
Granite School District is known for providing top notch academic programs, athletic and artistic program for students. The school district provides professional development programs for teachers to ensure they are well versed with the latest teaching trends and styles. There are numerous education programs for students in grades K through 12.
As a student you must keep a check on the official website of the school to keep a check on the latest changes or amendments that may occur in a school calendar. Plan your academic work with the help of a school calendar.
Q. How long is the Christmas Break in Granite School District?
A. The dates of the Christmas Break are Dec 22, 2023 to Jan 2, 2024
Q. How long is the Spring Break in Granite School District?
A. The dates of the spring break are Apr 1, 2024 to Apr 5, 2024.
Q. What is the first and last day of Granite School District for year 2023-2024?
A. The first day of school is Aug 16, 2023 and the last day of school is May 24, 2024
Important Note: schoolcalendarinfo.com is not the official website of any school, this is just an informational website that provides information related to school calendars and holidays. Do check your school's official website for an up-to-date and updated school calendar.