Hamilton Southeastern Schools Calendar preview is shared here along with official calendar download link. If you are a part of this school district be it as a student or teacher or staff member then do check out the school calendar below and download it. A school calendar is one such document that is used by both students and teachers when it comes to planning their academic schedules for the entire session. Hamilton Southeastern Schools A-rated school corporation by the Indiana Department of Education and has an enrolment of over 21,600 students in pre-kindergarten through 12th grade.
As per Wiki: Hamilton Southeastern School District is the school district for students living in Fishers, Indiana and portions of neighboring Noblesville, Indiana. The district consists of twelve elementary schools (K-4), four intermediate schools (5-6), four junior high schools (7-8), and two high schools (9-12).
Hamilton Southeastern Schools Major Holiday Breaks
Just like any other academic year, there are holiday breaks in this academic year as well such as fall break, thanksgiving break, Christmas break, spring break, etc. The dates of the major holiday breaks and the first/last day of school are shared below. These are only the major holiday break dates, check out the full school calendar in the next section for complete information.
2023-2024 School Calendar
School Holidays
Starts
Finishes
First Day of School
Wed, 9 Aug 2023
Fall Break
Mon, 16 Oct 2023
Fri, 20 Oct 2023
Thanksgiving Break
Wed, 22 Nov 2023
Fri, 24 Nov 2023
Christmas Break
Mon, 25 Dec 2023
Mon, 8 Jan 2024
Spring Break
Fri, 29 Mar 2024
Mon, 8 Apr 2024
Last Day of School
Wed, 29 May 2024
Hamilton Southeastern Schools Calendar 2023-2024
The preview of the Hamilton Southeastern Schools Calendar is shared below for the school year 2023-2024. As you can see, all the academic dates are mentioned it, there is information for students, teachers, and parents as well. A school calendar is one such document that you must download because academic work planning is not possible without it.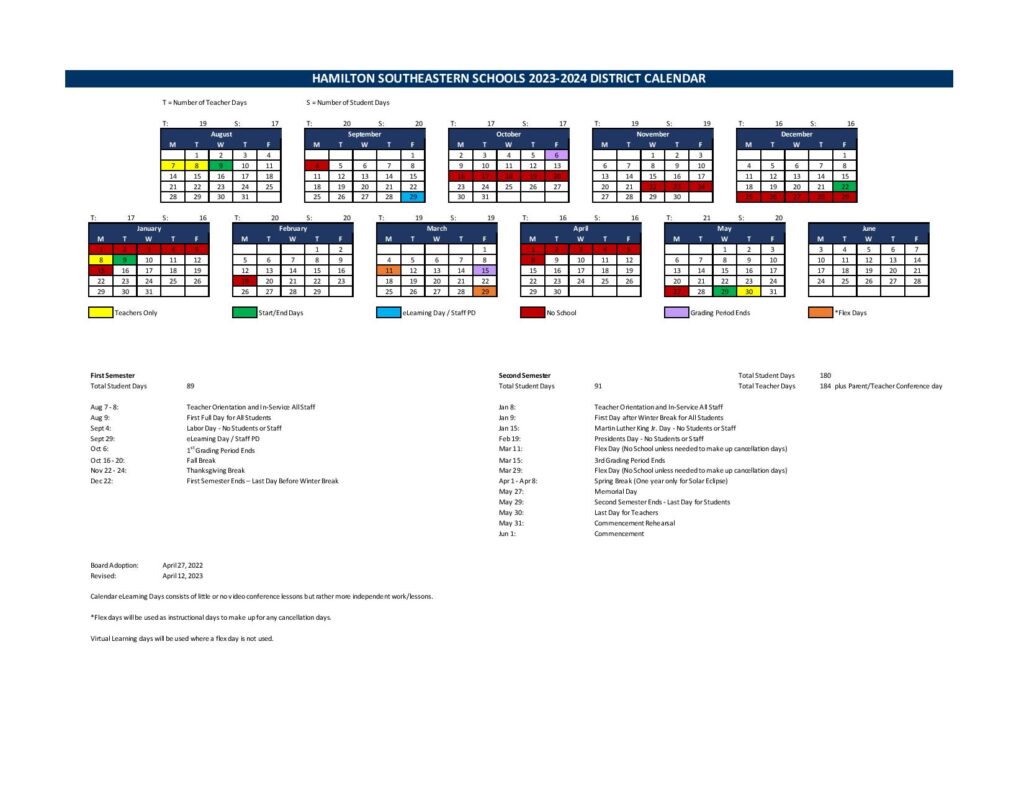 Download Links:
| | |
| --- | --- |
| Important Link | Download Link |
| School Calendar 2023-2024 | Download |
| School Calendar 2022-2023 | Download |
| School's Website | Click Here |
About Hamilton Southeastern Schools
Hamilton Southeastern Schools is the fourth largest in the state. The school system is committed to provide a student-driven, academically challenging education to all students in order to prepare them for higher education, career, and life ahead. The academic curriculum is designed as per the state or nation standards and it encourage students to work on problem solving skills and do critical thinking.
All the major updates related to the school calendar or any important notifications are available on the official website of the school. Therefore, make sure to keep a check on the school's website to keep yourself updated (link shared in the above section).
Q. What are the dates for Christmas Break in Hamilton Southeastern Schools?
A. The dates of the Christmas Break are Dec 25, 2023 to Jan 8, 2024
Q. What are the dates for Spring Break in Hamilton Southeastern Schools?
A. The dates of the spring break are Mar 29, 2024 to Apr 8, 2024.
Q. When does the Hamilton Southeastern Schools Starts and Ends for academic year 2023-2024?
A. The first day of school is Aug 9, 2023 and the last day of school is May 29, 2024
Important Note: schoolcalendarinfo.com is not the official website of any school, this is just an informational website that provides information related to school calendars and holidays. Do check your school's official website for an up-to-date and updated school calendar.