Download Hillsborough County Public Schools Calendar from this page for the academic year 2023-2024. Both students and teachers can view the online and downloadable academic calendar here and take a print-out for their use. Both students and teachers can benefit from using a school calendar since it makes it easier for them to plan their schedules for studying and teaching. Achieving academic work goals and objectives is much easier once you have a school calendar with you. The value of work tracking and planning cannot be overstated. Therefore, it is advisable to only begin preparing academic work at the beginning of the academic year. To do this, download a school calendar from the school's official website.
Hillsborough County Public Schools Major Holidays & Dates
There are few major holiday breaks in the academic year such as thanksgiving break, winter break, spring break, etc. Below you can see a table that specifies the dates of the major holiday breaks along with the dates of first/last days of the school. Only the major dates are mentioned in the table, download the school calendar from the next section for complete details.
2023-2024 School Calendar
School Holidays
Starts
Finishes
First Day of School
Thu, 10 Aug 2023
Thanksgiving Break
Mon, 20 Nov 2023
Fri, 24 Nov 2023
Christmas Break
Mon, 25 Dec 2023
Fri, 5 Jan 2024
Spring Break
Mon, 11 Mar 2024
Fri, 15 Mar 2024
Last Day of School
Fri, 24 May 2024
2022-2023 School Calendar
School Holidays
Starts
Finishes
First Day of School
Wed, 10 Aug 2022
Thanksgiving Break
Mon, 21 Nov 2022
Fri, 25 Nov 2022
Christmas Break
Mon, 26 Dec 2022
Fri, 6 Jan 2023
Spring Break
Mon, 13 Mar 2023
Fri, 17 Mar 2023
Last Day of School
Fri, 26 May 2023
Hillsborough County Public Schools Calendar 2023-2024
A complete academic calendar includes all dates for the academic year, including holiday breaks and exams. The Hillsborough County Public Schools academic schedule is available for download below. This calendar can be printed once it has been downloaded.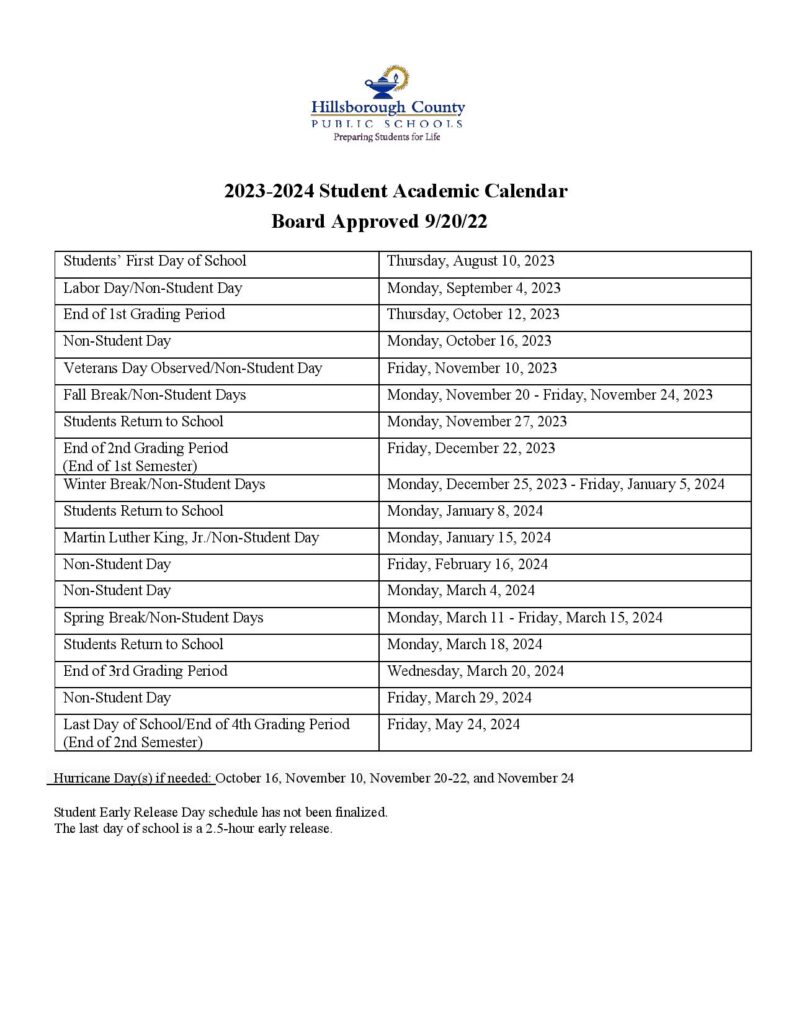 Additional Information
Download a school calendar from the official website of the school. You can find out the link of the Hillsborough County Public Schools website above. All the major changes, updates, and notifications are updated on the school website only, therefore, make sure to keep checking it.
Organizing, managing, and measuring work are three crucial facets of student life. Every student has to understand how to organise, control, and monitor their academic work. Once everything is planned and structured, accomplishing targeted academic goals becomes simpler. Here, we place a strong emphasis on the value of work planning and tracking, which is why we've included a school calendar. A school calendar is one of the most useful resources that can be used when planning academic work activities.
Important Note: schoolcalendarinfo.com is not the official website of any school, this is just an informational website that provides information related to school calendars and holidays. Do check your school's official website for an up-to-date and updated school calendar.