Are you here in search of the Howard County Public Schools Calendar? If yes then simply check out the school calendar preview shared on this page and download it from the official website of the school. Just like any other, Howard County Public Schools has released the school calendar for this year as well and students can download it from the main website of school. If you are a student or teacher of the Howard County Public Schools then check out the academic calendar below, download it, and print it off for your use. With the help of a school calendar you can keep a check on the first/last day of school, holiday breaks, starting/ending of semester, teachers preparation days, teachers services days, and professional development days, etc
As per Wiki: The Howard County Public School System (HCPSS) is the school district that manages and runs the public schools of Howard County, Maryland. It operates under the supervision of an elected, eight-member Board of Education. The district operates 77 schools: 42 elementary schools, 20 middle schools, 12 high schools, and 3 special education schools/education centers.
Howard County Public School Major Dates and Holidays
If you want to keep a check on the dates of the major holiday breaks then check out the table below. The major holiday breaks that are mentioned in the table are fall break, thanksgiving break, Christmas break, and spring break. Only the major holiday breaks are mentioned in table, refer to the school calendar in the next section for complete details and dates.
2023-2024 School Calendar
School Holidays
Starts
Finishes
First Day of School
Mon, 28 Aug 2023
Thanksgiving Break
Wed, 22 Nov 2023
Fri, 24 Nov 2023
Christmas Break
Mon, 25 Dec 2023
Mon, 1 Jan 2024
Spring Break
Mon, 25 Mar 2024
Mon, 1 Apr 2024
Last Day of School
Fri, 7 Jun 2024
2022-2023 School Calendar
School Holidays
Starts
Finishes
First Day of School
Mon, 29 Aug 2022
Fall Break
Fri, 21 Oct 2022
Mon, 24 Oct 2022
Thanksgiving Break
Wed, 23 Nov 2022
Fri, 25 Nov 2022
Christmas Break
Mon, 26 Dec 2022
Mon, 2 Jan 2023
Spring Break
Mon, 3 Apr 2023
Mon, 10 Apr 2023
Last Day of School
Tue, 13 Jun 2023
Howard County Public Schools Calendar 2023-2024
The preview or image of the Howard County Public Schools Calendar is available below. Make sure to download the updated version of the school calendar from the school's official website only, the link of the school website is available below along with a link of the calendar page.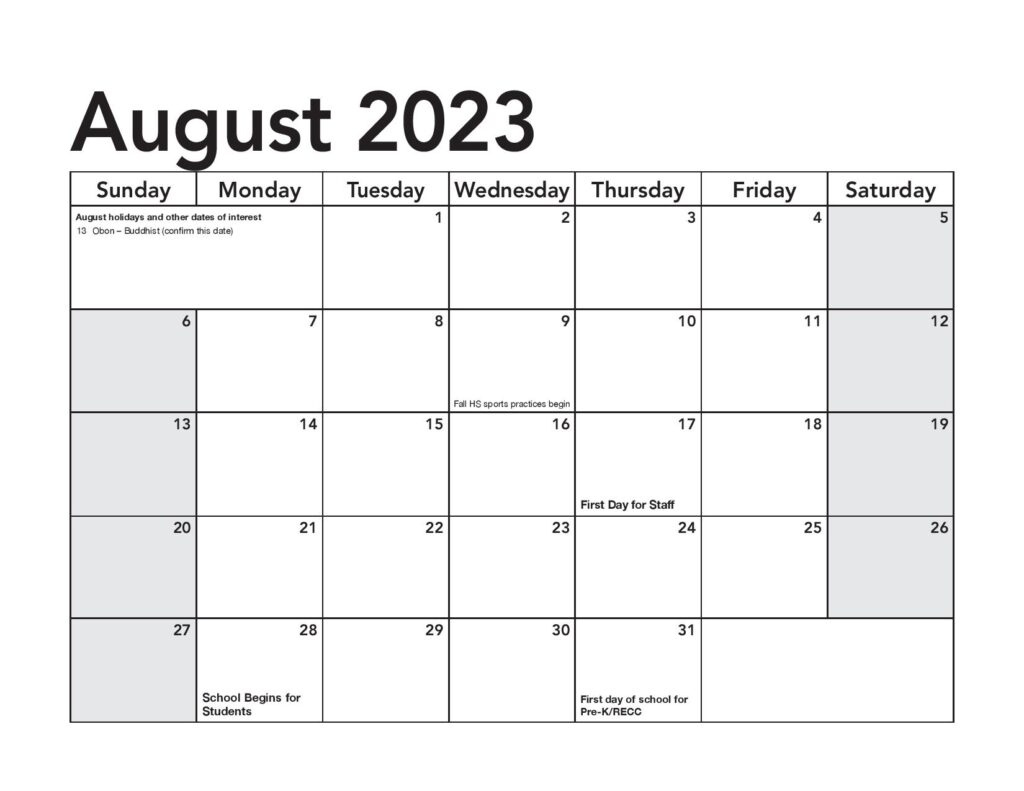 Download Links:
Additional Information
Get a copy of your school calendar and start the process of planning and tracking your academic work. Every student must make a small habit of planning his or her work in order to stay organized, motivated, and focused. Accomplish all your academic objectives with the help of school work planning and tracking.
Students prefer an academic calendar in a printable format because it is easy to carry and use. Download an academic calendar for your use from here if you are studying or teaching in the Howard County Public Schools.
Important Note: schoolcalendarinfo.com is not the official website of any school, this is just an informational website that provides information related to school calendars and holidays. Do check your school's official website for an up-to-date and updated school calendar.