Indianapolis Public Schools (IPS) is the largest school district in Indianapolis, and the second largest school district in the state of Indiana as of 2021, behind Fort Wayne Community Schools. The district's headquarters are in the John Morton-Finney Center for Educational Services. If you are studying in the Indianapolis Public Schools then here we have a school calendar for you for the academic year 2023-2024. Download Indianapolis Public Schools Calendar from this page, take a print-out for your use, and start managing your school work activities. Nothing is better than a work planner because it keeps you focused and on the correct work path. Here we advise all students to take some time and do your academic work planning.
With the help of a school calendar, you can keep a check on all the academic dates, events, and holidays. A school calendar is one such document that has information for students, teacher, and parents as well.
Indianapolis Public School Holidays 2023-2024
In this section, you can see two tables. One table specify the dates of the first and last day of the school. And the second table specify the dates of the major holidays. There are a few major holiday breaks in an academic break such as fall break, thanksgiving break, Christmas or winter break, and spring break. The dates of these major holiday breaks are mentioned in the table below.
It is essential to keep a check on these dates because only then you will be able to plan them well and make the most out of them. Do not waster your holiday breaks, make the more fun and productive.
2023-2024 School Calendar
School Holidays
Starts
Finishes
First Day of School
Mon, 31 Jul 2023
September Break
Mon, 4 Sep 2023
Tue, 5 Sep 2023
Fall Break
Mon, 9 Oct 2023
Fri, 13 Oct 2023
Thanksgiving Break
Wed, 22 Nov 2023
Mon, 27 Nov 2023
Christmas Break
Fri, 22 Dec 2023
Fri, 5 Jan 2024
January Break
Mon, 15 Jan 2024
Tue, 16 Jan 2024
Mid Winter Break
Mon, 19 Feb 2024
Tue, 20 Feb 2024
Spring Break
Mon, 25 Mar 2024
Mon, 1 Apr 2024
Last Day of School
Thu, 23 May 2024
2022-2023 School Calendar
School Holidays
Starts
Finishes
First Day of School
Mon, 1 Aug 2022
September Break
Mon, 5 Sep 2022
Tue, 6 Sep 2022
Fall Break
Mon, 10 Oct 2022
Fri, 14 Oct 2022
Thanksgiving Break
Wed, 23 Nov 2022
Mon, 28 Nov 2022
Christmas Break
Wed, 21 Dec 2022
Thu, 5 Jan 2023
January Break
Mon, 16 Jan 2023
Tue, 17 Jan 2023
Mid Winter Break
Fri, 17 Feb 2023
Mon, 20 Feb 2023
Spring Break
Mon, 27 Mar 2023
Mon, 3 Apr 2023
Last Day of School
Thu, 25 May 2023
Indianapolis Public Schools Calendar 2023-2024
This is the section where you can see the academic calendar of the Indianapolis Public Schools, you can find the download links below this calendar preview or image. We have shared the official school's website links from where you can access the school calendar and download it for your use.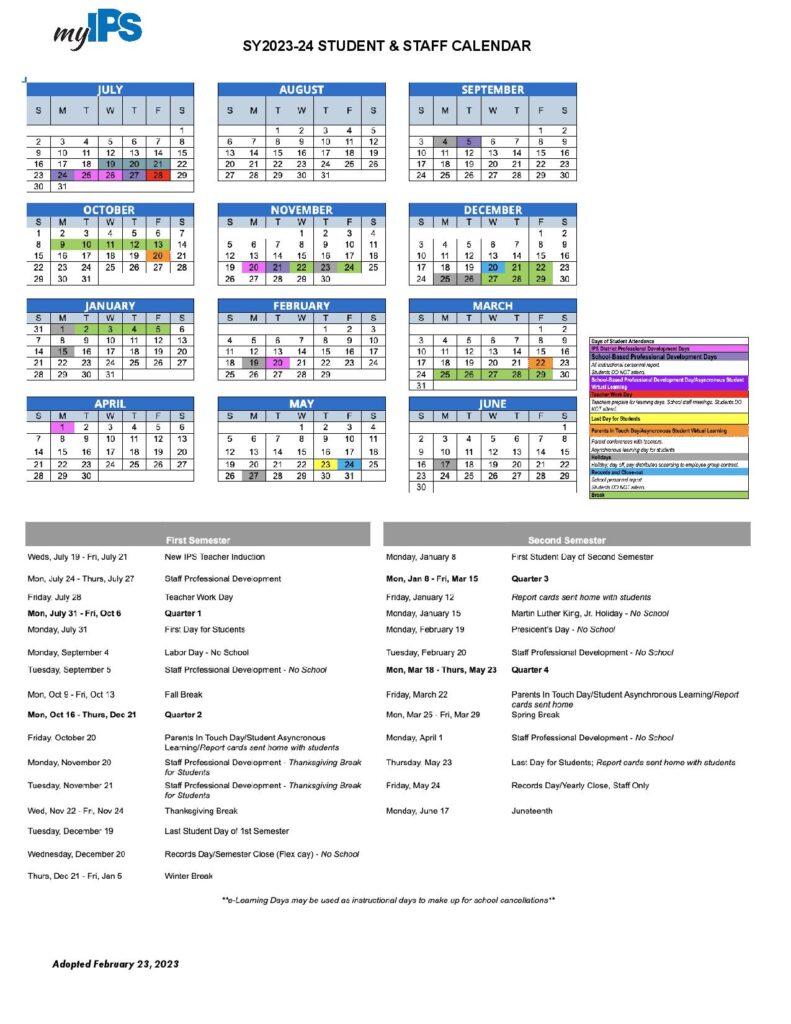 Download Links:
Additional Information
A student must have a copy of school calendar with him or her. You may need a school calendar at anytime, therefore, we suggest you to take a print-out of a school calendar and carry it with you. A printable calendar is super easy to carry. On the other hand, you can download this calendar in digital PDF format and save it in your smart device so that you can access it whenever required.
So this is all from our side related to the Indianapolis Public Schools Calendar. You have a school calendar now for the year 2023-2024. Similarly, you can check out school calendars of other schools on this website.
Important Note: schoolcalendarinfo.com is not the official website of any school, this is just an informational website that provides information related to school calendars and holidays. Do check your school's official website for an up-to-date and updated school calendar.