Find out the Keene School District Calendar on this page and download it for your use. You can download and print a school calendar for the academic year 2023-2024. The school system has created the academic schedule for the entire academic session and released in the form of a school calendar. It is the responsibility of a student or teacher to keep a check on the school calendar and plan their academic work activities accordingly. The whole purpose of using a school calendar is to keep a check on the important dates of the academic events and holidays. Plan your school work with the help of a school calendar.
As per the information available on the school's website, Keene School District is the largest of the SAU29 districts, with a student enrollment of 2,569*, and serves approximately 48% of the towns that comprise Cheshire County.
Keene School District Major Holiday Dates 2023-2024
Holidays are important for both students and teachers because it allows them to take a break from academic and relax or have fun with friends or family. Holidays are essential for students in order to rest and re-energize so they can get back to the academic work with new energy and excitement. Check out the major holiday dates of the Keene School District in a table below.
2023-2024 School Calendar
School Holidays
Starts
Finishes
First Day of School
Wed, 30 Aug 2023
Thanksgiving Break
Wed, 22 Nov 2023
Fri, 24 Nov 2023
Christmas Break
Mon, 25 Dec 2023
Mon, 1 Jan 2024
Mid Winter Break
Mon, 19 Feb 2024
Fri, 23 Feb 2024
Spring Break
Mon, 22 Apr 2024
Fri, 26 Apr 2024
Last Day of School
Fri, 14 Jun 2024
Keene School District Calendar 2023-2024
Download Keene School District Calendar and print it for your use. As you can see all the important dates are mentioned in it. A school calendar has important information for students, teachers, staff members, and parents as well. As a student, you must have a copy of the school calendar in order to plan or schedule academic work activities.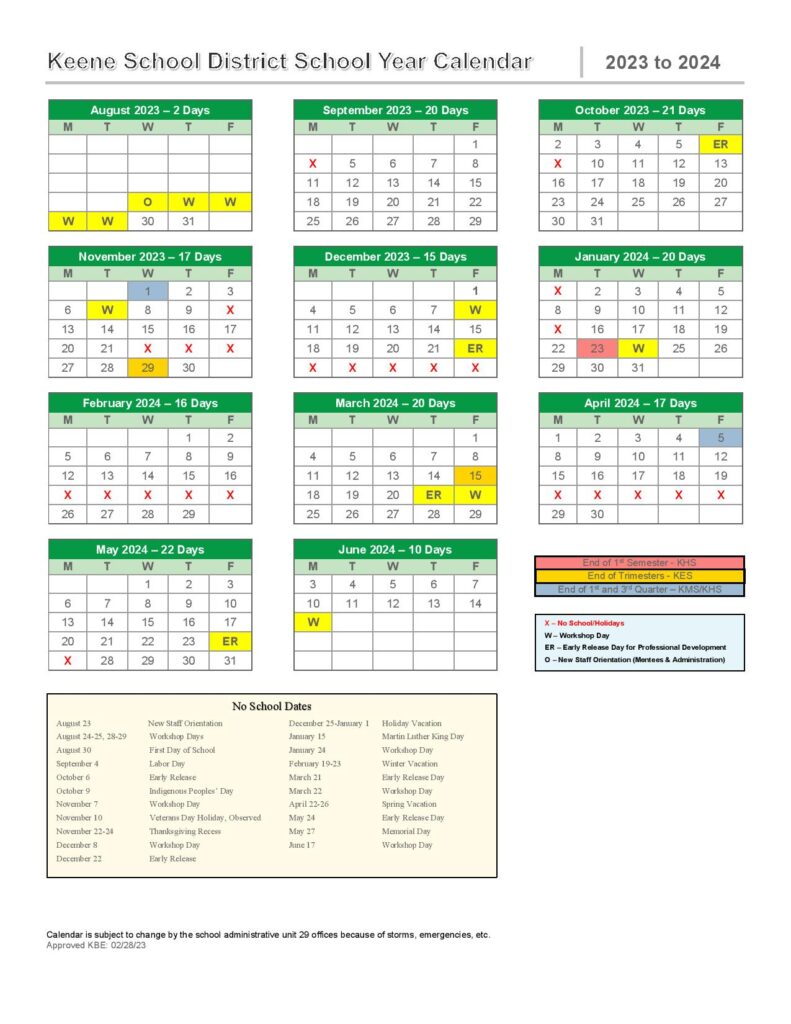 Download Links:
| | |
| --- | --- |
| Important Link | Download Link |
| School Calendar 2023-2024 | Download |
| School Calendar 2022-2023 | Download |
| School's Website | Click Here |
About Keene School District
Keene School District is one of the seven independent school districts in SAU29. The school district has its own elected school board, which oversees its school district's affairs, including Budget, Policies, Hiring of the Superintendent, etc. Keene School District has four public elementary schools, one middle school, one high school, one technical education center, and one pre-school.
We advise students to keep a check on the official website of their school district because all the latest notifications or updates will be available there.
Q. How long is the Christmas Break in Keene School District?
A. The dates of the Christmas Break are Dec 25, 2023 to Jan 1, 2024
Q. How long is the Spring Break in Keene School District?
A. The dates of the spring break are Apr 22, 2024 to Apr 26, 2024.
Q. What is the first and last day of Keene School District for year 2023-2024?
A. The first day of school is Aug 30, 2023 and the last day of school is Jun 14, 2024
Important Note: schoolcalendarinfo.com is not the official website of any school, this is just an informational website that provides information related to school calendars and holidays. Do check your school's official website for an up-to-date and updated school calendar.