On this page you can check out the major holiday dates and a calendar preview of the Nashua School District in New Hampshire. The school district is known for providing academic excellence, foster a passion of learning among student and let them understand the importance of integrity, trust, respect, empathy and tenacity. Recently, the school board has released the Nashua School District Calendar for the academic year 2023-2024 so that student & teachers know the dates of all important academic events and holidays. Students must have a digital or printed copy of a school calendar in order to plan the academic work and schedule.
As per Wiki: Nashua School District is located in New Hampshire, United States. The Nashua School District provides instruction for each student based on high quality local, state, and national standards.
Nashua School District Major Holiday Breaks
Students are interested to know about the dates of holiday breaks. Below we have shared a table that highlights the dates of the Nashua School District Major Holiday Breaks such as thanksgiving break, Christmas/winter break, spring break, etc. The school district has added ample of holiday breaks for students to relax or re-energize. All the important cultural and national holidays are observed, check out the full school calendar for full details.
2023-2024 School Calendar
School Holidays
Starts
Finishes
First Day of School
Tue, 29 Aug 2023
September Break
Fri, 1 Sep 2023
Mon, 4 Sep 2023
Thanksgiving Break
Wed, 22 Nov 2023
Fri, 24 Nov 2023
Christmas Break
Mon, 25 Dec 2023
Mon, 1 Jan 2024
Mid Winter Break
Mon, 26 Feb 2024
Fri, 1 Mar 2024
Spring Break
Mon, 22 Apr 2024
Fri, 26 Apr 2024
Last Day of School
Wed, 12 Jun 2024
Nashua School District Calendar 2023-2024
Check out the preview of the full Nashua School District Calendar for this academic year. A school calendar must be taken into consideration while planning the academic work. The download links are are shared below the calendar image, you can download a school calendar in pdf and take a print-out for your use.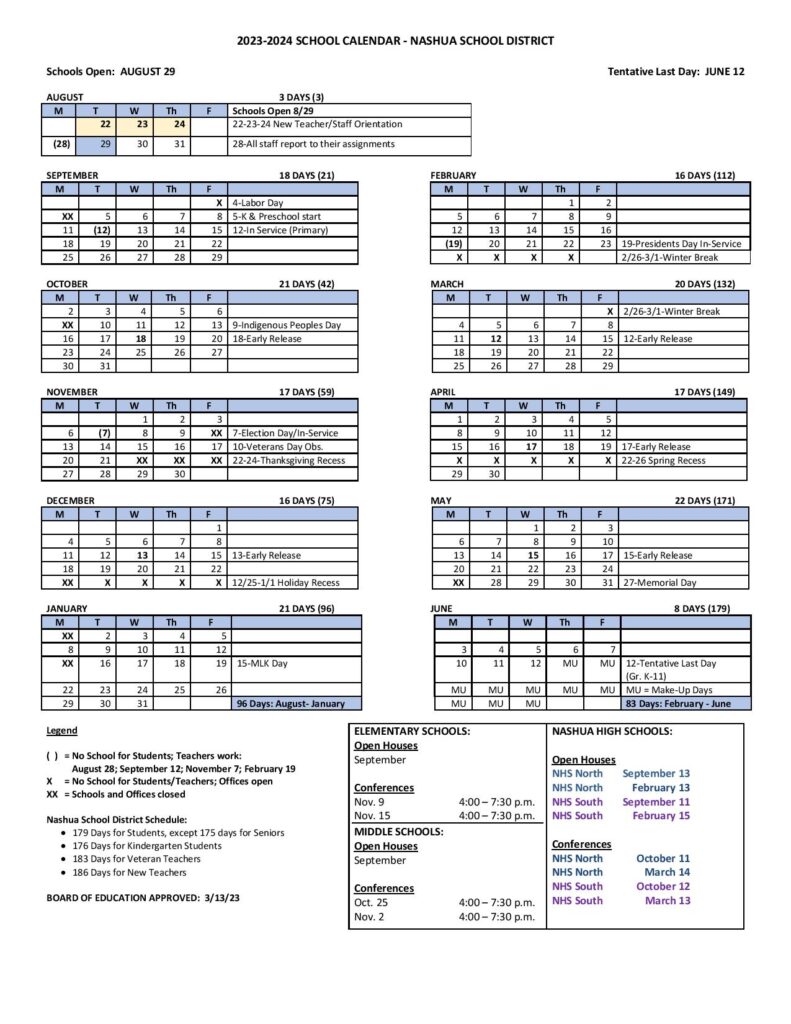 Download Links:
| | |
| --- | --- |
| Important Link | Download Link |
| School Calendar 2023-2024 | Download |
| School Calendar 2022-2023 | Download |
| School's Website | Click Here |
About Nashua School District
Nashua School District empower students by providing them top notch education and a secure learning environment. There are many academic programs, extracurricular activities, and personal development programs to ensure students are growing in all fields of life. Overall development of students is necessary to make them responsible and successful citizens who contributes to the community and nation. Nashua Board of Education is committed to fulfil the mission and vision of the the Nashua School District by setting policy, approving curriculum and assessment materials and strategies.
Students are advised to check the Nashua School District official website for any amendments or revisions or last minuted changes that may occur in a school calendar.
Q. What are the dates for Christmas Break in Nashua School District?
A. The dates of the Christmas Break are Dec 25, 2023 to Jan 1, 2024
Q. What are the dates for Spring Break in Nashua School District?
A. The dates of the spring break are Apr 22, 2024 to Apr 26, 2024.
Q. When does the Nashua School District starts and ends for year 2023-2024?
A. The first day of school is Aug 29 2023 and the last day of school is Jun 12, 2024
Important Note: schoolcalendarinfo.com is not the official website of any school, this is just an informational website that provides information related to school calendars and holidays. Do check your school's official website for an up-to-date and updated school calendar.