On this page, you can see the calendar preview and major holiday dates of the New Albany Floyd County Schools in Indiana. Download and print the New Albany Floyd County Schools Calendar that is now available for the school year 2023-2024. Every student must keep a check on the important academic days, events, and holidays. A school calendar is a communication tool released by the school board to updates students, teachers, and parents about the academic schedule for the entire year. Students and teachers are required to download a school calendar and plan their work schedules accordingly.
As per Wiki: The New Albany-Floyd County Consolidated School Corporation (NAFCS) is a school district serving New Albany and Floyd County in Indiana, in the Louisville metropolitan area. The district headquarters are in New Albany.
New Albany Floyd County Schools Holiday Breaks 2023-2024
There are many holiday breaks in a year such as fall break, thanksgiving break, Christmas break, spring break, etc. If you want to keep yourself updated about the holiday breaks of the New Albany Floyd County Schools then check out the table shared below. All the important holiday break dates are mentioned in a table.
2023-2024 School Calendar
School Holidays
Starts
Finishes
First Day of School
Tue, 1 Aug 2023
Fall Break
Mon, 2 Oct 2023
Fri, 13 Oct 2023
Thanksgiving Break
Wed, 22 Nov 2023
Fri, 24 Nov 2023
Christmas Break
Wed, 20 Dec 2023
Wed, 3 Jan 2024
Spring Break
Mon, 18 Mar 2024
Fri, 29 Mar 2024
Last Day of School
Thu, 30 May 2024
New Albany Floyd County Schools Calendar 2023-2024
New Albany Floyd County Schools provides outstanding education and learning environment to all students that allows them to grow and reach their maximum potential. The county school use the lates tools, techniques, and resources for teaching in order to keep students updated about the latest technology in the world and make them ready for future. Below you can see a preview of the New Albany Floyd County Schools Calendar for this academic year. Download and print a school calendar for your use.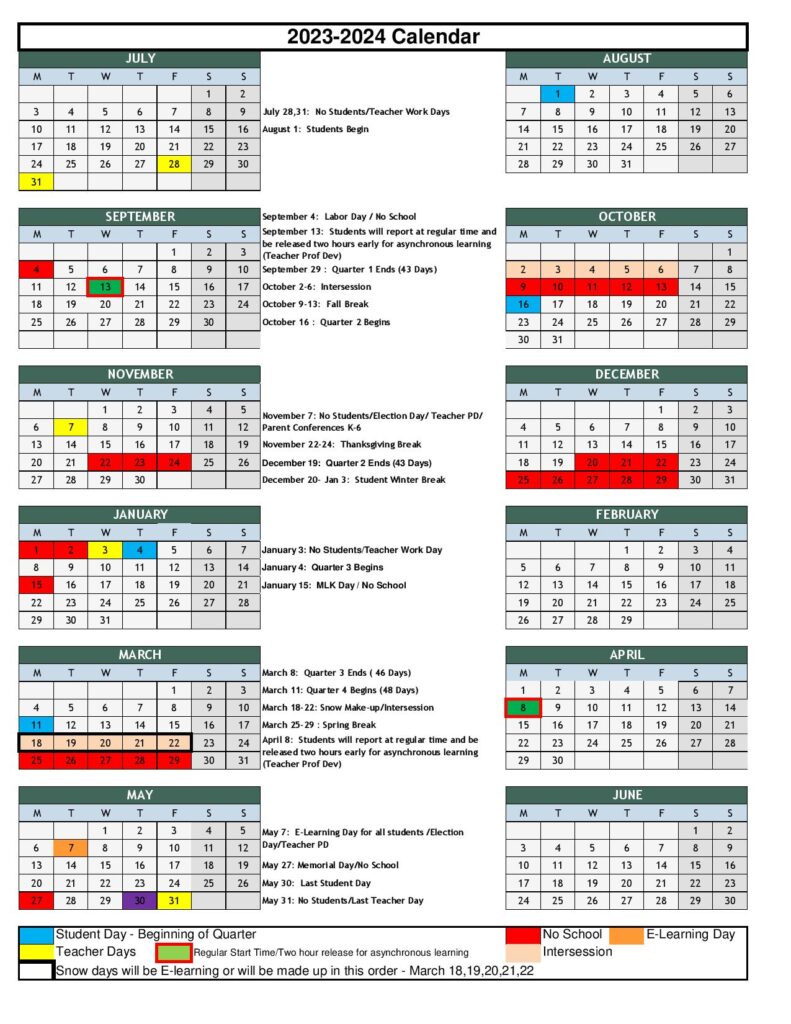 Download Links:
More Information
New Albany Floyd County Schools has nine elementary schools, three middle schools, two high schools, an area vocational school, and alternative school programs. NAFCS is the 15th largest school district in student population. The county school is known for proving outstanding education, learning, and growth opportunities. New Albany Floyd County Schools has employed great teachers and working staff to make sure students are learning and growing under the guidance of expert teachers.
It is important to note that the academic dates may change from year to year, therefore, make sure to consult the official website of the New Albany Floyd County Schools for the latest or updated school calendar.
Important Note: schoolcalendarinfo.com is not the official website of any school, this is just an informational website that provides information related to school calendars and holidays. Do check your school's official website for an up-to-date and updated school calendar.