New Caney Independent School District Calendar is released by the school board, students and teachers can now download a school calendar and plan their academic work schedule accordingly. A school calendar allow students and teachers to plan and organize the academic year, all the important academic dates such as exam dates, starting/ending of semester, holiday breaks etc are mentioned in a school calendar. Please note that the 2023-2024 School Calendar is available now. As a student you must use a school calendar to effectively plan and schedule your academic work, classes, events, and other academic activities.
As per Wiki: New Caney Independent School District (NCISD) is a public school district based in New Caney, an unincorporated area of southeastern Montgomery County, Texas (USA) within the Houston–The Woodlands–Sugar Land metropolitan area.
New Caney Independent School District Holiday Dates 2023-2024
The major holiday breaks to the New Caney Independent School District such as fall break, thanksgiving break, Christmas break, spring break, etc are mentioned in a table below. Keep a check on all the major holidays and plan them. These are only the major holiday dates, check out the school calendar in the next section for complete academic dates and holidays for the school year 2023 and 2024.
2023-2024 School Calendar
School Holidays
Starts
Finishes
First Day of School
Mon, 7 Aug 2023
Fall Break
Fri, 6 Oct 2023
Fri, 13 Oct 2023
Thanksgiving Break
Fri, 17 Nov 2023
Fri, 24 Nov 2023
Christmas Break
Fri, 22 Dec 2023
Mon, 8 Jan 2024
Mid Winter Break
Fri, 16 Feb 2024
Fri, 23 Feb 2024
Spring Break
Fri, 29 Mar 2024
Fri, 5 Apr 2024
Last Day of School
Thu, 23 May 2024
New Caney Independent School District Calendar 2023-2024
New Caney ISD is one of the fastest growing school districts in Texas. The enrolment has grown to more than 18,000 students and 20 campuses. The school district is committed to provide top notch education and learning environment that encourages students to reach their true potential. The school board has released the New Caney ISD Calendar for this academic year, check out the calendar preview below.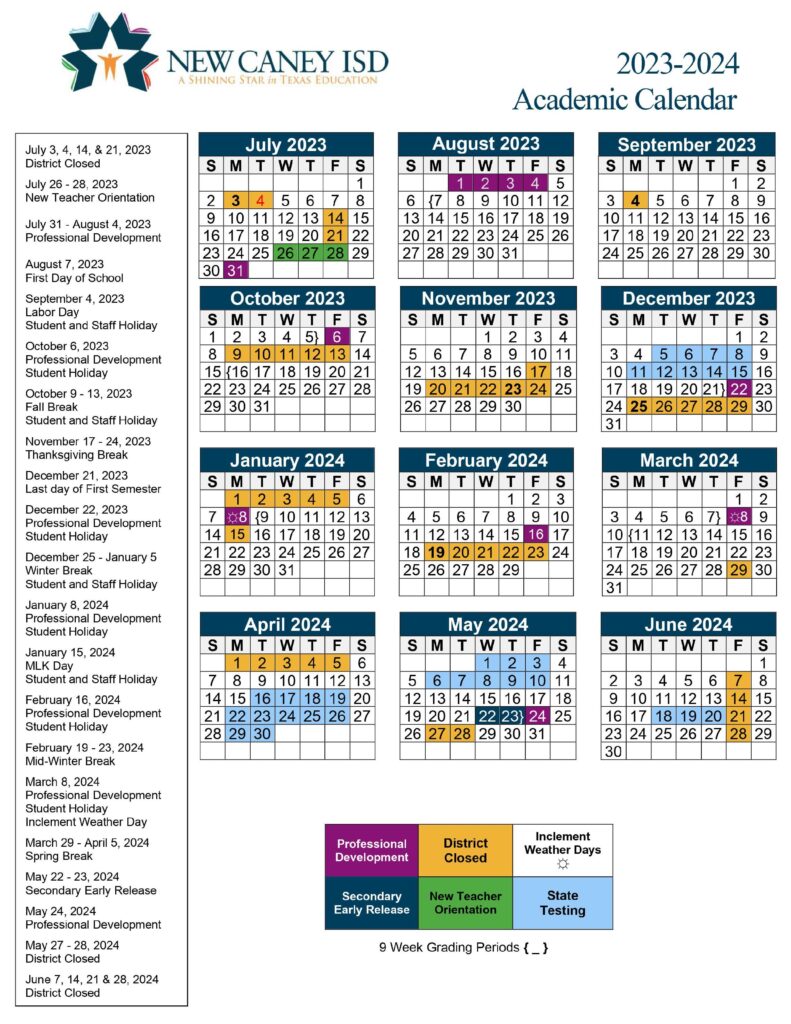 Download Links:
More Information
New Caney ISD is a great option for families in Texas who wants their children to receive superior education and ample of growth opportunities to do great in life. The school district has hired the best teachers in Texas to train students under the guidance of expert teachers and staff members. As a student, you must keep a check on the school calendar and plan your school work in accordance with that.
It is important to note that the academic dates may change from year to year, therefore, make sure to consult the official website of the New Caney Independent School District for the latest or updated school calendar.
Important Note: schoolcalendarinfo.com is not the official website of any school, this is just an informational website that provides information related to school calendars and holidays. Do check your school's official website for an up-to-date and updated school calendar.