Students and teacher of Portland Public Schools are informed that the school calendar or academic is released on the school's official website and the link for the same is shared here as well. On this page you can see the calendar preview or image of the Portland Public Schools Calendar along with a link to download it. As a student, you must download a school calendar in order to keep a check on the dates of the academic events and plan the academic work activities. Every student has some academic goals and work planning is required to accomplish them. Get a copy of school calendar from this page and begin the process of planning your academic work activities.
As per Wiki: Portland Public Schools (PPS) (officially Portland School District 1J) is a public school district located in Portland, Oregon, United States. It is the largest school district in the state of Oregon. It is a PK–12 district with an enrollment of more than 49,000 students.
Portland Public Schools Major Holiday Break
This is the section where you can see the dates of the major holiday breaks such as Thanksgiving Break, Christmas Break, Mid Winter Break, Spring Break. Only the major holiday dates are mentioned in a table. Please refer to the full school calendar below for complete holiday dates and other important academic dates.
First & Last Day of School
| | | |
| --- | --- | --- |
| Event | Day | Date |
| First Day of School | Tuesday | August 30, 2022 |
| Last Day of School | Tuesday | June 13, 2023 |
Major Holiday Dates
| | | |
| --- | --- | --- |
| Holidays Name | Starts | Finishes |
| Thanksgiving Break | Mon, 21 Nov 2022 | Fri, 25 Nov 2022 |
| Christmas Break | Mon, 19 Dec 2022 | Mon, 2 Jan 2023 |
| Mid Winter Break | Fri, 17 Feb 2023 | Mon, 20 Feb 2023 |
| Spring Break | Mon, 27 Mar 2023 | Fri, 31 Mar 2023 |
Portland Public Schools Calendar 2022-2023
Below you can see the preview of Portland Public Schools Calendar for the academic year 2022 and 2023. Download this calendar in PDF from the main website of the school (link shared below). Take a print-out of the school calendar and start planning your academic work activities. A school calendar works the best when it comes to planning, managing, and tracking school work.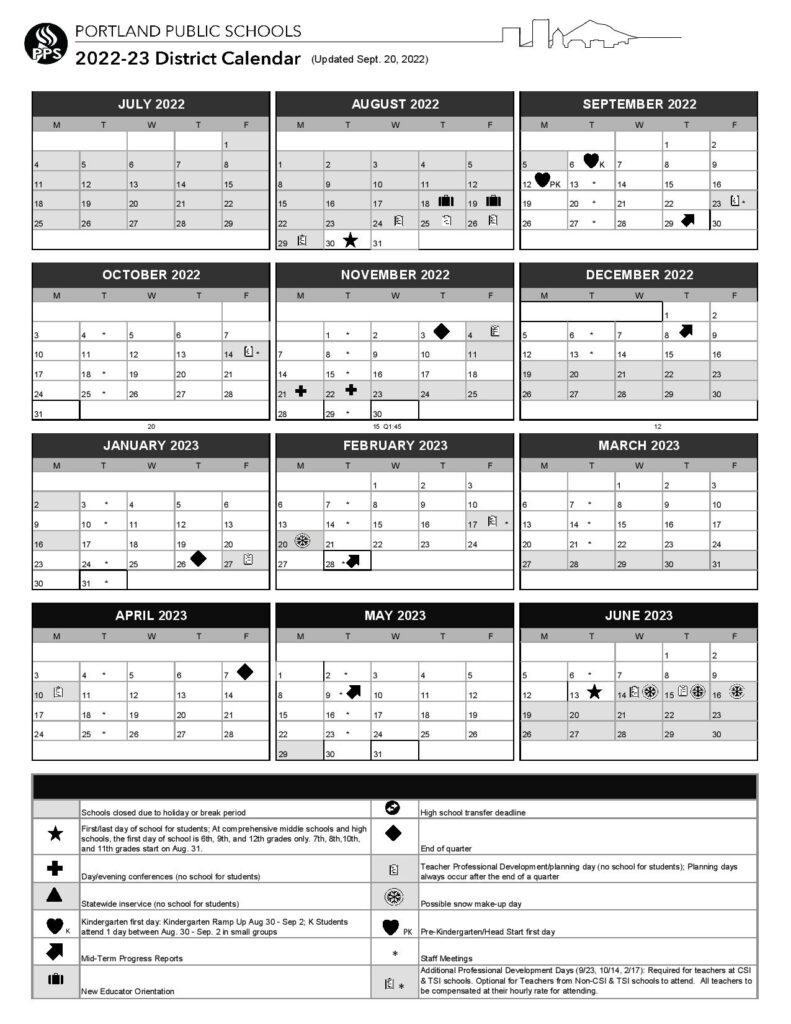 Download Links:
Additional Information
Time management is required in all fields of life. Every person is busy these days from a student to a working professional, therefore, one must knows how to make the maximum utilization of time. Managing time is not that difficult, all you need is a good work planner. Managing time is much easier once you know how to plan your work activities. For students, a school calendar works best when it comes to planning school work.
As a student, you must plan your work by keeping the school calendar into consideration. Download a copy of your school calendar from the official website of your school and begin the process of managing your time and work activities.
Important Note: schoolcalendarinfo.com is not the official website of any school, this is just an informational website that provides information related to school calendars and holidays. Do check your school's official website for an up-to-date and updated school calendar.