Students, teachers, and faculty members of Wayzata Public Schools are informed that a school calendar is available for the academic year 2023-2024. On this page you can see the preview of the Wayzata Public Schools Calendar along with download links. It is not possible to plan for academic events without a school calendar because all the academic dates are mentioned in it. Students are advised to download their school calendar as per their school district only, here you can see the academic calendar of the Wayzata Public Schools for the school year 2023 and 2024.
As per Wiki: Wayzata Public Schools (ISD #284) is a public school district in the northwestern area of Hennepin County, Minnesota, U.S. serving all or part of the cities of Corcoran, Maple Grove, Medicine Lake, Medina, Minnetonka, Orono, Plymouth, and Wayzata.
Wayzata Public Schools Major Holiday Breaks 2023-2024
Are you interested in knowing about the holiday breaks of the Wayzata Public Schools? If yes then check out the table below, there are many holiday breaks such as fall break, thanksgiving, Winter break, spring break, etc. Get to know about the dates of all major holiday breaks through the table below. Please note that the non students days are also incorporated into the dates below.
2023-2024 School Calendar
School Holidays
Starts
Finishes
First Day of School
Tue, 5 Sep 2023
Fall Break
Wed, 18 Oct 2023
Fri, 20 Oct 2023
Thanksgiving Break
Wed, 22 Nov 2023
Fri, 24 Nov 2023
Christmas Break
Fri, 22 Dec 2023
Tue, 2 Jan 2024
Mid Winter Break
Fri, 16 Feb 2024
Mon, 19 Feb 2024
Spring Break
Fri, 29 Mar 2024
Fri, 5 Apr 2024
Last Day of School
Thu, 6 Jun 2024
Wayzata Public Schools Calendar 2023-2024
A school calendar is an official document that contains the academic schedule for the entire year, this academic schedule is prepared by the school board or authority. The purpose of releasing a school calendar is to inform students, teachers, parents, faculty members about the academic dates, events, and holidays. Below you can see a preview of the Wayzata Public Schools Calendar for this school year.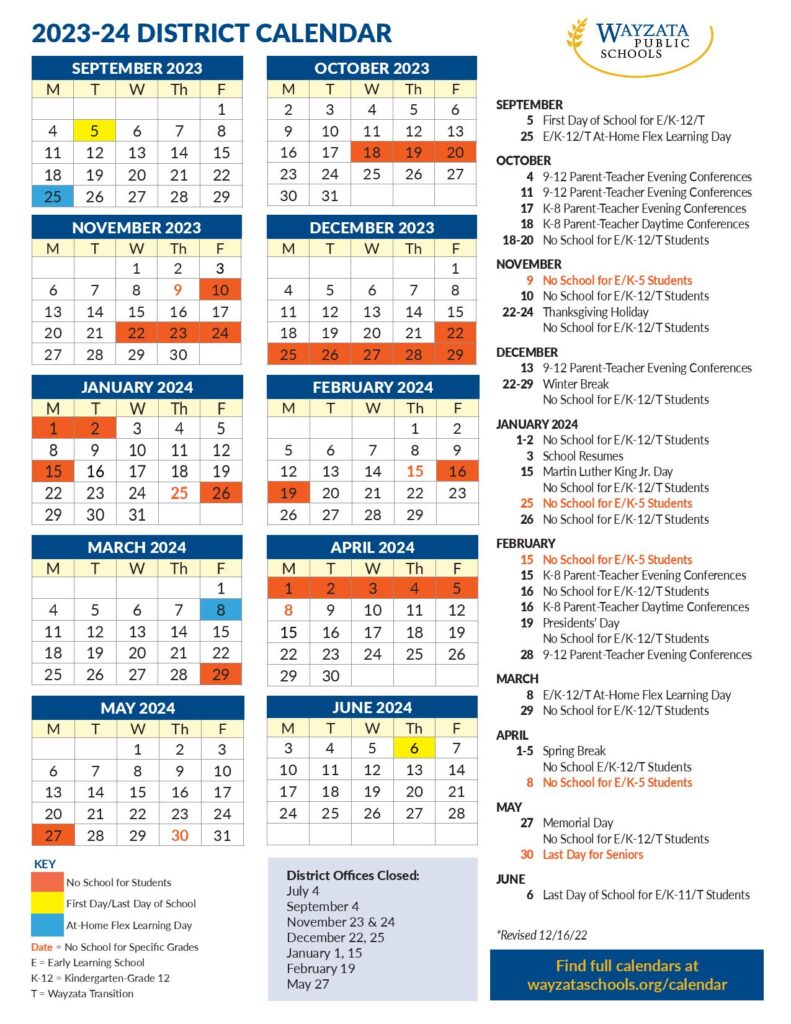 Download Links:
| | |
| --- | --- |
| Important Link | Download Link |
| School Calendar 2023-2024 | Download |
| School Calendar 2022-2023 | Download |
| School's Website | Click Here |
About Wayzata Public Schools
Wayzata Public Schools is a top notch school district that is dedicated to make the educational journey of students smooth and wonderful. The school district provides all the opportunities, tools, and resources that help students to learn and grow in a safe academic environment. As per the information available from the school's website, there is an enrolment of 12,912 students.
Schools
1 early learning school (birth to kindergarten)
9 elementary schools (kindergarten to grade 5)
3 middle schools (grades 6-8)
1 high school (grades 9-12)
1 transition school (ages 18-21)
We advise students to keep a check on the official website of their school district because all the latest notifications or updates will be available there.
Q. How long is the Christmas Break in Wayzata Public Schools?
A. The dates of the Christmas Break are Dec 22, 2023 to Jan 2, 2024
Q. How long is the Spring Break in Wayzata Public Schools?
A. The dates of the spring break are Mar 29, 2024 to Apr 5, 2024.
Q. What is the first and last day of Wayzata Public Schools for year 2023-2024?
A. The first day of school is Sep 5, 2023 and the last day of school is Jun 6, 2024
Important Note: schoolcalendarinfo.com is not the official website of any school, this is just an informational website that provides information related to school calendars and holidays. Do check your school's official website for an up-to-date and updated school calendar.