You can look for the Worcester Public Schools Calendar on this page. Students and teachers of the Worcester Public Schools are informed to check out the school calendar and plan their academic work activities. All the important academic dates, events, and holidays are mentioned in a school calendar, we advise students to always plan their work activities using a school calendar. The use of school calendar is not limited to students only, it has information for teachers and parents as well. A school calendar should be taken into consideration while planning the school or academic work activities, download your calendar from below and print it.
As per Wiki: Worcester Public Schools (WPS) is a school district serving the city of Worcester, Massachusetts, United States. It is the second-largest school district in the state behind Boston Public Schools.
Worcester Public Schools Major Holiday Breaks
Students are always curious to know the dates of upcoming holidays, finding holidays in a school calendar could be a task sometimes. For the convenience of students, below we have highlighted the dates of the Worcester Public Schools Major Holiday Breaks such as fall break, thanksgiving break, Christmas break, spring break, etc. Non students dates are also incorporated into the dates below.
2023-2024 School Calendar
School Holidays
Starts
Finishes
First Day of School
Mon, 28 Aug 2023
Thanksgiving Break
Wed, 22 Nov 2023
Fri, 24 Nov 2023
Christmas Break
Fri, 22 Dec 2023
Mon, 1 Jan 2024
Mid Winter Break
Mon, 19 Feb 2024
Fri, 23 Feb 2024
Spring Break
Mon, 15 Apr 2024
Fri, 19 Apr 2024
Last Day of School
Wed, 12 Jun 2024
Worcester Public Schools Calendar 2023-2024
Check out the full preview of the Worcester Public Schools Calendar below. The school board has released the school calendar to inform student, teachers, and parents about the dates of the academic events. Do check out the school calendar, download it, and take a print-out for your use. As a student you must master the art of planning and managing your school work activities in an efficient manner.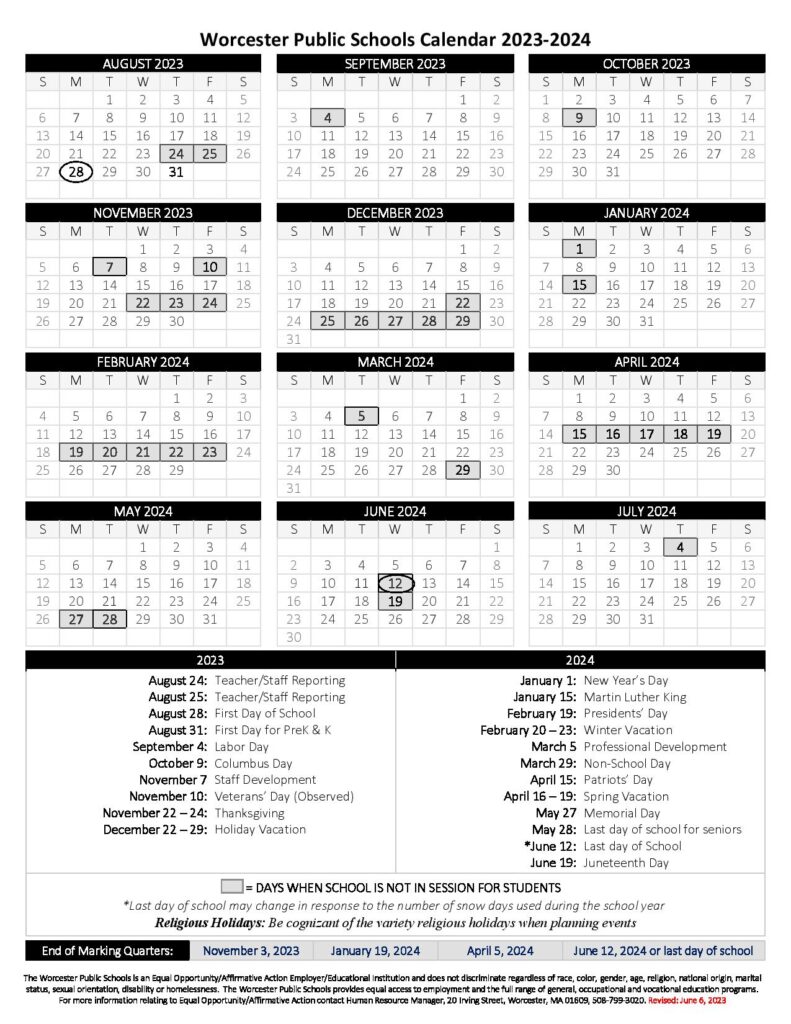 Download Links:
| | |
| --- | --- |
| Important Link | Download Link |
| School Calendar 2023-2024 | Download |
| School Calendar 2022-2023 | Download |
| School's Website | Click Here |
About Worcester Public Schools
Worcester Public Schools is committed to serve the families of Worcester. The school system is known for providing high quality education to all students and encourage them to reach their highest potential. Highly qualified and skilled teachers are a part of the school system and they are dedicated to ensure all young people are prepared to thrive, and equipping them to become engaged citizens in their community.
It is important to note that there could be amendments or revision is a school calendar, therefore, make sure to check the official website of Worcester Public Schools for the latest updates and notifications.
Q. What are the dates for Christmas Break in Worcester Public Schools?
A. The dates of the Christmas Break are Dec 22, 2023 to Jan 1, 2024
Q. What are the dates for Spring Break in Worcester Public Schools?
A. The dates of the spring break are Apr 15, 2024 to Apr 19, 2024.
Q. When does the Worcester Public Schools starts and ends for year 2023-2024?
A. The first day of school is Aug 28 2023 and the last day of school is Jun 12, 2024
Important Note: schoolcalendarinfo.com is not the official website of any school, this is just an informational website that provides information related to school calendars and holidays. Do check your school's official website for an up-to-date and updated school calendar.