Are you a student or teacher in the Boone County Schools? If yes then please note that the Boone County Schools Calendar is available for the academic year 2023-2024. Download your school calendar and begin the process of planning all your academic work activities. Boone County Schools district is committed to provide high quality education and ensure every student is ready for college, career, and life. The school district consist of 15 elementary schools, six middle schools and five high schools. There is an enrolment of more than 20,000 students in this school district and on this page you can find the school calendar along with the dates of the major holiday breaks.
As per Wiki: The Boone County School District which operates schools in most of Boone County, Kentucky in the Cincinnati metropolitan area, is the third-largest in the Commonwealth of Kentucky by student enrolment.
Boone County Schools Major Holiday Breaks 2023-2024
Students often have question related to the holiday breaks such as when is fall break, what is Christmas break, when is spring break, etc. In order to give answer of all these question below we have shared a table that specify the dates of the major holiday breaks such as fall break, thanksgiving break, Christmas break, spring break, etc. Keep a check on the holiday dates and plan them well for this academic year.
2023-2024 School Calendar
School Holidays
Starts
Finishes
First Day of School
Thu, 17 Aug 2023
Fall Break
Fri, 6 Oct 2023
Mon, 9 Oct 2023
Thanksgiving Break
Wed, 22 Nov 2023
Fri, 24 Nov 2023
Christmas Break
Wed, 20 Dec 2023
Tue, 2 Jan 2024
Spring Break
Mon, 8 Apr 2024
Fri, 12 Apr 2024
Last Day of School
Thu, 23 May 2024
Boone County Schools Calendar 2023-2024
There should be an effective communication between students and the school system. In order to ensure every student is aware of the important academic dates, the school board has recently released the Boone County Schools Calendar for the school year 2023-2024 and made it available for download on the official website of the school. Check out the preview of the school calendar below and download it in pdf or take a print-out for your use.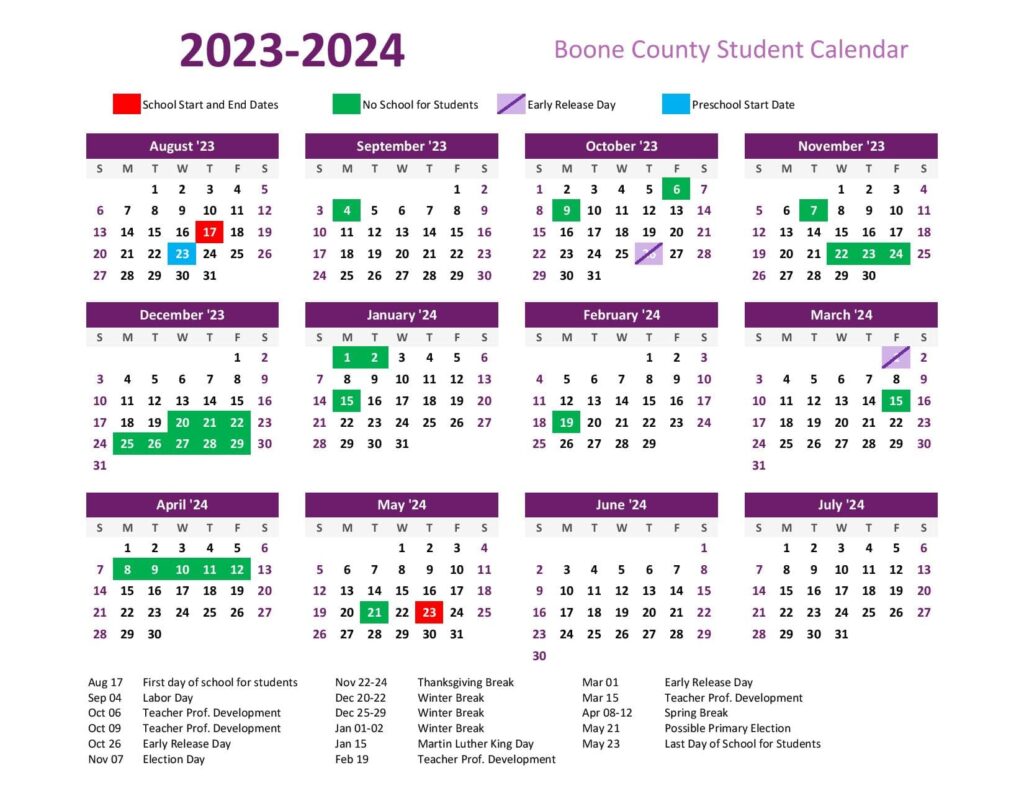 Download Links:
| | |
| --- | --- |
| Important Link | Download Link |
| School Calendar 2023-2024 | Download |
| School Calendar 2022-2023 | Download |
| School's Website | Click Here |
Mission & Vision of Boone County Schools
Boone County Schools ensures students are learning in a safe and supportive atmosphere and they are reaching their true potential. The school district collaborates with families, teachers, and community in order to ensure well being of students. There is a clear focus on academics, real world relevance, and make students ready to compete with students all over the world. The mission of the school is to prepare today's students for tomorrow's world by providing them quality teaching, supportive learning environment, advanced learning tool or resources.
Keep a check on the school calendar for all academic dates. It is important to note there may be modifications or amendments in a school calendar, therefore, do keep a check on the school's website to keep yourself updated about the latest changes.
Frequently Asked Questions
Q. How many schools are in Boone County?
A. Boone County contains 25 schools
Q. How many students are in Boone County?
A. There is an enrolment of about 20,280 students in the Boone County.
Q. What is the first and last day of Boone County Schools?
A. The first day of school is Aug 17, 2023 and the last day of school is May 23, 2024
Important Note: schoolcalendarinfo.com is not the official website of any school, this is just an informational website that provides information related to school calendars and holidays. Do check your school's official website for an up-to-date and updated school calendar.