Here is an important notification for the students and teachers of the Westfield-Washington Schools, please note that the Westfield-Washington Schools Calendar is available for the academic year 2023-2024 and you can download a school calendar from this page. Planning school work is important for accomplishing the academic work goals or objectives. We advise students to keep a check on the holiday breaks as well and plan them in advance. Apart from students, teachers and faculty members are also required to keep a check on the school calendar and plan their work schedules accordingly.
As per Wiki: Westfield High School is a public high school located in Westfield, Indiana, north of Indianapolis. The mission of the school district is to ensure high levels of learning and growth for each student.
Westfield Washington Schools Major Holiday Breaks 2023-2024
If you are wondering what is fall break, when is thanksgiving break, when is Christmas break, what is spring break, etc then check out the table below. All your holiday breaks related queries are cleared through the table below. Make sure to plan your holidays in advance in order to make them more fun and productive.
2023-2024 School Calendar
School Holidays
Starts
Finishes
First Day of School
Thu, 10 Aug 2023
September Break
Fri, 1 Sep 2023
Mon, 4 Sep 2023
Fall Break
Mon, 16 Oct 2023
Fri, 20 Oct 2023
November Break
Thu, 9 Nov 2023
Fri, 10 Nov 2023
Thanksgiving Break
Wed, 22 Nov 2023
Fri, 24 Nov 2023
Christmas Break
Mon, 18 Dec 2023
Tue, 2 Jan 2024
Mid Winter Break
Fri, 16 Feb 2024
Mon, 19 Feb 2024
Spring Break
Fri, 29 Mar 2024
Fri, 5 Apr 2024
Last Day of School
Thu, 30 May 2024
Westfield-Washington Schools Calendar 2023-2024
Westfield-Washington Schools is known for providing high quality education, advance teaching tools and resources in order to help students learn advance things with ease. In order to update students and teachers about the academic dates, the school board releases the school calendar every year. Below you can see a preview of the Westfield Washington Schools Calendar for this academic year.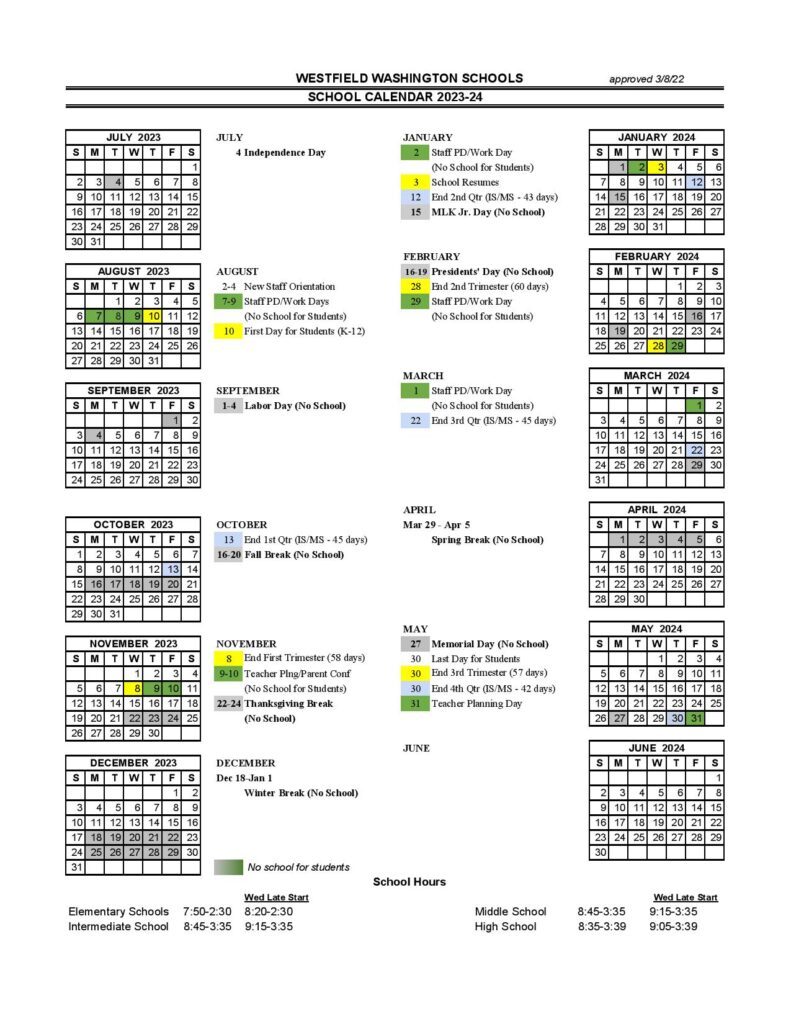 Download Links:
Mission & Vision of Westfield-Washington Schools
The mission of the Westfield-Washington Schools is to provide academic excellence and to ensure every student has ample of learning and growth opportunities in order to succeed in college, career, and life. The school system offer a variety of comprehensive programs which caters to the interests and needs of students. Advanced teaching methods and educational tools are used in order to make the learning experience easy and engaging for every student.
The students are advised to keep a check on the official website of the school in order to ensure you're informed about the latest notifications and information related to the school calendar.
Frequently Asked Questions
Q. Is Westfield-Washington Schools Calendar available for school year 2023-2024?
A. Yes, the school calendar is available now, check out the preview above and download it.
Q. How many students are in Westfield-Washington Schools?
A. As per the information available, it has 8,443 students in grades PK, K-12 with a student-teacher ratio of 18 to 1.
Q. What is the first and last day of Westfield-Washington Schools for year 2023-2024?
A. The first day of school is Aug 10, 2023 and the last day of school is May 30, 2024
Important Note: schoolcalendarinfo.com is not the official website of any school, this is just an informational website that provides information related to school calendars and holidays. Do check your school's official website for an up-to-date and updated school calendar.