For the students and teachers of the Cherokee County School District here we have shared a school calendar that is now available for the academic year 2023-2024. Do check out the calendar here to keep a check on the first/last day of school, exam dates, school holidays, starting/ending of semester, and other important academic dates. Please note that 2023-2024 School Calendar is available now. It's time to plan all your major academic activities and start working towards accomplishing your school work goals or objectives. Work planning is a first step of any work accomplishment process, begin your academic work planning now.
As per Wiki: Cherokee County School District is a high-performing public school system in Metro Atlanta, with 40 schools and centers, 6,000 employees and 42,000 students.
Cherokee County School District Holiday Breaks 2023-2024
The dates of the fall break, thanksgiving break, Christmas break, spring break, etc are mentioned in a table below. You can also see the dates of the first and last day of school. Please keep a check on the full school calendar for other important academic dates and holidays of the Cherokee County School District.
School Holidays
Starts
Finishes
First Day of School
Tue, 1 Aug 2023
Fall Break
Mon, 18 Sep 2023
Fri, 22 Sep 2023
Thanksgiving Break
Mon, 20 Nov 2023
Fri, 24 Nov 2023
Christmas Break
Fri, 22 Dec 2023
Fri, 5 Jan 2024
Mid Winter Break
Mon, 19 Feb 2024
Fri, 23 Feb 2024
Spring Break
Mon, 1 Apr 2024
Fri, 5 Apr 2024
Last Day of School
Fri, 24 May 2024
Cherokee County School District Calendar 2023-2024
The school district is known for providing academic excellence and secure learning environment to all students. The school system understand the importance of advanced tools and teaching resources, that's why latest technology is used for teaching and learning purposes. The school board has already released the Cherokee County School District Calendar in order to update students about the dates of the important academic events and holidays, check out the calendar preview below along with download links.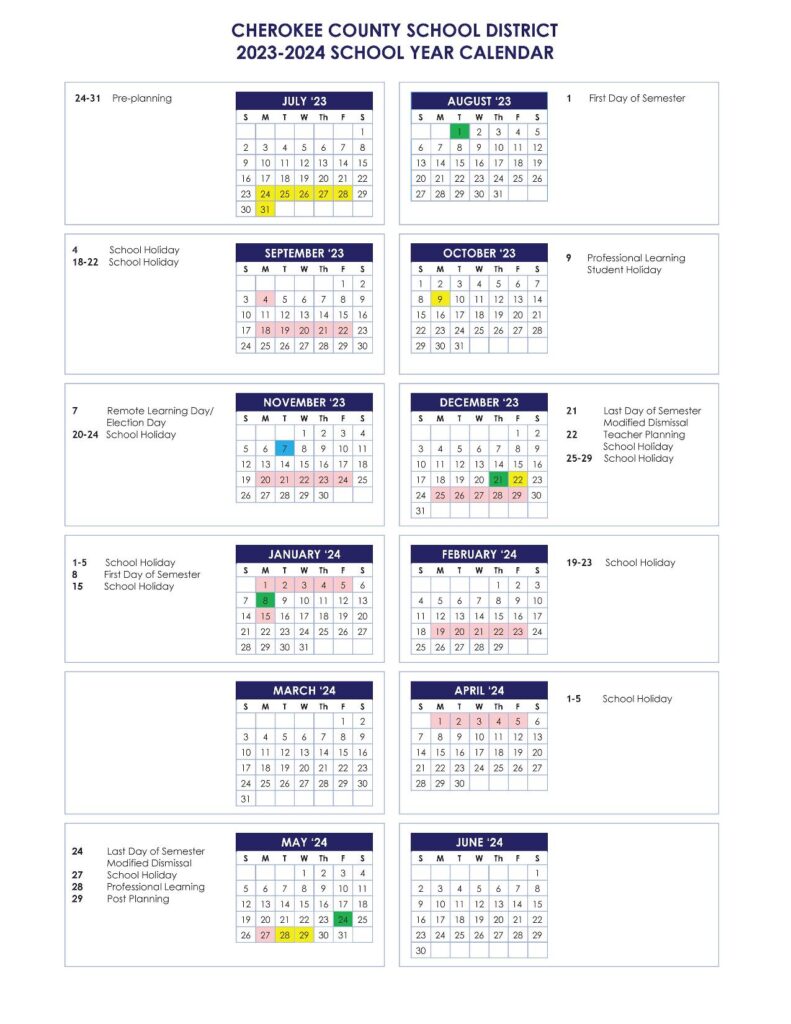 Download Links:
More Information
The Cherokee County School District consists of 23 elementary schools, 7 middle schools, 6 high schools, Grades, Tippens Education Center, ACE Academy, i-Grad Virtual Academy, and CCSD Preschool Centers. The school district is committed to educating the emerging generation and provide a learning environment that is designed to increase the performance of all students. Cherokee County School District is community's largest employer and strongest family. The graduation rate of CCSD high school is over 90%.
It is important to note that the academic dates may change from year to year, therefore, make sure to consult the official website of the Cherokee County School District for the latest or updated school calendar.
Important Note: schoolcalendarinfo.com is not the official website of any school, this is just an informational website that provides information related to school calendars and holidays. Do check your school's official website for an up-to-date and updated school calendar.