Okaloosa County School District is a public school district located in Okaloosa County, Florida. Students, teachers, and faculty staff of this school district are informed that the school calendar is available now and you can download the Okaloosa County School District Calendar from here. The importance of a school calendar cannot be understated and that's why the school board has released the school calendar to update students and teachers about the important academic dates. As a student you must plan your daily work schedule in order to get hold of your academic and personal work activities. Planning academic work is not possible without school calendar.
As per Wiki: Okaloosa County School District is a public school district that covers Okaloosa County, Florida. The district has its headquarters in Fort Walton Beach, Florida.
Okaloosa County School District Holiday Breaks 2023-2024
Are you interested in knowing about the upcoming major holiday breaks, if yes, then check out the table below and see the dates of the thanksgiving break, Christmas break, spring break, etc for this academic year 2023-2024. These are the major holiday breaks only, refer to the school calendar in the next section for full academic dates and holidays.
2023-2024 School Calendar
School Holidays
Starts
Finishes
First Day of School
Thu, 10 Aug 2023
Thanksgiving Break
Mon, 20 Nov 2023
Fri, 24 Nov 2023
Christmas Break
Fri, 22 Dec 2023
Fri, 5 Jan 2024
Spring Break
Fri, 15 Mar 2024
Mon, 25 Mar 2024
Last Day of School
Fri, 24 May 2024
Okaloosa County School District Calendar 2023-2024
Okaloosa County School District is committed to academic excellence and collaborates with families and community for the well being of students. With a focus of academic excellence, the district strives to prepare students for success and make them capable to compete with the global students. The school district provide all the education resources including school calendar on time. Okaloosa County School District Calendar is released by the school board and students can download the same from below. Print your school calendar now.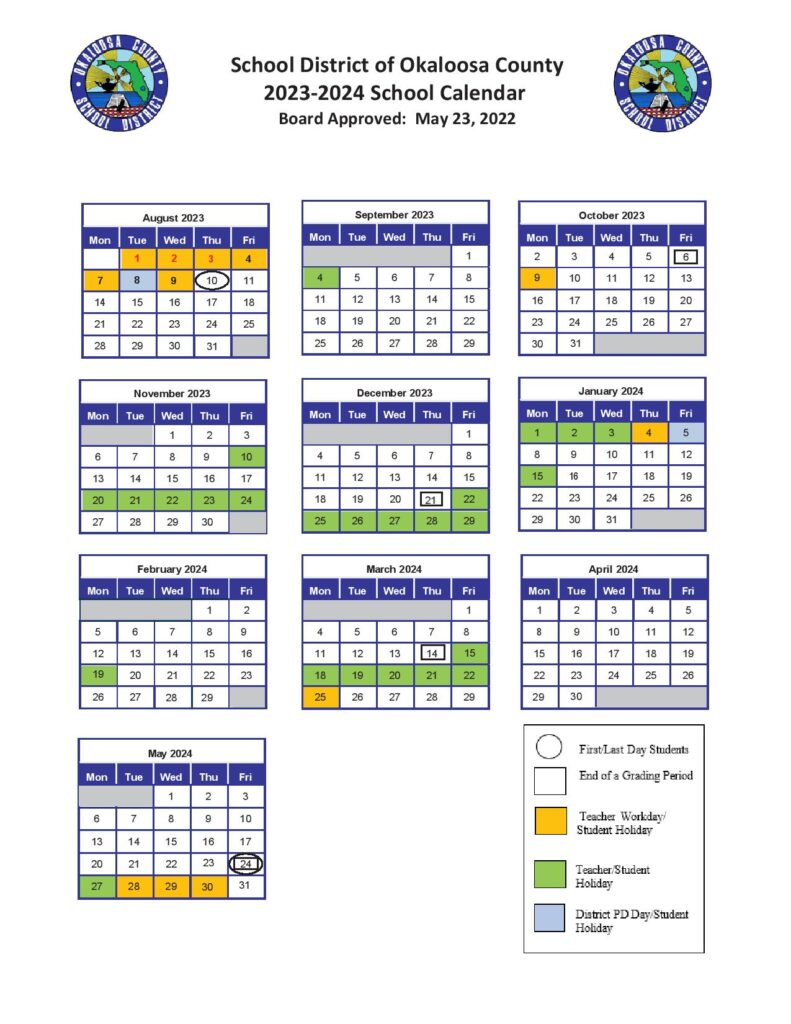 Download Links:
More Information
The school district offers wide range of courses and subjects, allowing students to choose the best course as per their area of interest and expertise. Apart from the academic opportunities, the school encourages students to explore their other areas of interest and participate in extracurricular activities and sports. The school system is designed in such a way that increases the academic performance of all students by providing them a safe learning environment along with latest educational tools and resources.
It is important to note that the academic dates may change from year to year, therefore, make sure to consult the official website of the COkaloosa County School District for the latest or updated school calendar.
Important Note: schoolcalendarinfo.com is not the official website of any school, this is just an informational website that provides information related to school calendars and holidays. Do check your school's official website for an up-to-date and updated school calendar.