Are you here in search of the Cherry Creek School District Calendar? If yes, then you need to check out the calendar preview on this page and download it for your use. Students and teachers are required to download a school calendar and begin the process of planning their school work activities. There are a lot of academic dates that you should keep a check on such as first/last day of school, exam dates, school holidays, starting/ending of semester, etc. A school calendar has important information for teacher, faculty members, and parents as well, therefore, everyone should keep a check on the school calendar and plan their work schedules accordingly.
As per Wiki: The Cherry Creek School District 5 is a school district located in the western Arapahoe County, Colorado. The district serves more than 53,000 children and more 300,000 residents in 108 square miles that spread across seven municipalities.
Cherry Creek School District Major Holiday Breaks 2023-2024
The major holiday breaks of the Cherry Creek School District are mentioned below such as fall break, thanksgiving break, Christmas break, spring break, etc. Do keep a check on all the holiday breaks and make sure to plan them well in order to have some good times with your friends and families. Holidays are an important part of a student's life.
2023-2024 School Calendar
School Holidays
Starts
Finishes
First Day of School
Mon, 14 Aug 2023
Fall Break
Mon, 16 Oct 2023
Fri, 20 Oct 2023
Thanksgiving Break
Wed, 22 Nov 2023
Fri, 24 Nov 2023
Christmas Break
Mon, 25 Dec 2023
Mon, 8 Jan 2024
Mid Winter Break
Mon, 19 Feb 2024
Tue, 20 Feb 2024
Spring Break
Mon, 18 Mar 2024
Fri, 22 Mar 2024
Last Day of School
Fri, 24 May 2024
Cherry Creek School District Calendar 2023-2024
Cherry Creek Schools is a diverse district committed to provide academic excellence and prepare students for success in life. The school district believes in providing excellence for every student, ever day. Below you can check out the Cherry Creek School District Calendar that is now available for this academic year. The school board has released the school calendar to update students and teachers about the dates of the academic events and holidays. Download and print your school calendar and plan your school work.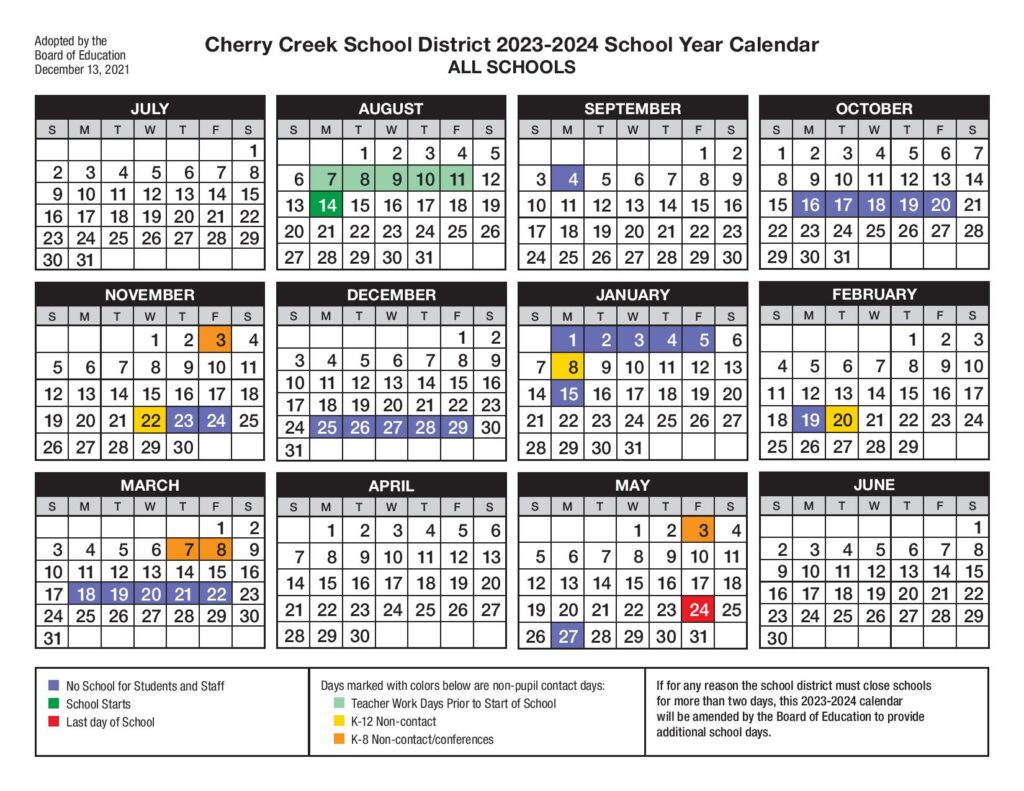 Download Links:
Additional Information
Highly qualifies and experienced teachers are employed at Cherry Creek School District. More than 79 percent of the faculty members have advanced degrees and have a work experience of more than 10 years. All students are learning and growing under the guidance of expert teachers. CCSD community is working to providing all tools and resources to students that will help them to prepare for their best futures.
It is important to note that the academic dates may change from year to year, therefore, make sure to consult the official website of the Cherry Creek School District for the latest or updated school calendar.
Important Note: schoolcalendarinfo.com is not the official website of any school, this is just an informational website that provides information related to school calendars and holidays. Do check your school's official website for an up-to-date and updated school calendar.