Douglas County Schools Calendar is out now and available for download, students are teachers are required to print their school calendar and keep a check on all the academic dates and holidays. This page contains the major holiday dates and a school calendar preview of the Douglas County Schools in Georgia. Keep a check on the first/last day of school, exam dates, school holidays, starting/ending of semester, etc with the help of a school calendar. You must begin planning your school work as soon as you get the calendar.
As per Wiki: Douglas County School District is a public school district in Douglas County, Georgia, U.S., based in Douglasville. The Douglas County School District is the seventeenth largest district in Georgia.
Douglas County Schools Major Holidays 2023-2024
The major holiday dates of the Douglas County Schools such as fall break, thanksgiving break, Christmas break, spring break, etc are mentioned in a table below along with the dates of the first and last day of school. Check out the full school calendar in the next section for complete holiday and academic dates.
2023-2024 School Calendar
School Holidays
Starts
Finishes
First Day of School
Wed, 2 Aug 2023
September Break
Mon, 4 Sep 2023
Tue, 5 Sep 2023
Fall Break
Mon, 9 Oct 2023
Fri, 13 Oct 2023
Thanksgiving Break
Mon, 20 Nov 2023
Fri, 24 Nov 2023
Christmas Break
Mon, 18 Dec 2023
Tue, 2 Jan 2024
Mid Winter Break
Mon, 19 Feb 2024
Fri, 23 Feb 2024
Spring Break
Mon, 1 Apr 2024
Fri, 5 Apr 2024
Last Day of School
Wed, 22 May 2024
Douglas County Schools Calendar 2023-2024
Douglas County Schools a renowned educational institution with highly qualified teachers and faculty members. Teachers and instructors at the school district are committed to provide the best teaching experience to students and allows them learn and grow under the expert guidance. For the convenience of students and teachers, the school board has released the Douglas County Schools Calendar that is now available for the school year 2023 and 2024. Check out the calendar preview below and take a print-out for your use.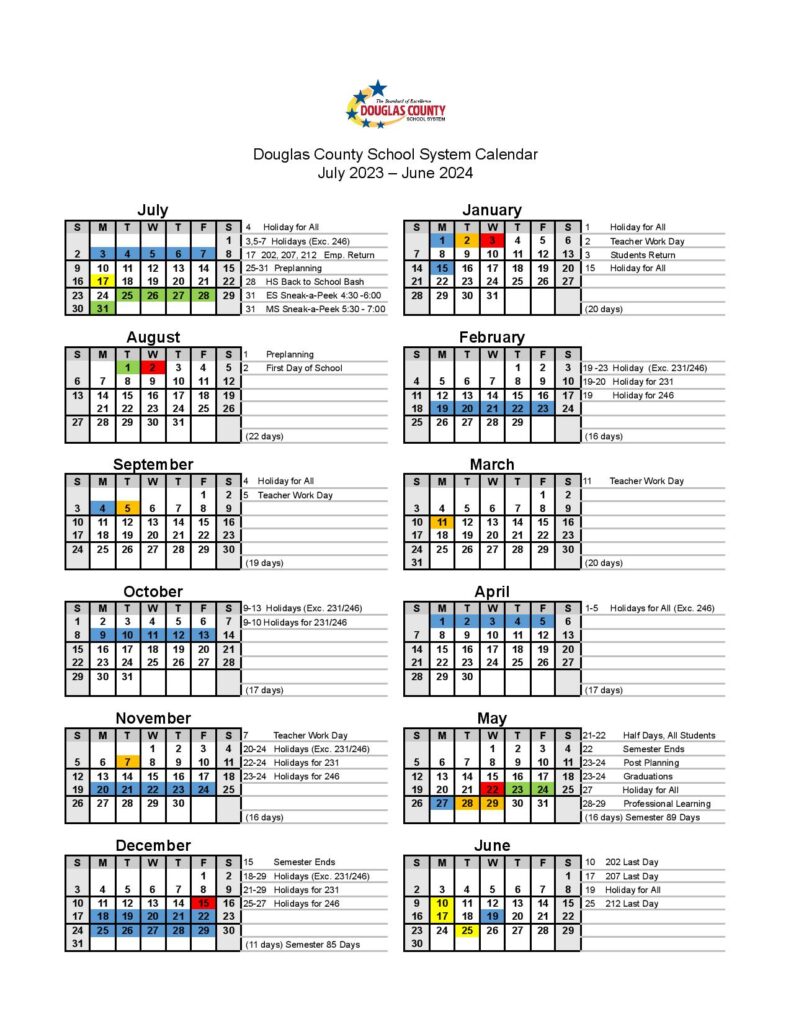 Download Links:
| | |
| --- | --- |
| Important Link | Download Link |
| School Calendar 2023-2024 | Download |
| School Calendar 2022-2023 | Download |
| School's Website | Click Here |
Additional Information
Douglas County Schools has an enrolment of approximately 26,000 students and there are 20 elementary schools, eight middle schools, five high schools, and two specialized high school programs. The school district is also one of the largest employer with approximately 3,500 employees. The school is dedicated to provide high quality education and a safe learning environment to all students and help them in reaching their true potential.
It is important to note that the academic dates may change from year to year, therefore, make sure to consult the official website of the Douglas County Schools for the latest or updated school calendar.
Important Note: schoolcalendarinfo.com is not the official website of any school, this is just an informational website that provides information related to school calendars and holidays. Do check your school's official website for an up-to-date and updated school calendar.