Ascension Parish Schools Calendar is an important document that you must download as a student or teacher of the Ascension Parish Schools. A school calendar is released by the school board in order to inform students and teachers about the dates of the academic events and holidays. Ascension Parish Schools is one the largest school district in Louisiana, if you are part of this school district then do check out the school calendar below. Set academic work goals for yourself and accomplish them by doing proper school work planning, scheduling, and tracking.
As per Wiki: Ascension Parish School Board is a school district headquartered in Donaldsonville, Louisiana, United States. The district serves Ascension Parish. The district is governed by the Ascension Parish School Board, comprised of 11 elected members.
Ascension Parish Schools Major Holidays 2023-2024
There are many holiday breaks in an academic year such as fall break, thanksgiving break, Christmas break, spring break, etc. Do keep a check on all the holiday dates and plan them in order to have some fun time with your friends and family. It's important to enjoy holidays in order to make a good balance between personal and academic life.
2023-2024 School Calendar
School Holidays
Starts
Finishes
First Day of School
Thu, 10 Aug 2023
Fall Break
Mon, 9 Oct 2023
Tue, 10 Oct 2023
Thanksgiving Break
Mon, 20 Nov 2023
Fri, 24 Nov 2023
Christmas Break
Fri, 22 Dec 2023
Fri, 5 Jan 2024
January Break
Fri, 12 Jan 2024
Mon, 15 Jan 2024
Mardi Gras Break
Mon, 12 Feb 2024
Tue, 13 Feb 2024
Spring Break
Fri, 29 Mar 2024
Fri, 5 Apr 2024
Last Day of School
Thu, 23 May 2024
Ascension Parish Schools Calendar 2023-2024
As mentioned, Ascension Parish Schools is one of the largest school district in Louisiana, known for providing academic excellence and a safe secure learning environment for all students. The mission of the school district is to provide high quality education and make students navigate through the challenges smoothly and succeed in ever changing world. Recently, the school board has released the Ascension Parish Schools Calendar, the calendar preview along with a download link is shared below. Download your school calendar now.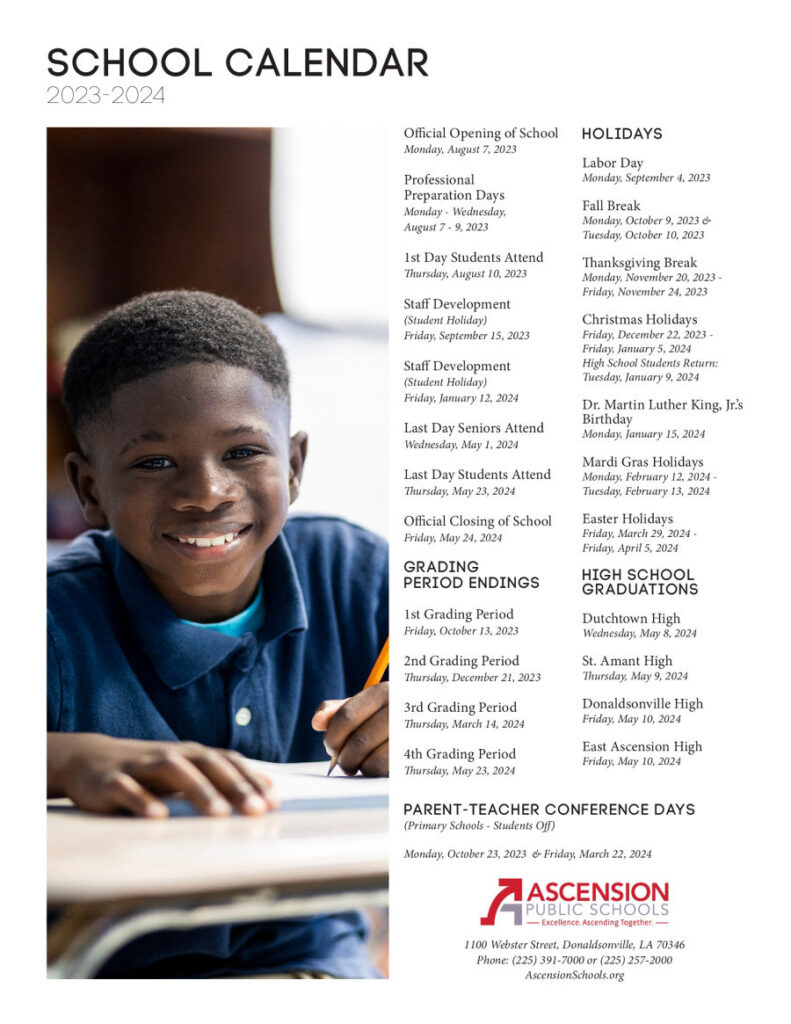 Download Links:
| | |
| --- | --- |
| Important Link | Download Link |
| School Calendar 2023-2024 | Download |
| School Calendar 2022-2023 | Download |
| School's Website | Click Here |
Additional Information
The district is one of the largest employer with approximately 3,100 employees, including 2,000 teachers. There is an enrolment of 24,000 students in 31 schools and 3 programs. The school system offers a variety of comprehensive courses for students to choose from. Apart from the academics, there are programs to take care of student's emotional and social well being. Students are encouraged to explore their interests and develop strong personality traits by participating in sports and extra curricular activities.
It is important to note that the academic dates may change from year to year, therefore, make sure to consult the official website of the Ascension Parish Schools for the latest or updated school calendar.
Important Note: schoolcalendarinfo.com is not the official website of any school, this is just an informational website that provides information related to school calendars and holidays. Do check your school's official website for an up-to-date and updated school calendar.