If you are a student at a Chicago Public Schools, you can download the calendar from this page. The easiest way to keep track of holidays, semester beginning and ending dates, first and final days of school, exam dates, and other important events is with a school calendar, sometimes referred to as an academic calendar. A school calendar can be used by instructors and students to look up important dates, occasions, and vacations. Making a planner for your academic work is undoubtedly beneficial because having a well-organized schedule at hand makes completing academic work simpler. Take a printout of the school calendar for your use by downloading it from this page.
Chicago Public Schools Major Holidays & Dates
The dates for significant holidays such fall break, Thanksgiving break, winter break, and spring break are listed in the table below. You may also see the dates of the start and last days of classes in addition to the holiday breaks. You should read the next part and download the school calendar for yourself if you want the full details.
First & Last Day of School
| | | |
| --- | --- | --- |
| Event | Day | Date |
| First Day of School | Monday | August 22, 2022 |
| Last Day of School | Wednesday | June 07, 2023 |
Major Holiday Dates
| | | |
| --- | --- | --- |
| Holidays Name | Starts | Finishes |
| | | |
| Thanksgiving Break | Mon, 21 Nov 2022 | Fri, 25 Nov 2022 |
| Christmas Break | Fri, 23 Dec 2022 | Fri, 6 Jan 2023 |
| Spring Break | Mon, 3 Apr 2023 | Fri, 7 Apr 2023 |
Chicago Public Schools Calendar 2022-2023 PDF
To achieve the best results, each student must organise his or her academic work. The Chicago Public Schools' academic calendar is available for viewing and downloading in PDF format below. It can be stored for later use. After downloading the calendar, you can print it.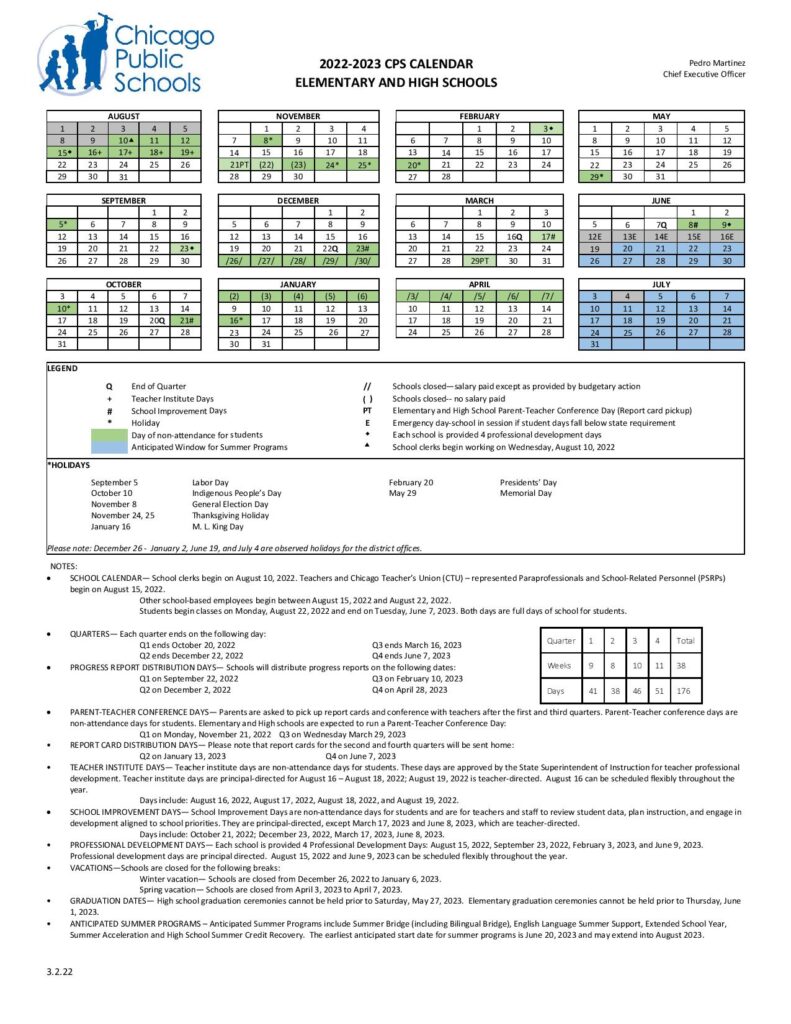 School Website >>>>> https://www.cps.edu/
For a student to succeed, time management is crucial. A student was expected to manage both work and school-related responsibilities. The management of workload appears to be a challenging task in the absence of adequate preparation. It is necessary to make a work planner in order to keep track of job activities. Use a school calendar to plan the activities for school work. The moment the school calendar becomes available, you should download it.
Visit the Chicago Public Schools website to see the 2022–2023 calendars that have been authorised. To determine whether there have been any last-minute or urgent changes that weren't noted in the official calendars, you may also wish to check the school district's website.
Important Note: schoolcalendarinfo.com is not the official website of any school, this is just an informational website that provides information related to school calendars and holidays. Do check your school's official website for an up-to-date and updated school calendar.