For your own use, you can print a copy of the Michigan Center Schools Calendar from this website. If you are a student, teacher, or member of the support staff at Michigan Center Schools, view the academic calendar here and download it for personal use. To manage your academic work activities in a best way, you need to download the school calendar from the school's official website (link shared below). A school calendar can be used to keep track of important dates including holidays, test dates, teacher service days, and professional development days. The school calendar contains crucial information that both students and teachers can use.
Michigan Center School Holidays 2022-2023
In this section you can view major holidays as well as the first and last days of school. The Thanksgiving, Christmas, and Easter holidays are among the major holiday breaks. Make planning for a more fun and effective holiday by keeping track of the crucial holiday dates.
First & Last Day of School
| | | |
| --- | --- | --- |
| Event | Day | Date |
| First Day of School | Wednesday | August 24, 2022 |
| Last Day of School | Friday | June 9, 2023 |
Major Holiday Dates
| | | |
| --- | --- | --- |
| Holidays Name | Starts | Finishes |
| September Break | Fri, 2 Sep 2022 | Mon, 5 Sep 2022 |
| Thanksgiving Break | Wed, 23 Nov 2022 | Fri, 25 Nov 2022 |
| Christmas Break | Mon, 26 Dec 2022 | Fri, 6 Jan 2023 |
| Spring Break | Fri, 24 Mar 2023 | Fri, 31 Mar 2023 |
Michigan Center Schools Calendar 2022-2023
This is what the calendar for Michigan Center Schools looks like. You can download this calendar by clicking on the link provided below the calendar preview or image. The school website posts all the most latest updates and announcements, so make sure to constantly check it for all the most important changes and updates.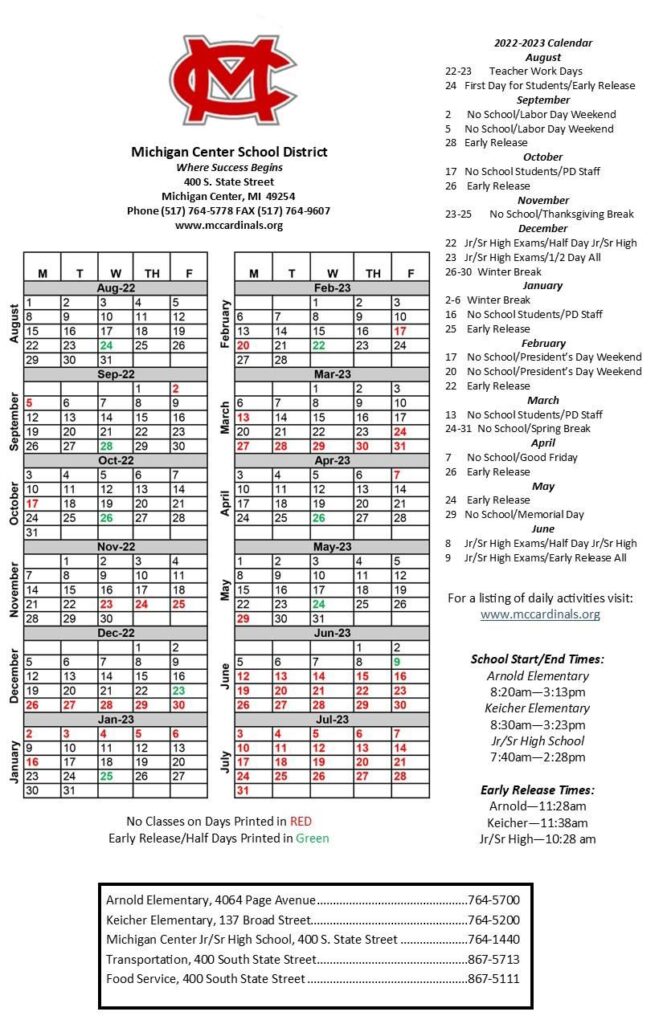 Download Links:
Additional Information
The importance of work planning cannot be overstated. We have included the school calendar here so that students can plan their academic work. A school calendar is one such document that helps with task planning and tracking. Make sure to obtain a calendar that is appropriate to your school because each school has its own calendar.
If you are a student at Michigan Center Schools, you can download and print the calendar from this page. Planning and tracking of academic work becomes easier once you have an academic calendar with you.
Important Note: schoolcalendarinfo.com is not the official website of any school, this is just an informational website that provides information related to school calendars and holidays. Do check your school's official website for an up-to-date and updated school calendar.