Cypress-Fairbanks Independent School District Calendar is shared here for the school year 2023-2024. Students who are searching for the CFISD calendar and major holiday dates of the school are required to check out the school calendar below and download it. Please note that the 2023-2024 School Calendar is available now. Keep a check on the school calendar to keep yourself updated about all the important academic dates and plan your academic work schedules. A school calendar has important information for students, teachers, staff, and parents. As a student, you must get your school calendar at the earliest and start planning for the important academic dates, events, and holidays.
The Cypress-Fairbanks Independent School District (CFISD, often referred to as Cy-Fair) is an independent school district with its headquarters in northwest unincorporated Harris County, Texas, United States.
Cypress-Fairbanks Independent School District Holiday Breaks
Below you can see a table that specify the major holiday dates of the Cypress-Fairbanks Independent School District. There are many holiday breaks such as fall break, thanksgiving break, Christmas break, spring break, etc. Check out the table below for the holiday dates and plan them accordingly.
2023-2024 School Calendar
School Holidays
Starts
Finishes
First Day of School
Mon, 28 Aug 2023
Fall Break
Mon, 6 Nov 2023
Tue, 7 Nov 2023
Thanksgiving Break
Mon, 20 Nov 2023
Fri, 24 Nov 2023
Christmas Break
Fri, 22 Dec 2023
Fri, 5 Jan 2024
Mid Winter Break
Fri, 16 Feb 2024
Mon, 19 Feb 2024
Spring Break
Mon, 11 Mar 2024
Fri, 15 Mar 2024
Last Day of School
Fri, 31 May 2024
Note: Non-student days such as teachers preparation days, teachers services days, and professional development days are incorporated into the dates.
Cypress-Fairbanks Independent School District Calendar 2023-2024
Check out the preview of the CFISD calendar below. You can download this school calendar in PDF and take a print-out for your use. The download links are shared below the calendar preview or image. Use a school calendar for planning all your academic work activities and set academic goals or objectives for the school year 2023 and 2024.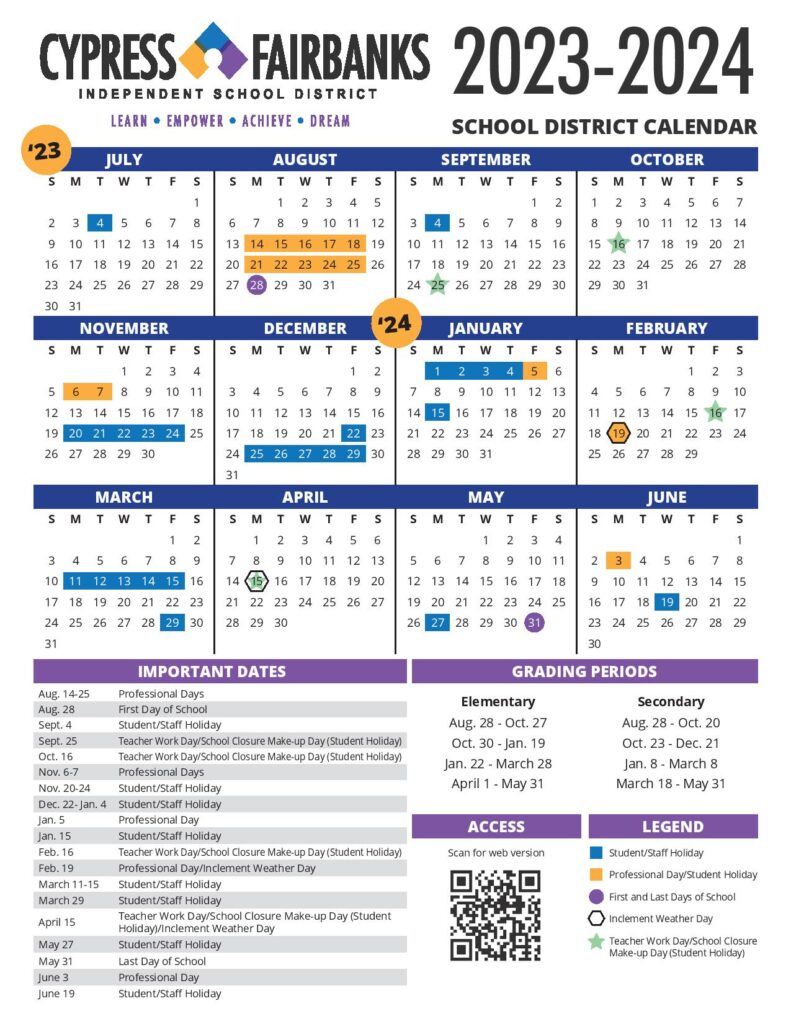 Download Links:
More Information
Both students and teachers must spend some time in planning their daily work schedules. Having a work planner at place makes you more focused, organized, and confident. You will feel more efficient and productive once there is a work plan to follow. Check out the school calendar here, see the academic dates, and begin the process of planning them.
We have made this post to update students about the Cypress-Fairbanks Independent School District Calendar for the academic year 2023-2024. Now you have a school calendar, so plan your academic work accordingly.
Important Note: schoolcalendarinfo.com is not the official website of any school, this is just an informational website that provides information related to school calendars and holidays. Do check your school's official website for an up-to-date and updated school calendar.