Des Moines Public Schools is located in Lowa and it's the largest public education provider in lowa. There is an enrolment of more than 30,000 students in more than 60 schools throughout the community. There are nearly 5,000 teachers and staff at work. If you are a part of this school district then we have shared Des Moines Public Schools Calendar for the school year 2023-2024. Get to know about the academic dates, exam dates, holidays, etc with the help of a school calendar. The school district has students from different backgrounds and culture. All students are getting high quality education and a secure learning environment.
As per Wiki: The Des Moines Independent Community School District (The Des Moines Public Schools, or DMPS) is the largest public school district in Iowa. The district currently serves most of the city of Des Moines as well as parts of suburban Pleasant Hill[3] and Windsor Heights.
Des Moines Public Schools Holiday Breaks 2023-2024
Everyone waits for holidays be it a student or teacher. The last thing you would want to do is waster your holiday due to lack of planning. That's why it's advised to always keep a check on the upcoming holidays and plan for them in advance. There are many major holiday breaks in a school year such as fall break, thanksgiving break, Christmas break, spring break, etc. Check out the dates in a table below.
2023-2024 School Calendar
School Holidays
Starts
Finishes
First Day of School
Wed, 23 Aug 2023
September Break
Fri, 22 Sep 2023
Mon, 25 Sep 2023
Fall Break
Mon, 16 Oct 2023
Tue, 17 Oct 2023
November Break
Mon, 6 Nov 2023
Tue, 7 Nov 2023
Thanksgiving Break
Wed, 22 Nov 2023
Fri, 24 Nov 2023
Christmas Break
Fri, 22 Dec 2023
Mon, 1 Jan 2024
January Break
Mon, 15 Jan 2024
Wed, 17 Jan 2024
Mid Winter Break
Mon, 12 Feb 2024
Tue, 13 Feb 2024
Spring Break
Mon, 11 Mar 2024
Tue, 19 Mar 2024
Last Day of School
Wed, 29 May 2024
Des Moines Public Schools Calendar 2023-2024
Please note that 2023-2024 approved calendar of the Des Moines Public Schools is available now, check out the calendar preview. The entire academic schedule of the school year is mentioned in a school calendar. It's essential to keep a check on the calendar in order to plan your daily work schedules. The download links are shared below the calendar preview.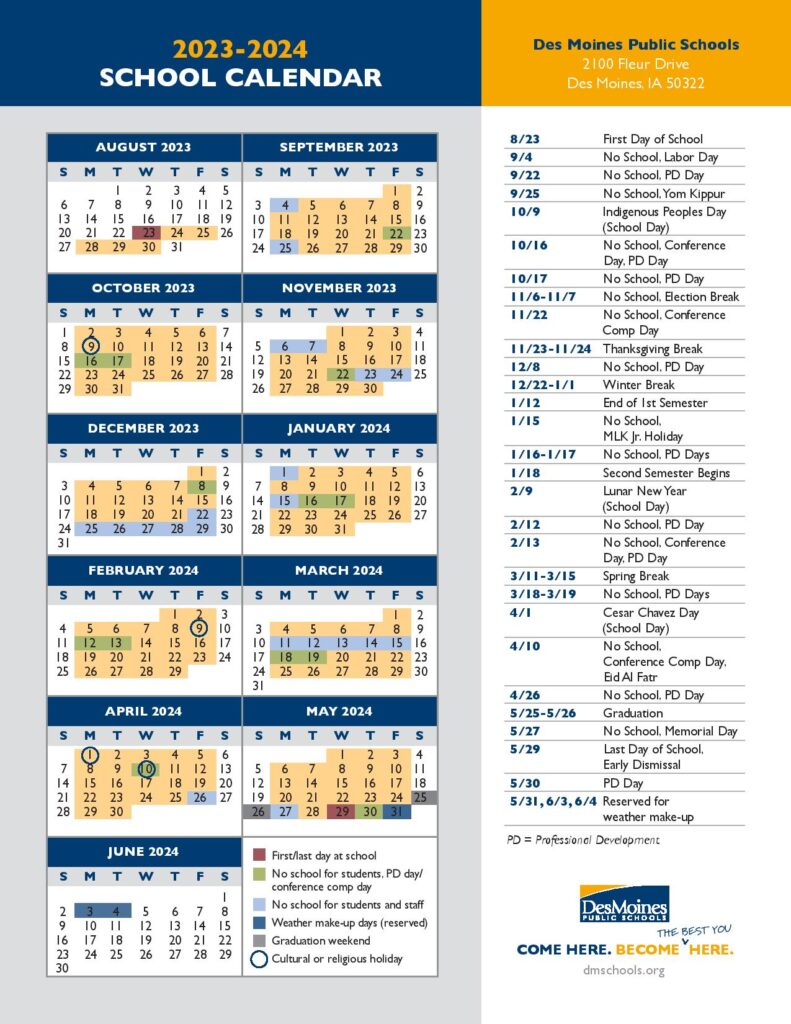 Download Links:
| | |
| --- | --- |
| Important Link | Download Link |
| School Calendar 2023-2024 | Download |
| School Calendar 2022-2023 | Download |
| School's Website | Click Here |
About Des Moines Public Schools
The school district offer academic programs and courses to meet the state standards and to provide students a strong foundation in core subjects such as English, mathematics, science, and social studies. Apart from that, there are many sports programs, personal development programs, and extracurricular programs in order to meet the diverse needs of students. The wide range of opportunities in Des Moines meets the academic interests, abilities and goals of every student.
The link of the school's official website is shared above. Keep a check on the school's website for all the latest updates and notifications related to the school calendar and more.
Q. How many public schools are in Des Moines?
A. Des Moines Independent Community School District contains 60 schools and 31,720 students.
Q. How long is the spring break in Des Moines Public Schools?
A. The dates of the spring break are Mar 11, 2024 to Mar 19, 2024.
Q. What is the first and last day of Des Moines Public Schools for year 2023-2024?
A. The first day of school is Aug 23, 2023 and the last day of school is May 29, 2024
Important Note: schoolcalendarinfo.com is not the official website of any school, this is just an informational website that provides information related to school calendars and holidays. Do check your school's official website for an up-to-date and updated school calendar.