Millard Public Schools provides "LEARNING ANYTIME, ANYWHERE" i.e. the school district put a lot of importance on the use of digital tools and resources in order to enhance the learning experience and to make education available for all students at all times. Students have an access to laptops and ipads which makes the one to one learning experience possible. Through this page, we're updating you all with the Millard Public Schools Calendar for the school year 2023-2024. If you want to keep a check on all the important dates, events, and holidays of the Millard Public Schools then do check out the school calendar and download it for your use.
As per Wiki: The Millard Public Schools is a school district in the southwest part of Omaha, Nebraska, United States. The school district is helping more that 24,000 families find the right college and career path for their students.
Millard Public Schools Major Holiday Breaks 2023-2024
There are many holiday breaks in a school year and students have many questions related to them such as how long is spring break, when it Christmas breaks, what are the dates for fall break, when does the school starts, when does the school ends, etc. To answer these questions, we have shared the table below.
2023-2024 School Calendar
School Holidays
Starts
Finishes
First Day of School
Thu, 10 Aug 2023
September Break
Mon, 4 Sep 2023
Tue, 5 Sep 2023
Fall Break
Thu, 12 Oct 2023
Mon, 16 Oct 2023
Thanksgiving Break
Wed, 22 Nov 2023
Fri, 24 Nov 2023
Christmas Break
Thu, 21 Dec 2023
Wed, 3 Jan 2024
Mid Winter Break
Fri, 16 Feb 2024
Mon, 19 Feb 2024
March Break
Thu, 14 Mar 2024
Mon, 18 Mar 2024
Spring Break
Mon, 8 Apr 2024
Fri, 12 Apr 2024
Last Day of School
Thu, 23 May 2024
Millard Public Schools Calendar 2023-2024
All the academic dates, events, and holidays are mentioned in a school calendar. Students, teachers, and parents must keep a check on the school calendar. Below you can see a preview of the Millard Public Schools Calendar that is now available for the academic year 2023 and 2024. Download and print the school calendar for your use.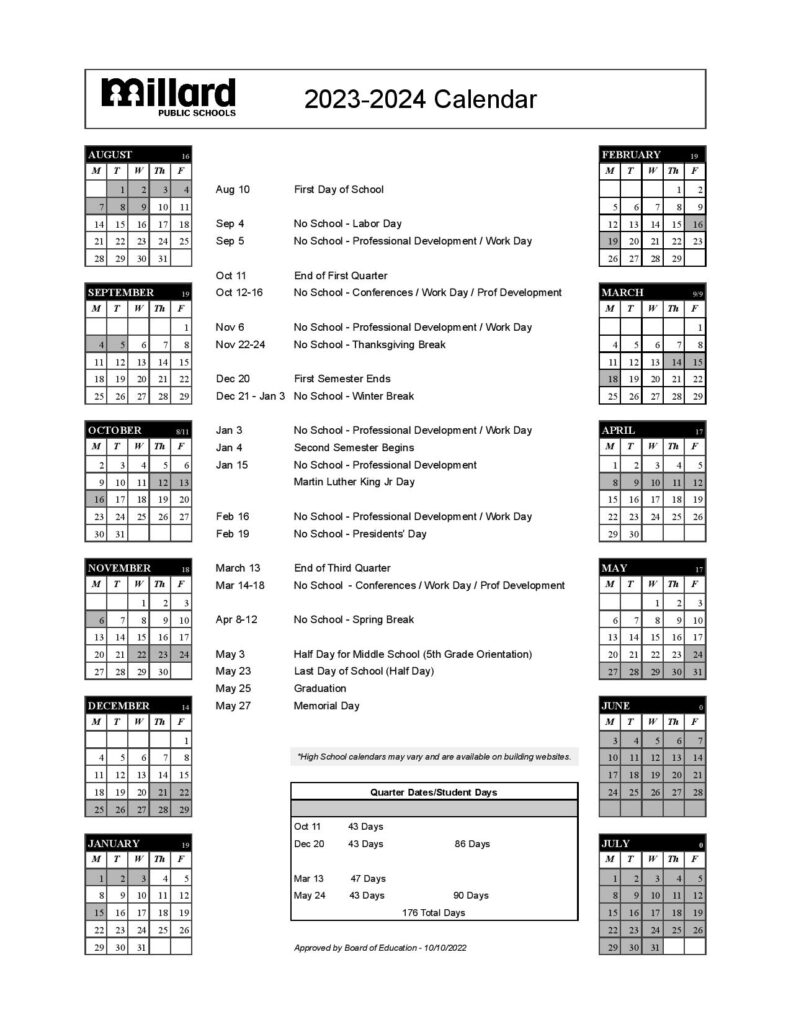 Download Links:
About Millard Public Schools
The school district offer a variety of academic programs, sports programs, extracurricular activities, etc for the overall development of students. There are professional development programs for teachers and faculty members. Millard Public Schools is a one-to-one district, allowing learning anytime, anywhere. Students have an access of laptops and Ipads for their education and learning purposes which makes one to one learning possible. The Millard Public Schools District provides education to students from diverse backgrounds and culture.
You must check out the official website of your school when it comes to a school calendar because there may be changes or amendments in it. The link of the Olathe Unified School District's website is shared above.
Q. How many schools are in Millard?
A. Millard Public Schools contains 36 schools and 23,633 students. The district's minority enrolment is 30%.
Q. How long is the spring break in Millard Public Schools?
A. The dates of the spring break are Apr 8, 2024 to Apr 12, 2024.
Q. What is the first and last day of Millard Public Schools for year 2023-2024?
A. The first day of school is Aug 10, 2023 and the last day of school is May 23, 2024
Important Note: schoolcalendarinfo.com is not the official website of any school, this is just an informational website that provides information related to school calendars and holidays. Do check your school's official website for an up-to-date and updated school calendar.