A student must get a copy of a school calendar in order to keep a check on the entire academic schedule. Through this page, we've shared Fayetteville Public Schools Calendar that is now available for the school year 2023-2024. If you are a student in this school district then simply print your calendar or download a digital file of a calendar. Academic work planning and tracking becomes easier once you have a school calendar with you. Do spend some time in checking the academic schedule and plan your daily work activities accordingly. A preview of a school calendar is available below.
As per Wiki: The Fayetteville Public Schools (Fayetteville School District, or FPS) is the first public school district chartered in Arkansas. It is accredited by the Arkansas Department of Education.
Fayetteville Public Schools Major Holiday Breaks 2023-2024
If you are interested in knowing about the upcoming holiday breaks then check out the table below. You can see the dates of the thanksgiving break, Christmas break, spring break, first day of school, and last day of school. These are only the major holiday dates, check out the full school calendar in the next section for complete dates.
2023-2024 School Calendar
School Holidays
Starts
Finishes
First Day of School
Mon, 14 Aug 2023
Thanksgiving Break
Mon, 20 Nov 2023
Fri, 24 Nov 2023
Christmas Break
Mon, 18 Dec 2023
Tue, 2 Jan 2024
Spring Break
Mon, 18 Mar 2024
Fri, 22 Mar 2024
Last Day of School
Fri, 24 May 2024
Fayetteville Public Schools Calendar 2023-2024
A strong emphasis is put on the importance of academic work planning and tracking. Planning school work is not possible without a school calendar and that's why you should download your school calendar at the earliest. Below you can see a preview of the Fayetteville Public Schools Calendar for this academic year, download and print your school calendar from below.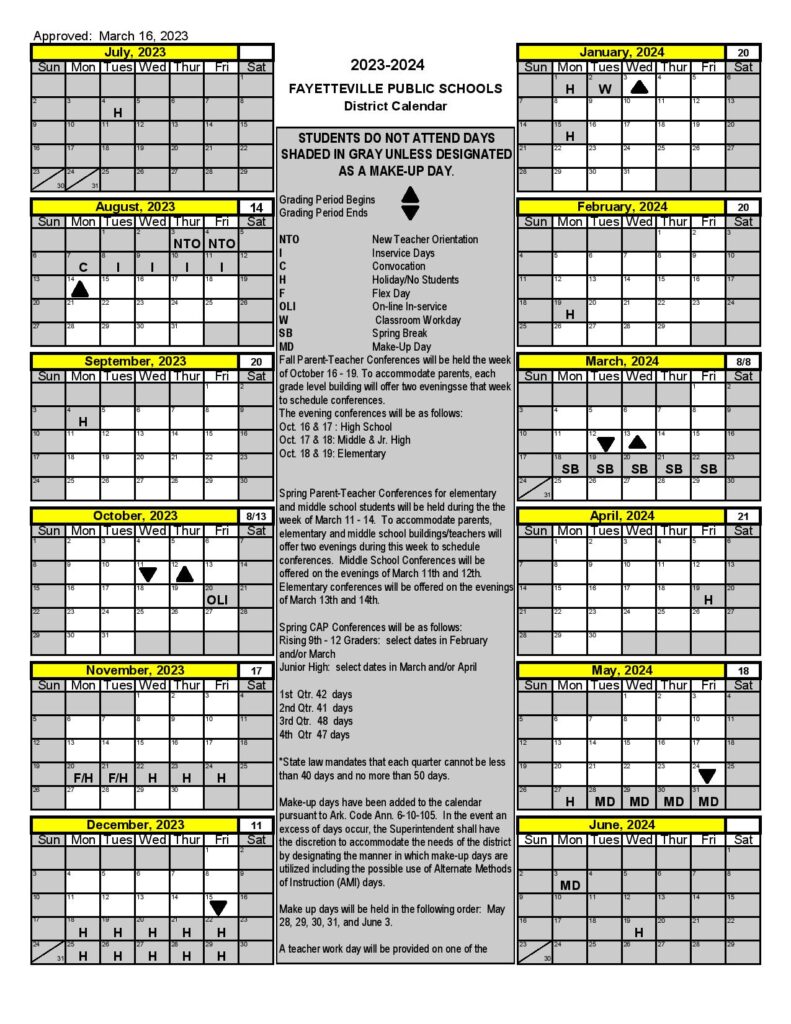 Download Links:
| | |
| --- | --- |
| Important Link | Download Link |
| School Calendar 2023-2024 | Download |
| School Calendar 2022-2023 | Download |
| School's Website | Click Here |
About Fayetteville Public Schools
Fayetteville Public Schools offer academic excellence, highly qualified teachers are there to teach students and clear all their academic doubts. Apart from the academics, there is a strong emphasis on sports and extracurricular activities as well so that students can develop leadership skills, understand the importance of team work and competition. There are many programs and events for the overall development of students.
It's advised to check the official website of the school because they may be changes or amendments that may occur in a school calendar. Use a school calendar for planning your school or academic work activities.
Q. How long is the Christmas Break in Fayetteville Public Schools?
A. The dates of the Christmas Break are Dec 18, 2023 to Jan 2, 2024
Q. How long is the Spring Break in Fayetteville Public Schools?
A. The dates of the spring break are Mar 18, 2024 to Mar 22, 2024.
Q. What is the first and last day of Fayetteville Public Schools for year 2023-2024?
A. The first day of school is Aug 14, 2023 and the last day of school is May 24, 2024
Important Note: schoolcalendarinfo.com is not the official website of any school, this is just an informational website that provides information related to school calendars and holidays. Do check your school's official website for an up-to-date and updated school calendar.