We've shared Bay District Schools Calendar on this page for the students and teachers of this school district. Plan your school tasks, work, assignments, and plan for important academic dates using a school calendar. Students often have a lot of academic work and personal work to take care of and that's why it's essential to have some sort of planner in order to get hold of all work. Planning school or academic work is not without a school calendar, therefore, make sure to download your school calendar as per your school district and begin the process of academic work planning and tracking.
As per Wiki: Bay District Schools is a school district headquartered in Panama City, Florida, United States. The district serves all of Bay County except for Mexico Beach, which is served by Gulf County Schools.
Bay District Schools Major Holiday Breaks 2023-2024
Planning holidays is important as well. First, you need to check out the table below to see the dates of the upcoming holiday breaks. There are many holiday breaks in an academic year such as thanksgiving break, Christmas break, spring break, etc. Check out the dates of the first and last day of Bay District Schools below.
2023-2024 School Calendar
School Holidays
Starts
Finishes
First Day of School
Thu, 10 Aug 2023
Thanksgiving Break
Mon, 20 Nov 2023
Fri, 24 Nov 2023
Christmas Break
Mon, 25 Dec 2023
Mon, 8 Jan 2024
Spring Break
Mon, 18 Mar 2024
Fri, 22 Mar 2024
Last Day of School
Fri, 24 May 2024
Bay District Schools Calendar 2023-2024
Please note that Bay District Schools Calendar is available for the academic year 2023-2024. The preview of the school calendar is shared below. Download and print your school calendar to begin the process of planning your academic work and accomplish all your school work goals or objectives. The download links are shared below the calendar preview or image.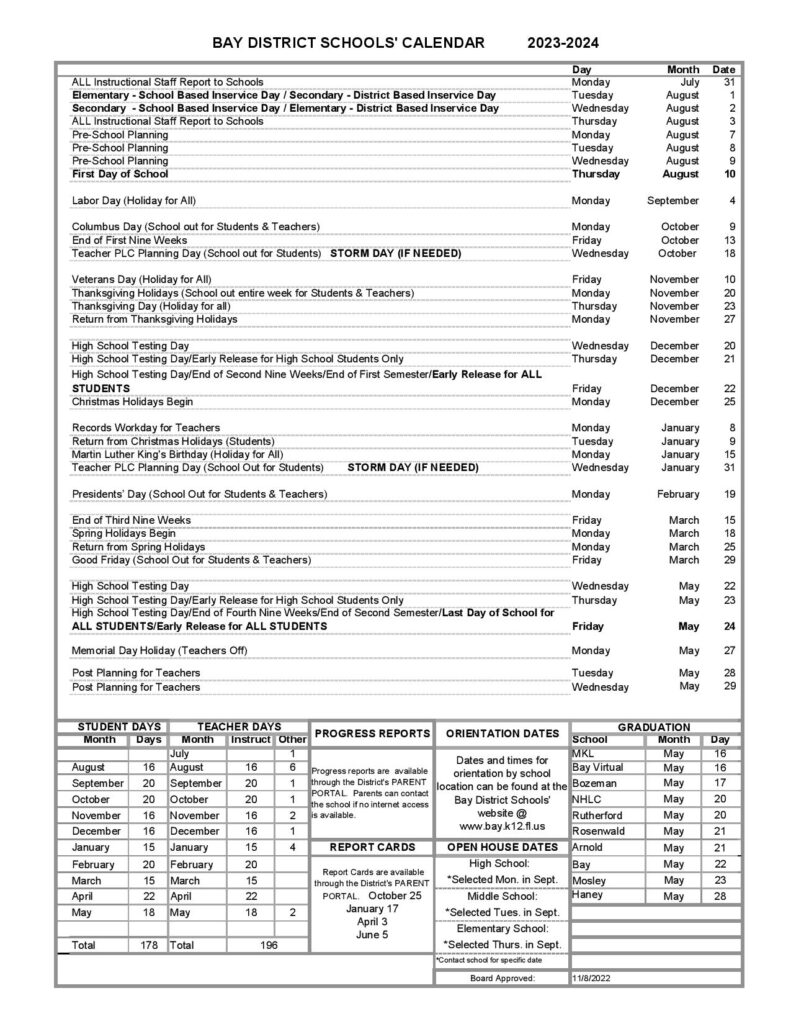 Download Links:
| | |
| --- | --- |
| Important Link | Download Link |
| School Calendar 2023-2024 | Download |
| School Calendar 2022-2023 | Download |
| School's Website | Click Here |
About Bay District Schools
Bay District Schools is a dedicate and compassionate school district that is committed to provide academic excellence to each students with pathways to success. The school district has employed highly qualified and experienced teachers in order to ensure students are learning from the expert teachers. There are professional development programs for teachers so they learn the latest technology and teaching methods.
It's advised to check the official website of the school because they may be changes or amendments that may occur in a school calendar. Use a school calendar for planning your school or academic work activities.
Q. How long is the Christmas Break in Bay District Schools?
A. The dates of the Christmas Break are Dec 25, 2023 to Jan 8, 2024
Q. How long is the Spring Break in Bay District Schools?
A. The dates of the spring break are Mar 18, 2024 to Mar 22, 2024.
Q. What is the first and last day of Bay District Schools for year 2023-2024?
A. The first day of school is Aug 10, 2023 and the last day of school is May 24, 2024
Important Note: schoolcalendarinfo.com is not the official website of any school, this is just an informational website that provides information related to school calendars and holidays. Do check your school's official website for an up-to-date and updated school calendar.