Pitt County Schools Calendar: This page contains the major holiday dates and a calendar preview for Pitt County Schools in North Carolina. Students and teachers of the for Pitt County Schools are informed to check out the school calendar below and download in a pdf format. All the important dates of the academic events such as first/last day of school, exam dates, holiday breaks, starting/ending of semester, etc are mentioned in a school calendar. As a student or teacher, you must keep yourself updated about the academic dates and plan them well for the accomplishment of school work goals or objectives in a timely manner.
As per Wiki: Pitt County Schools is a school system located in Pitt County, North Carolina. The school district is known for providing top notch education and a safe learning environment for all students.
Pitt County Schools Major Holiday Breaks 2023-2024
It's essential to keep a check on the major holiday breaks such as thanksgiving break, Christmas break, spring break, etc. You must spend some time in planning your holidays and make the most out of them. All your answers related to the holiday questions are given in a table below. The preview of the full school calendar along with a download link is shared in the next section.
2023-2024 School Calendar
School Holidays
Starts
Finishes
First Day of School
Mon, 28 Aug 2023
Thanksgiving Break
Wed, 22 Nov 2023
Fri, 24 Nov 2023
Christmas Break
Thu, 21 Dec 2023
Wed, 3 Jan 2024
Spring Break
Mon, 25 Mar 2024
Mon, 1 Apr 2024
Last Day of School
Fri, 7 Jun 2024
Pitt County Schools Calendar 2023-2024
Pitt County Schools has an enrolment of more than 24,000 students in 38 schools. Students from diverse backgrounds and culture are a part of the school district and school system creates a healthy environment for all students that allows them to grow and becomes successful in life. The school board has released the Pitt County Schools Calendar for the academic year 2023-2024, students can check out the calendar preview below to keep a check on the important dates and begin the process of planning the school work in a better way.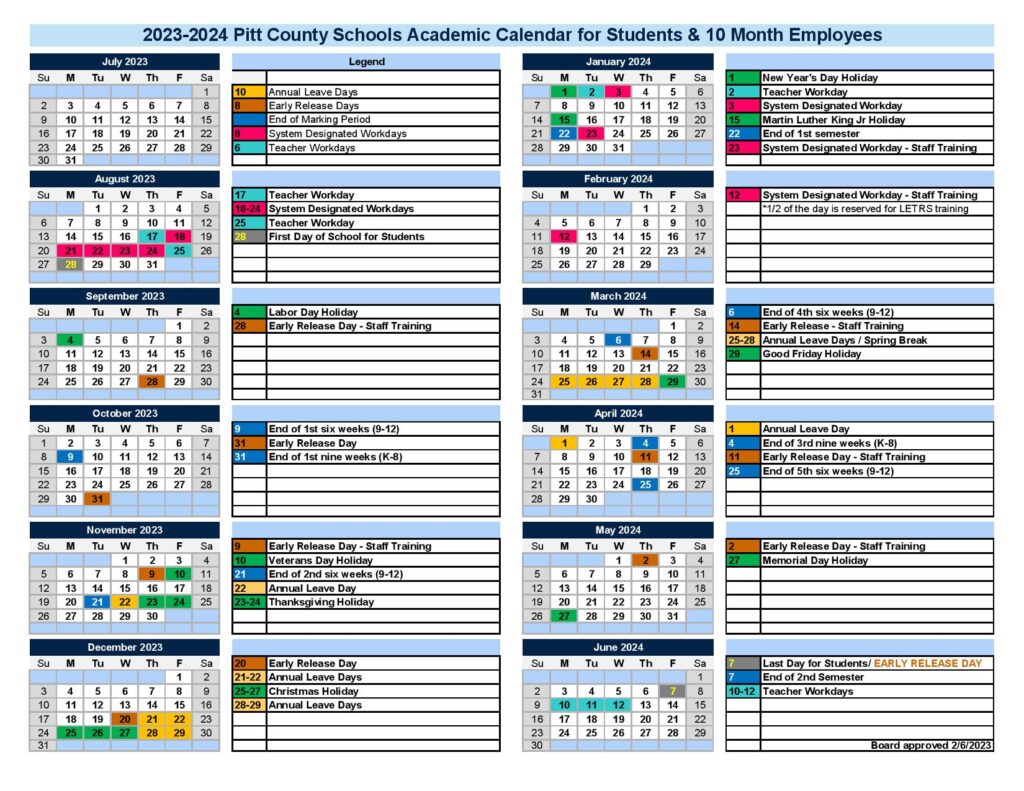 Download Links:
Additional Information
The primary goal of the Pitt County Schools is to provide a top notch academic opportunities to ensure students are getting a well rounded education that prepares them for the future. The school district works continously to understand what student needs, remove the barriers that are hampering their learning, and provide educational resources to let them grow and learn.
It is important to note that the academic dates may change from year to year, therefore, make sure to consult the official website of the Pitt County Schools for the latest or updated school calendar.
Important Note: schoolcalendarinfo.com is not the official website of any school, this is just an informational website that provides information related to school calendars and holidays. Do check your school's official website for an up-to-date and updated school calendar.