All those students and teachers who are here in search of Baldwin County Public Schools Calendar are informed that a school calendar is available now, you can download and print the school calendar from this page. Planning school work activities is essential for the accomplishment of academic work goals or objectives. A school calendar os one such document that you should download as soon as it's available from the school board. You can keep a check on the important academic dates such as first/last day of school, exam dates, holiday breaks, starting/ending of semester, etc with the help of a school calendar.
As per Wiki: The Baldwin County Board of Education oversees most public schools in Baldwin County, Alabama, and is based in Bay Minette, Alabama. The Board serves the entire county.
Baldwin County Public Schools Major Holiday Breaks 2023
Holidays are something everyone waits for be it a student or a teacher. Below you can see the dates of the Baldwin County Public Schools Major Holiday Breaks such as fall break, thanksgiving break, Christmas break, spring break, etc. It's important to have some fun on holidays in order to make a balance between academic and personal life. Plan your holidays in order to make them both fun and productive at the same time.
2023-2024 School Calendar
School Holidays
Starts
Finishes
First Day of School
Wed, 9 Aug 2023
Fall Break
Fri, 6 Oct 2023
Tue, 10 Oct 2023
Thanksgiving Break
Mon, 20 Nov 2023
Fri, 24 Nov 2023
Christmas Break
Fri, 15 Dec 2023
Tue, 2 Jan 2024
Mardi Gras Break
Mon, 12 Feb 2024
Wed, 14 Feb 2024
Spring Break
Mon, 25 Mar 2024
Mon, 1 Apr 2024
Last Day of School
Wed, 22 May 2024
Baldwin County Public Schools Calendar 2023-2024
As mentioned, the school board has released the Baldwin County Public Schools Calendar and below you can see a preview of this school calendar. The download links are shared below the calendar preview or image from where you can download the school calendar for this academic year. Use a school calendar for planning your school work and accomplish your school goals or objectives in a timely manner.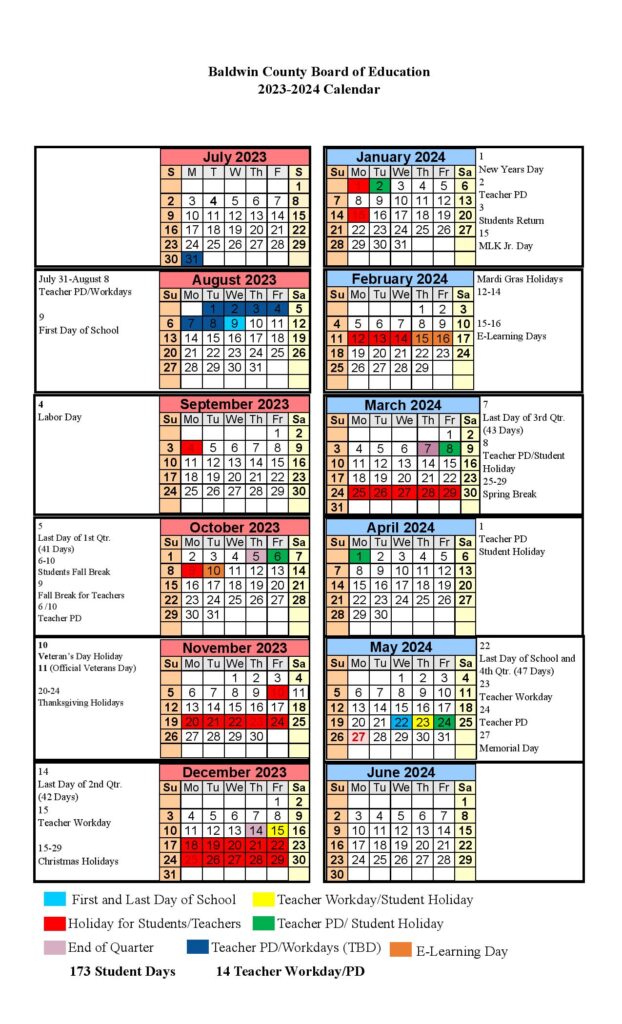 Download Links:
Additional Information
Baldwin County Public Schools provides a variety of academic courses and programs for students to choose from. The mission of the school district is to make every student capable enough to navigate the challenges of life with ease. The school system is dedicated to provide the excellent academics and a safe learning environment for every student to grow and succeed.
It is important to note that the academic dates may change from year to year, therefore, make sure to consult the official website of the Baldwin County Public Schools for the latest or updated school calendar.
Important Note: schoolcalendarinfo.com is not the official website of any school, this is just an informational website that provides information related to school calendars and holidays. Do check your school's official website for an up-to-date and updated school calendar.