Gilbert Public Schools Calendar is released by the school board on the official website of the school (link shared below). If you are a student or teacher in this school district then do check out the calendar preview and download a school calendar in PDF format for your use. The basic purpose of using a school calendar is to get hold of school work activities and accomplish all the academic work goals or objectives. Academic work planning and tracking is easier once you have an access to the school calendar, therefore, make sure to get a copy of your school calendar.
As per Wiki: Gilbert Unified School District #41 (GUSD), also known as Gilbert Public Schools (GPS), is a school district based in Gilbert, Arizona, United States in the Phoenix metropolitan area.
Gilbert Public Schools Major Holiday Breaks 2023-2024
Do you like to plan holidays in advance? If yes then check out the table below to keep a check on the major holiday breaks of the Gilbert Public Schools such as fall break, thanksgiving break, Christmas break, spring break, etc. Please note that the non-student days are incorporated into the dates below.
2023-2024 School Calendar
School Holidays
Starts
Finishes
First Day of School
Tue, 25 Jul 2023
Fall Break
Mon, 2 Oct 2023
Fri, 13 Oct 2023
Thanksgiving Break
Wed, 22 Nov 2023
Fri, 24 Nov 2023
Christmas Break
Wed, 20 Dec 2023
Tue, 2 Jan 2024
Spring Break
Mon, 11 Mar 2024
Fri, 22 Mar 2024
Last Day of School
Thu, 23 May 2024
Gilbert Public Schools Calendar 2023-2024
A school calendar contains the dates of the academic events and holidays. A school calendar is a schedule for the entire academic year and that's why you should have it in order to keep a check on all the important dates. A student must plan his or her academic work in order to accomplish all goals and objectives. Below you can see a preview of the Gilbert Public Schools Calendar for the academic year 2023-2024.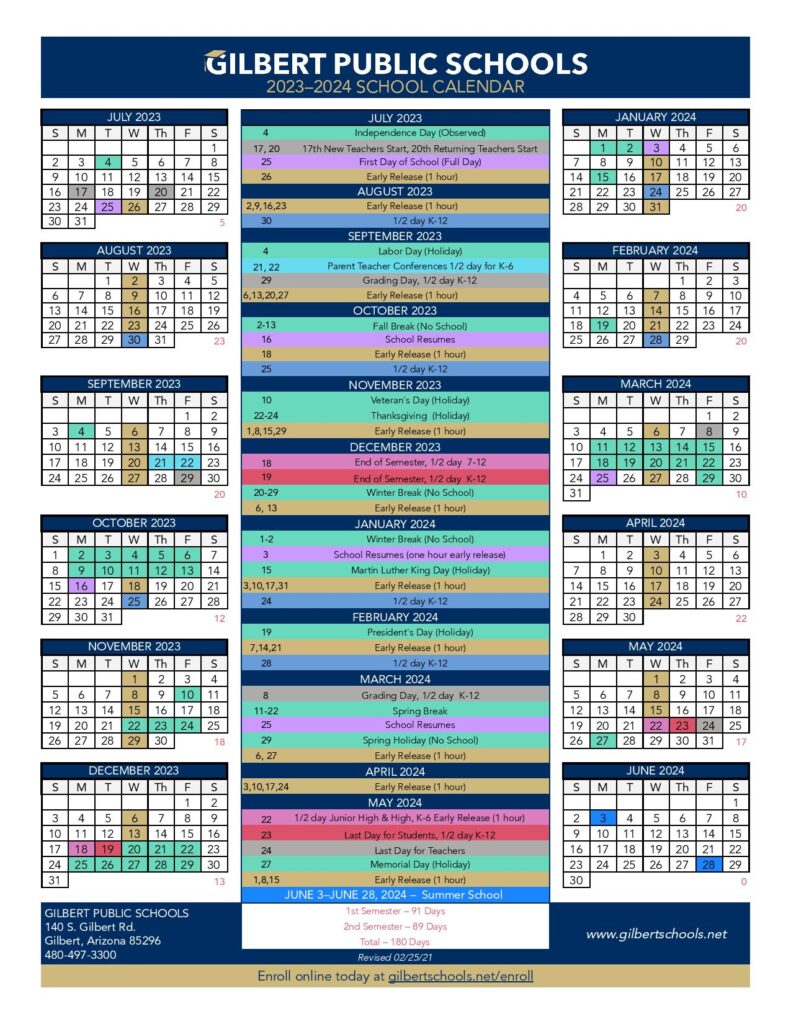 Download Links:
| | |
| --- | --- |
| Important Link | Download Link |
| School Calendar 2023-2024 | Download |
| School Calendar 2022-2023 | Download |
| School's Website | Click Here |
About Gilbert Public Schools
The school district put a strong emphasis on the academic studies and excellence. Students have a lot of educational choices and courses to choose from the field of technology, art, music, leadership, physical education, and a wide range of athletics and extracurricular programs. Gilbert Public Schools collaborates with families and local community to ensure academic excellence for each student and prepares them for success in college, career, and life.
Do keep a check on the school's official website to keep a check on the changes or amendments that may occur in a school calendar. Use a school calendar to plan your academic work in an efficient manner.
Q. How long is the Christmas Break in Gilbert Public Schools?
A. The dates of the Christmas Break are Dec 20, 2023 to Jan 2, 2024
Q. How long is the Spring Break in Gilbert Public Schools?
A. The dates of the spring break are Mar 11, 2024 to Mar 22, 2024.
Q. What is the first and last day of Gilbert Public Schools for year 2023-2024?
A. The first day of school is Jul 25, 2023 and the last day of school is May 23, 2024
Important Note: schoolcalendarinfo.com is not the official website of any school, this is just an informational website that provides information related to school calendars and holidays. Do check your school's official website for an up-to-date and updated school calendar.